A manifestation of exquisite, thoughtful design, the kitchen in the prefabricated Axiom Desert House embodies rich indoor/outdoor connections, enabling a superb setting for memorable entertaining.
After having built over 100 prefabricated homes for various clients across the globe, Joel and Meelena Turkel's latest project has held significant meaning for the couple, as they've spent the last two years diligently working on their own prefab family residence. Yet now that the 2,110-square-foot abode has been completed (and was recently featured at Palm Springs Modernism Week), the couple-founders of the celebrated firm Turkel Design-are finally able to start settling in.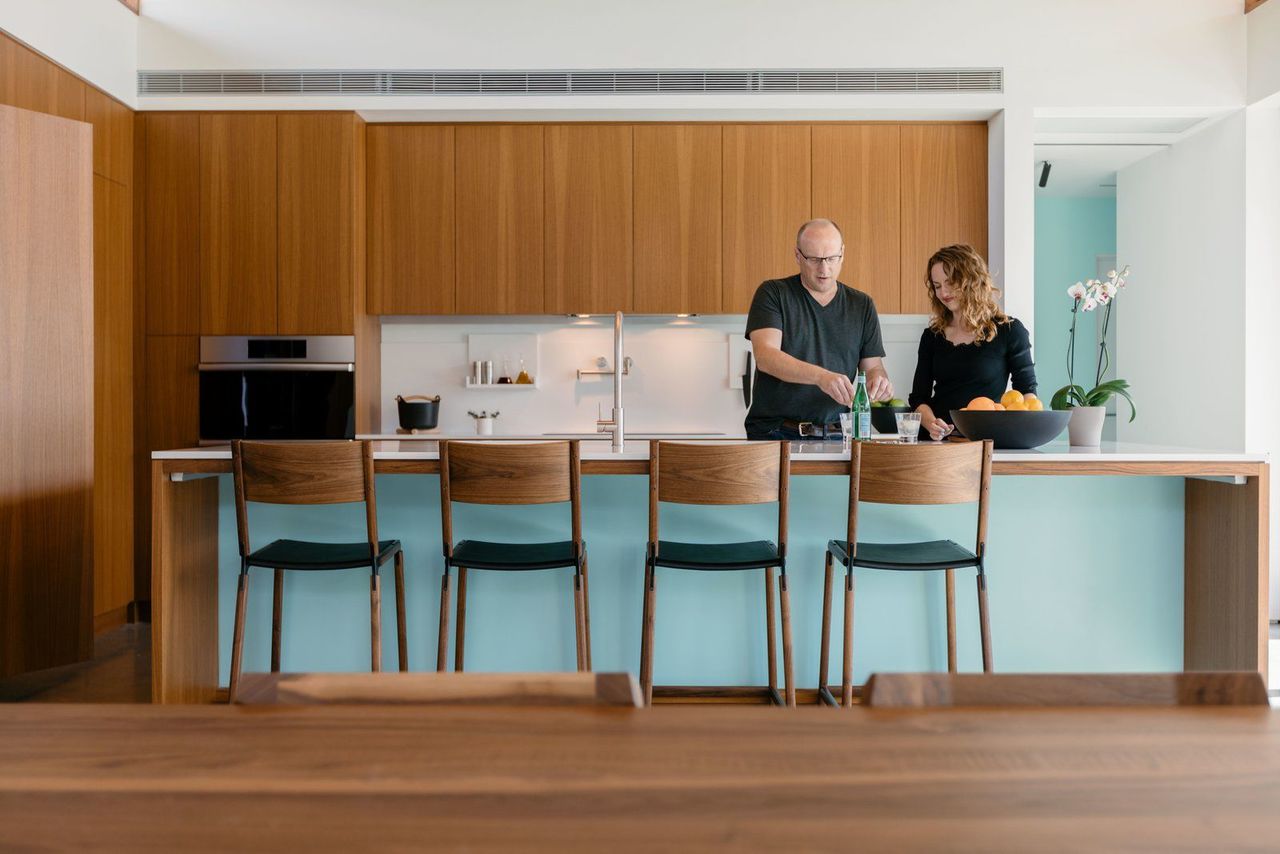 While Joel and Meelena Turkel of Turkel Design have spent the last decade redefining the possibilities of prefab for clients worldwide, they recently flipped the switch and completed their very own net-zero prefabricated residence. Here is a look inside their new home, the Axiom Desert House.

"We just crossed a major milestone," Joel explains. "For the last year and a half, our two young daughters have referred to this place as 'the site.' However, the other day when I told them I was going to the site, one of them looks at me and says, 'No Daddy, you're going to the house.' So that was a big moment for Meelena and me—realizing that our children have now recognized that this is going to be our new home."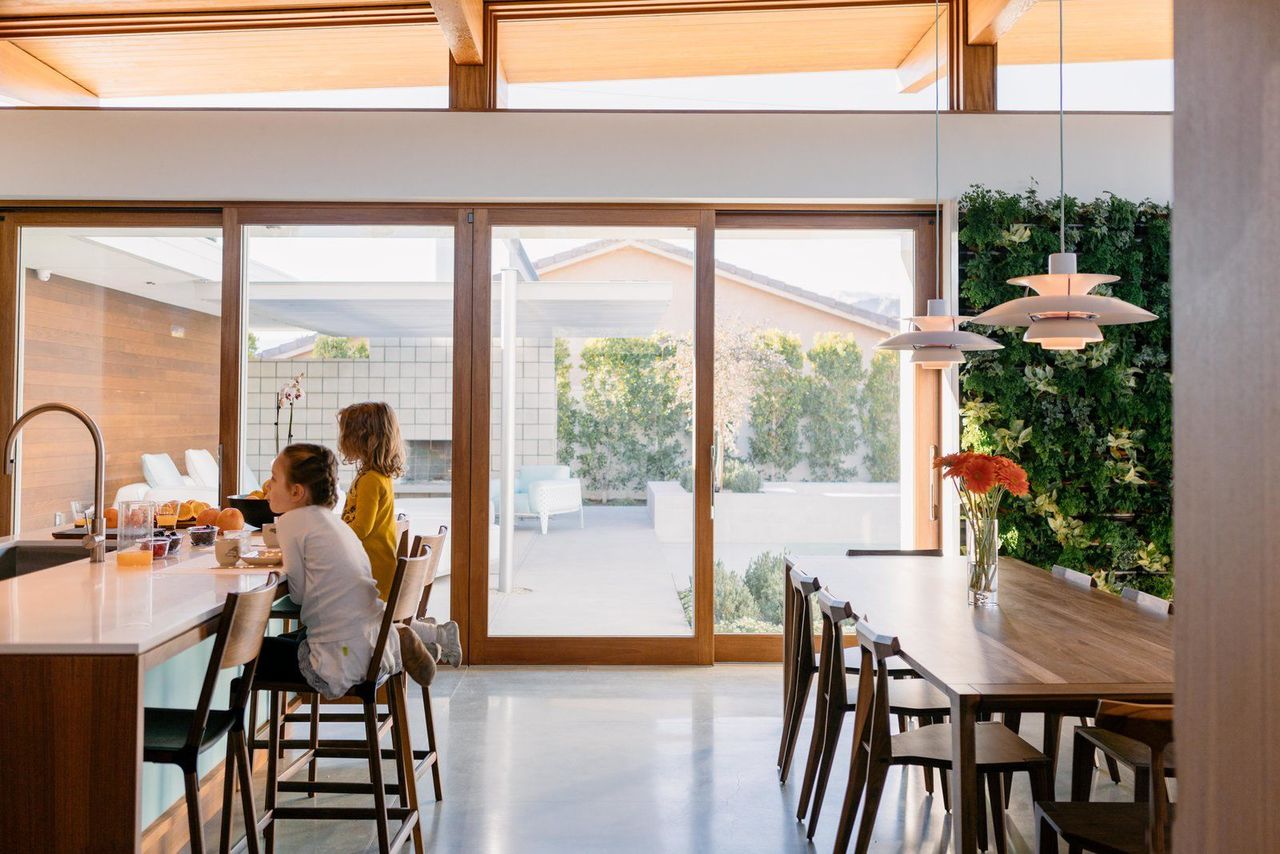 Along with intentionally designing all the spaces to minimize visual clutter, Joel and Meelena also prioritized light as a material to encapsulate a modern, airy aesthetic.

One of the spaces the husband-and-wife team are most looking forward to spending time in is the kitchen. "There's no doubt one of our favorite spots in this house will be the kitchen island," Meelena states. "Joel loves to cook, while being part of the action, and of course, the kids and I love to eat whatever he cooks," she jokingly adds. "So I envision us all sitting at the counter, enjoying that time together."

"Yes, the island will be one big communal table," Joel adds. "We've designed it to be at a scale that will allow everyone to gather around comfortably and share in the experience."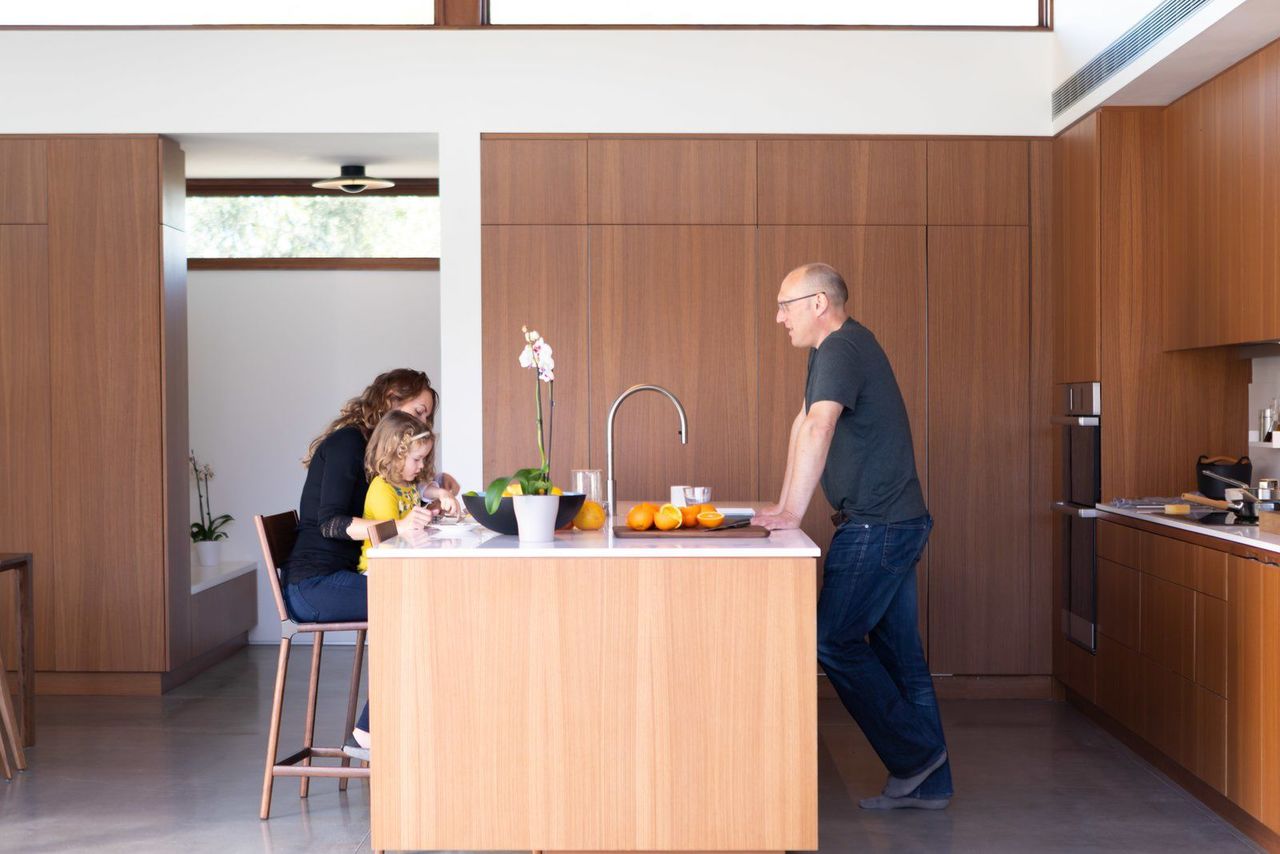 Once the time came to choose appliances, the couple relied heavily on Dacor. "It was really important for us to create an environment where we could control the noise, and so having appliances that are whisper-quiet-you literally cannot tell when the dishwasher is on-was a huge plus for us," states Joel.

When it came to selecting appliances, the dynamic duo heavily relied on Dacor for expertise. "Throughout the years, we've found that Dacor has a very robust and reliable appliance line with a great track-record and a wonderful team that stands behind them," Joel notes. "And as a designer, the appliances just have this incredible understated elegance to them, which fits very well with the design objectives of this home, as well as in many of the homes for our clients."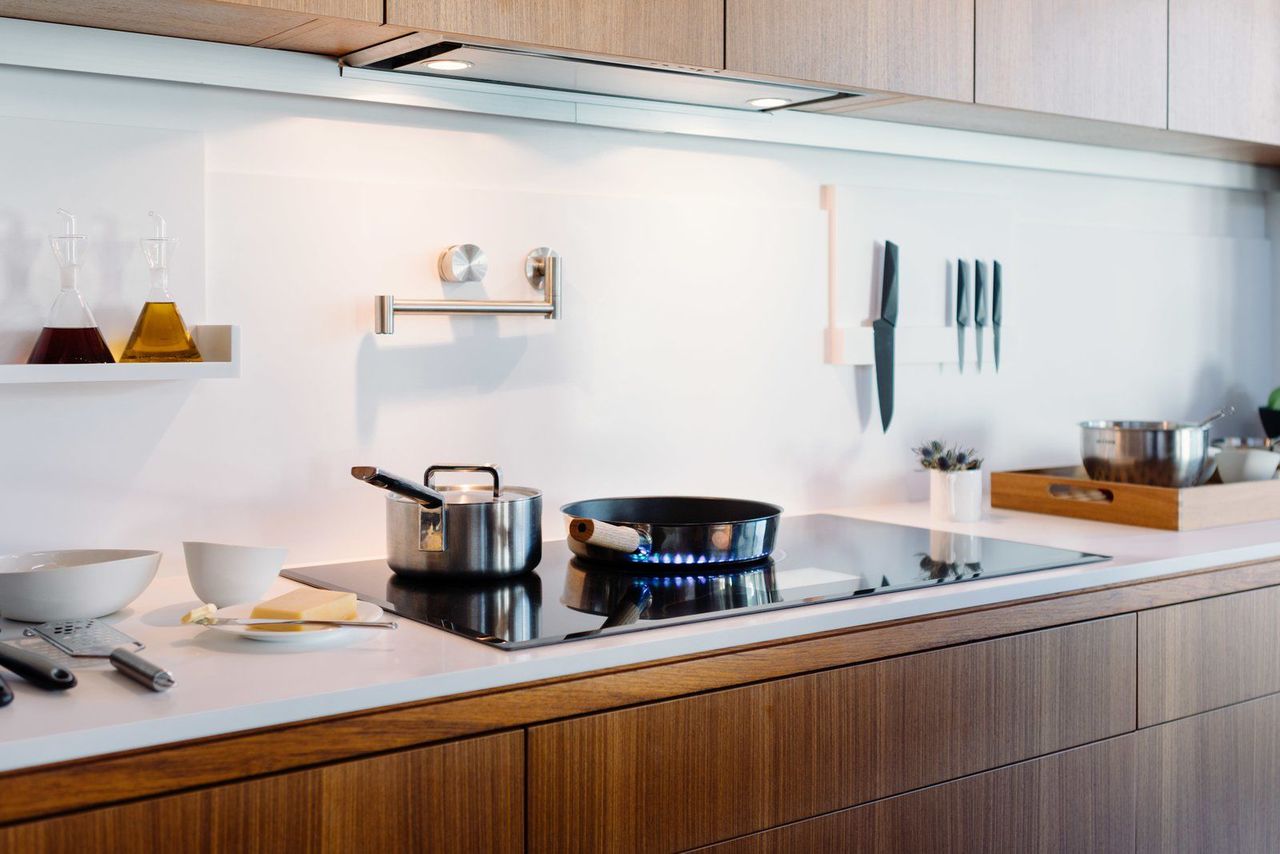 "I love to cook with the kids, but something that's crucial for me when having them in the kitchen is to be able to pinpoint control," explains Joel. "One of the things I love most about the Dacor induction cooktop is its response rate. The rate at which you can bring things up to a temperature is fantastic. Second to none is the clean-up. It's reassuring to know the cooktop quickly cools down to allow me to clean it shortly thereafter.

"We worked really hard to keep the visual clutter to a minimum in this home, which is why most of our cabinetry in the kitchen is push-to-open," adds Meelena. "So, it was wonderful to see that the Dacor refrigerator and freezer have that feature as well."

Another appliance component the couple appreciates is the fridge's interior camera. "What I love about the camera in the fridge is that it's highly functional and not just a gimmick," notes Joel. "How many times have you gone to the store and purchased things because you forgot you had it? In my mind, this is a beautiful, simple feature that allows you to use less and waste less-while also wasting less time."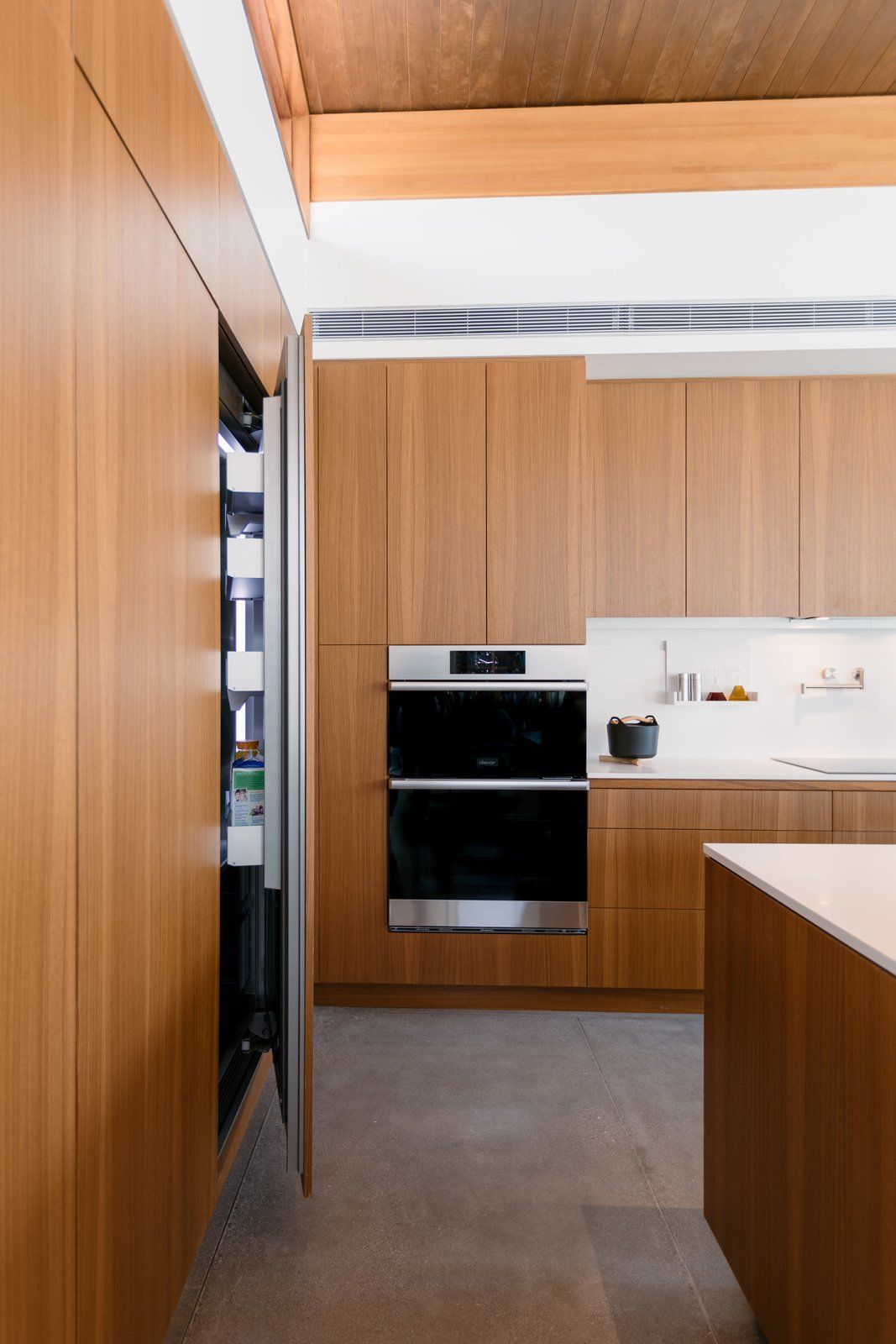 "One of the things I like most about the Dacor combination-oven is the multi-functional capabilities," explains Joel. "Within one relatively small appliance, we have a conventional oven, with steam assist, and then we have a convection oven that's also a microwave."

Along with cultivating a vast, multidimensional kitchen at the heart of the home, the couple have also designed the energy efficient area to foster a seamless indoor/outdoor connection-epitomizing the Palm Springs lifestyle while also supporting activity. "We've used the space intentionally to encourage play," explains Meelena. "From the pool, bocce court, and ping-pong table, to the small area of grass where the girls can practice their cartwheels and somersaults, these are all spaces that I hope our children can play in and enjoy while being outdoors and active."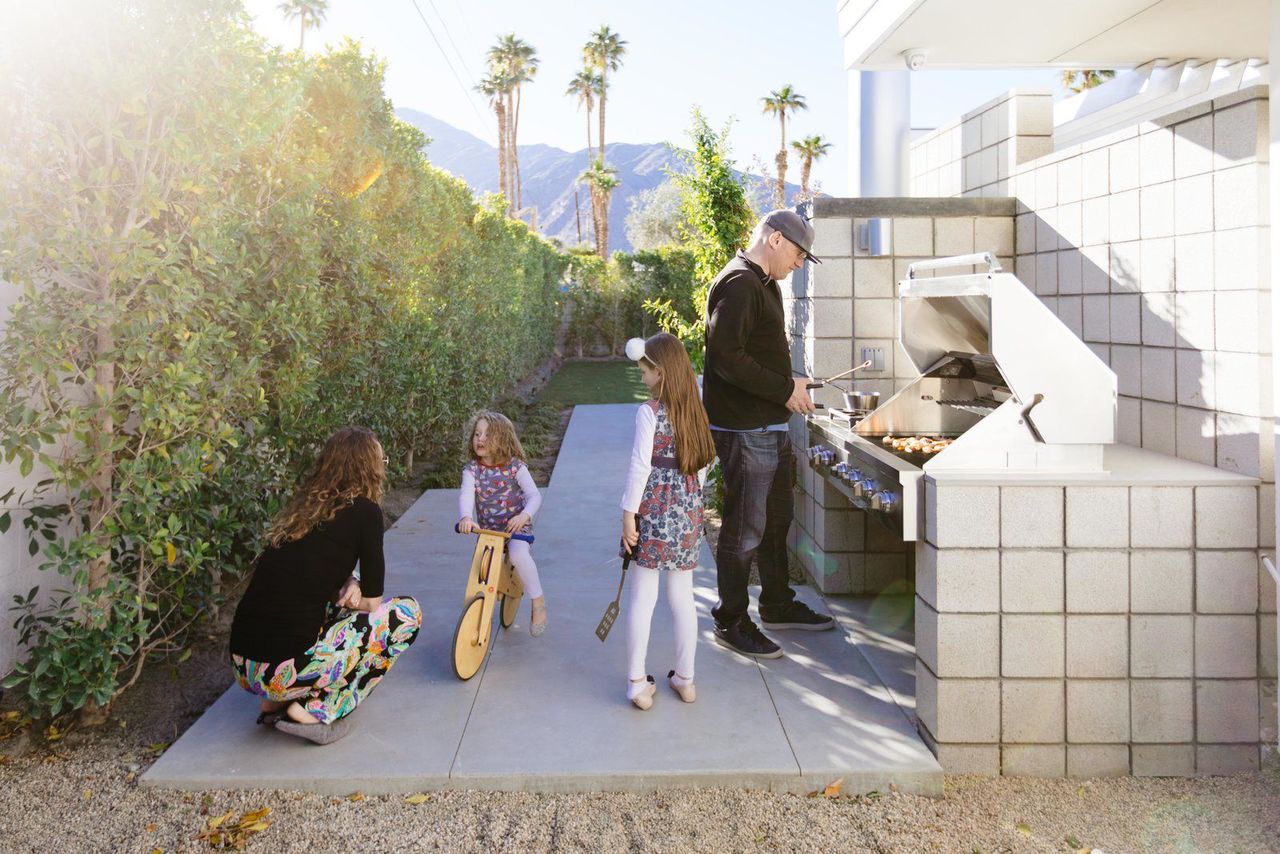 "Cooking is a family undertaking," notes Meelena. "It's something that you do socially, so having these gorgeous appliances certainly makes us want to use them, entertain, and create memorable experiences with loved ones in this house."

"We're really excited to finally be able to move in with our kids and just be here together," concludes Joel. "After building homes for clients all around the world, I'm really looking forward to one of them finally being a part of our family."