Built in 1949, this steel prefab in Minneapolis is a blast from the past-not to mention a rare midcentury gem.
Between 1948 and 1950, the Lustron Corp. built prefabricated metal homes across the U.S. as part of an effort to combat the housing shortage for returning soldiers post–World War II. Despite these futuristic homes being considered low-maintenance and highly durable, only about 2,500 were constructed, as the structures were seen as too costly and complex to manufacture and assemble.

Nowadays, according to the Lustron Preservation Organization, there are only around 1,500 Lustron houses still standing, which makes the listing of this 1949 Lustron prefab even more special.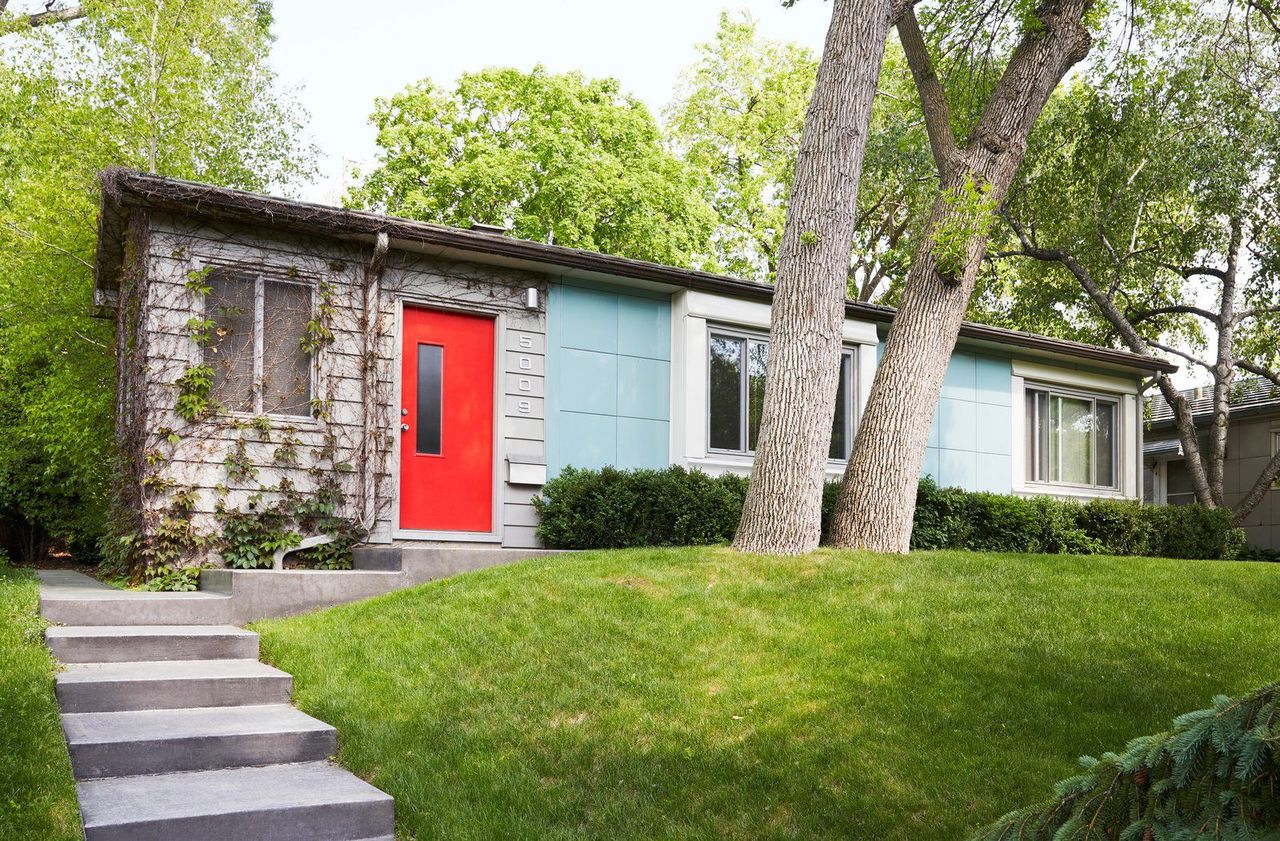 Sitting alongside five other Lustron homes on Nicollet Avenue in Minneapolis, this rare prefab is cladded in sleek, "surf-blue" steel panels. A bright red door welcomes guests inside.

One of six Lustron houses along Nicollet Avenue in Minneapolis, Minnesota, this iconic prefab is now seeking a new buyer after having been lovingly tended to for 26 years by its current owner. With the home listed at $350,000, our hunch is that it won't stay on the market for long.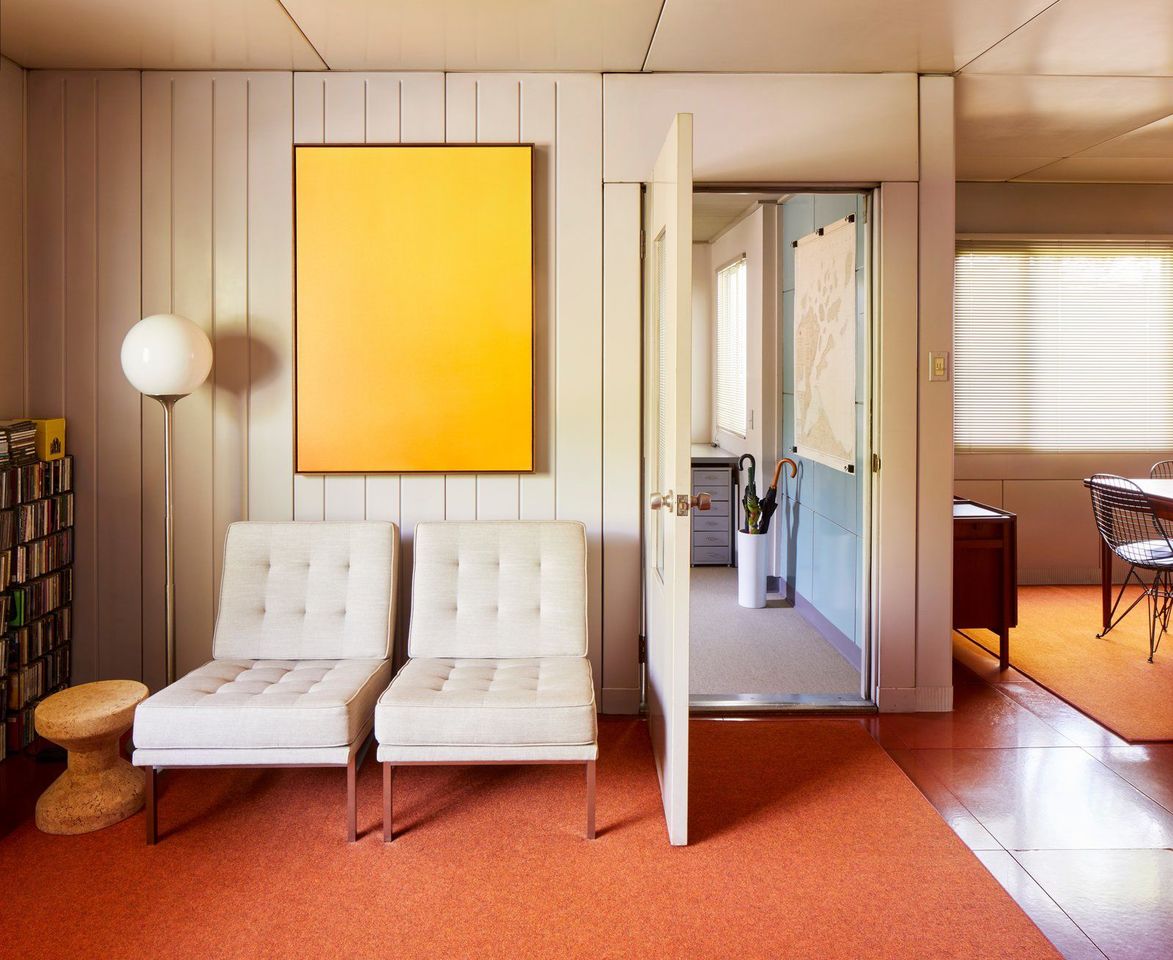 The style of this specific Lustron is known as Westchester Deluxe. Featuring 1,153 square feet of living space, the 1949 midcentury still remains in its rare original condition.

The historic, 1,153-square-foot home has been exceptionally maintained throughout the years, and features two bedrooms, one bathroom, and extensive landscaping that extends the living spaces to the outdoors.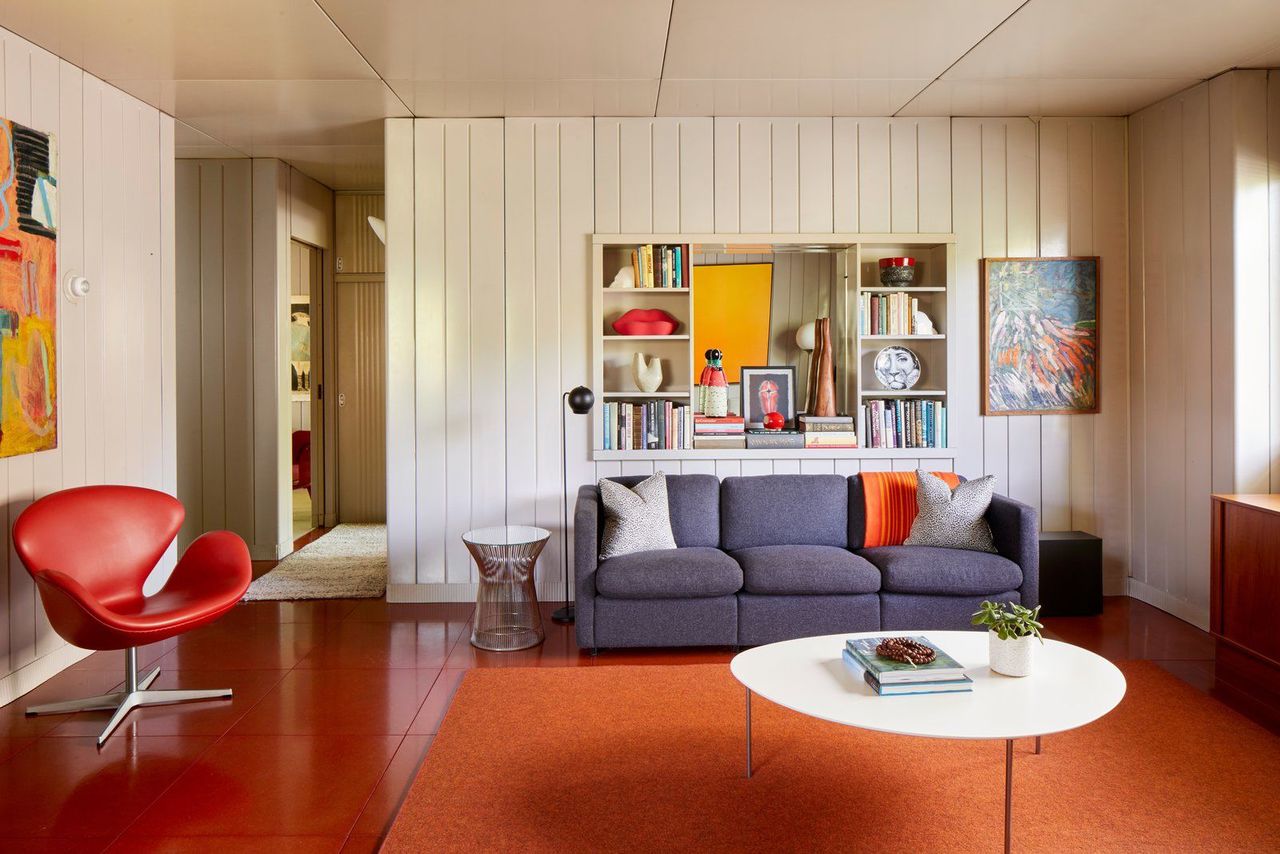 Fitted with eclectic midcentury furniture throughout, the home pays tribute to its historic past.

"It is a truly modern home and it still feels modern to me after living here all of these years," says the current owner. "My nieces used to like to play 'Spaceship' in the house-dramatically opening and closing the sliding metal doors as if they were starring in a science fiction film."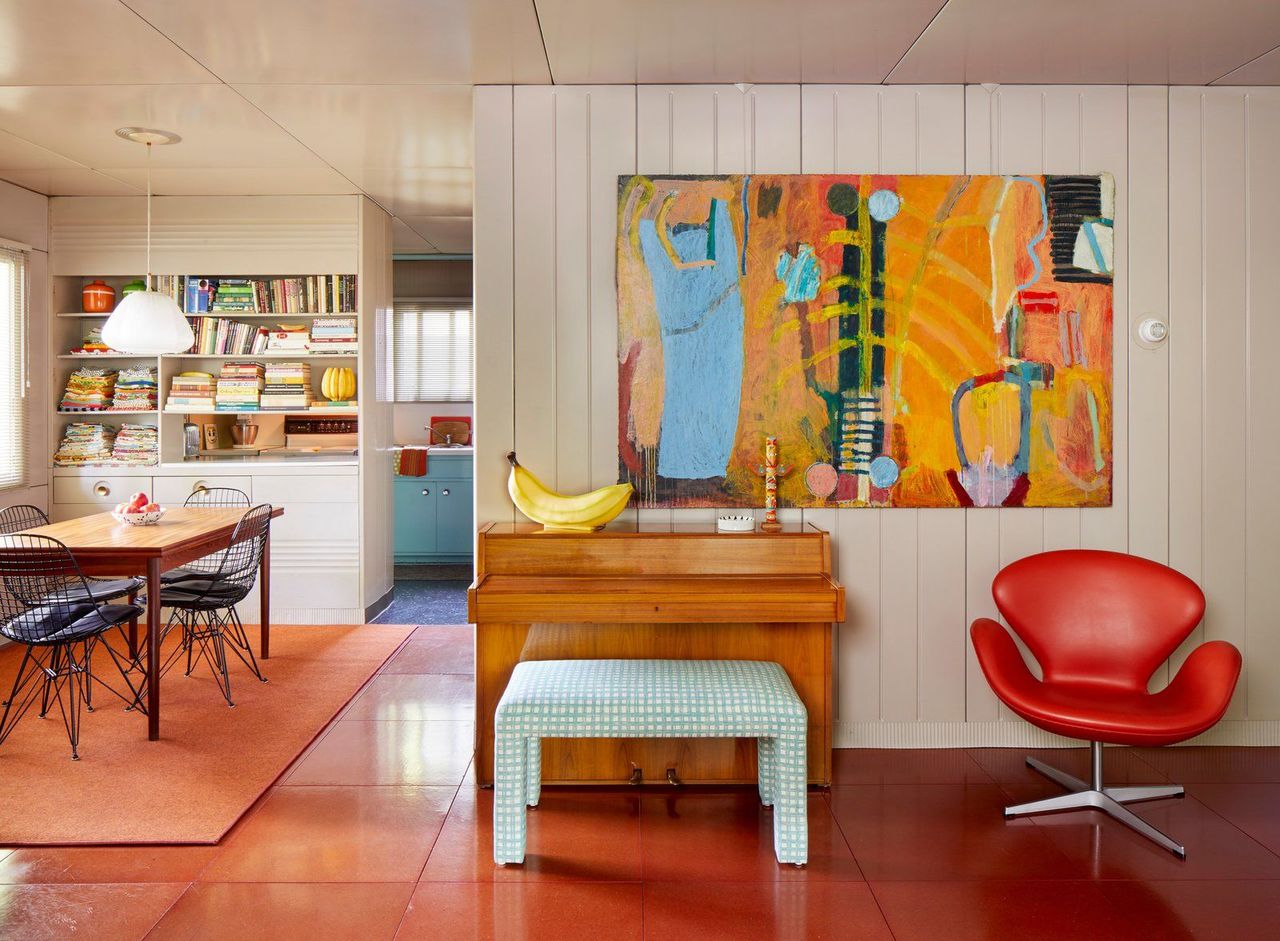 Vibrant red Masonite tiles line the floors in the dining and living areas, delightfully contrasting with the neutral color palette of the interior walls and ceilings.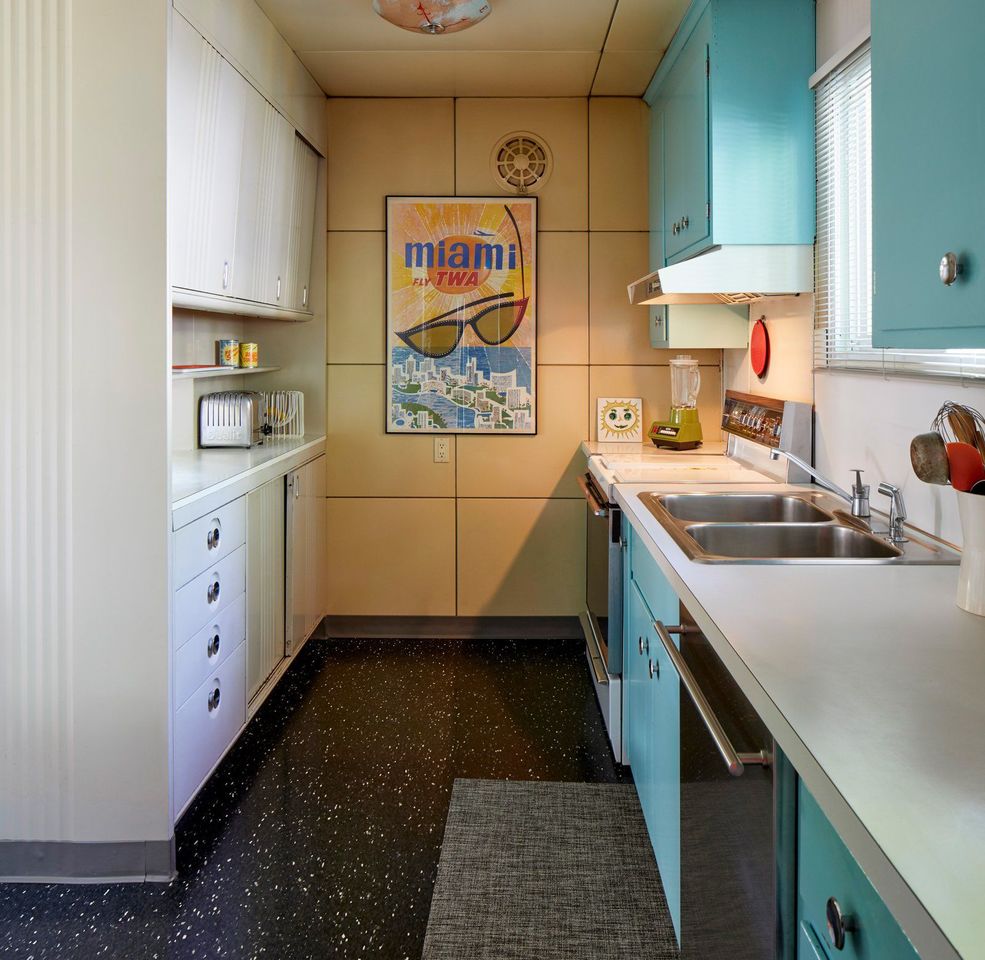 In the kitchen, blue cabinets add another burst of color.

"Because Lustron houses are completely fabricated from steel, they are impervious to termites and also more resistant to fire," the owner adds. "They are solid steel homes built to withstand the elements and time."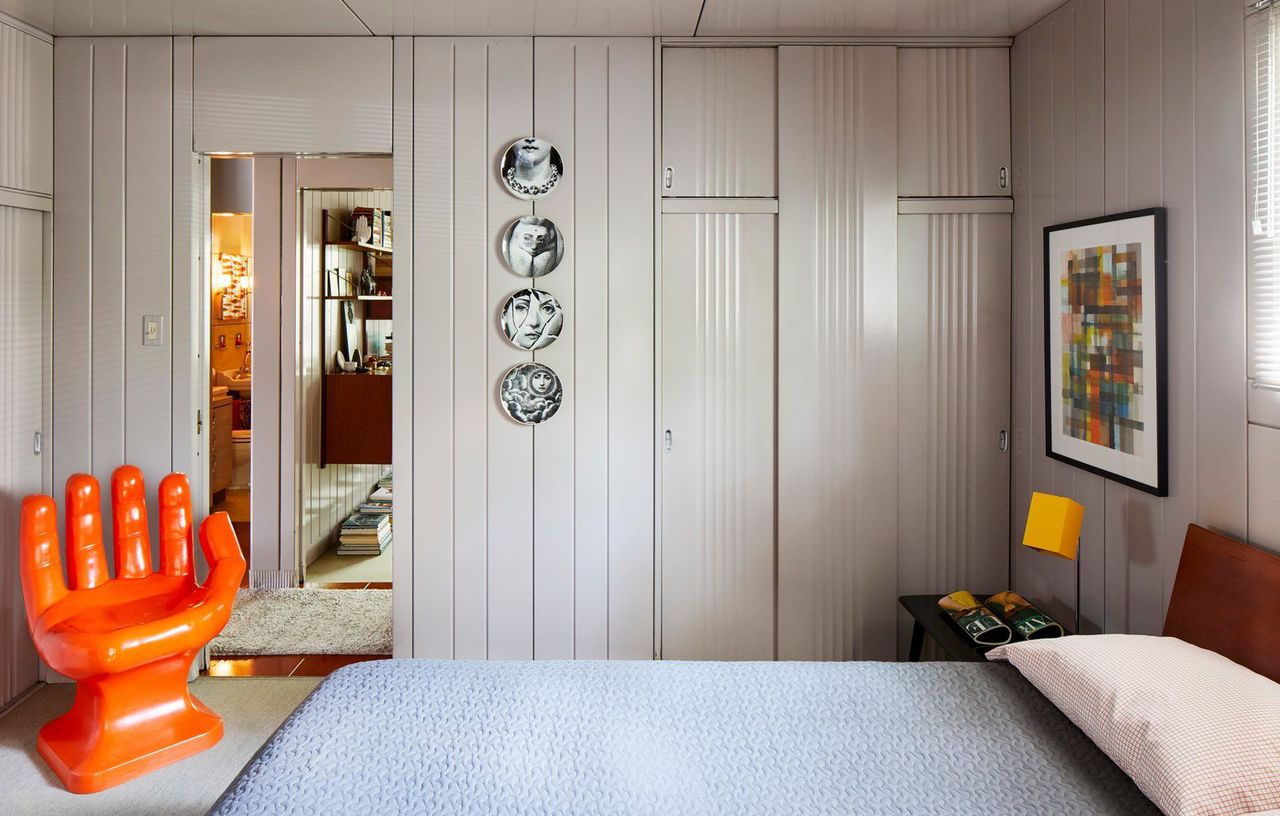 Like other Lustron homes, the interior and exterior were built using porcelain-enameled steel panels (fun fact: the same kind used to make White Castle buildings), connected to a steel frame.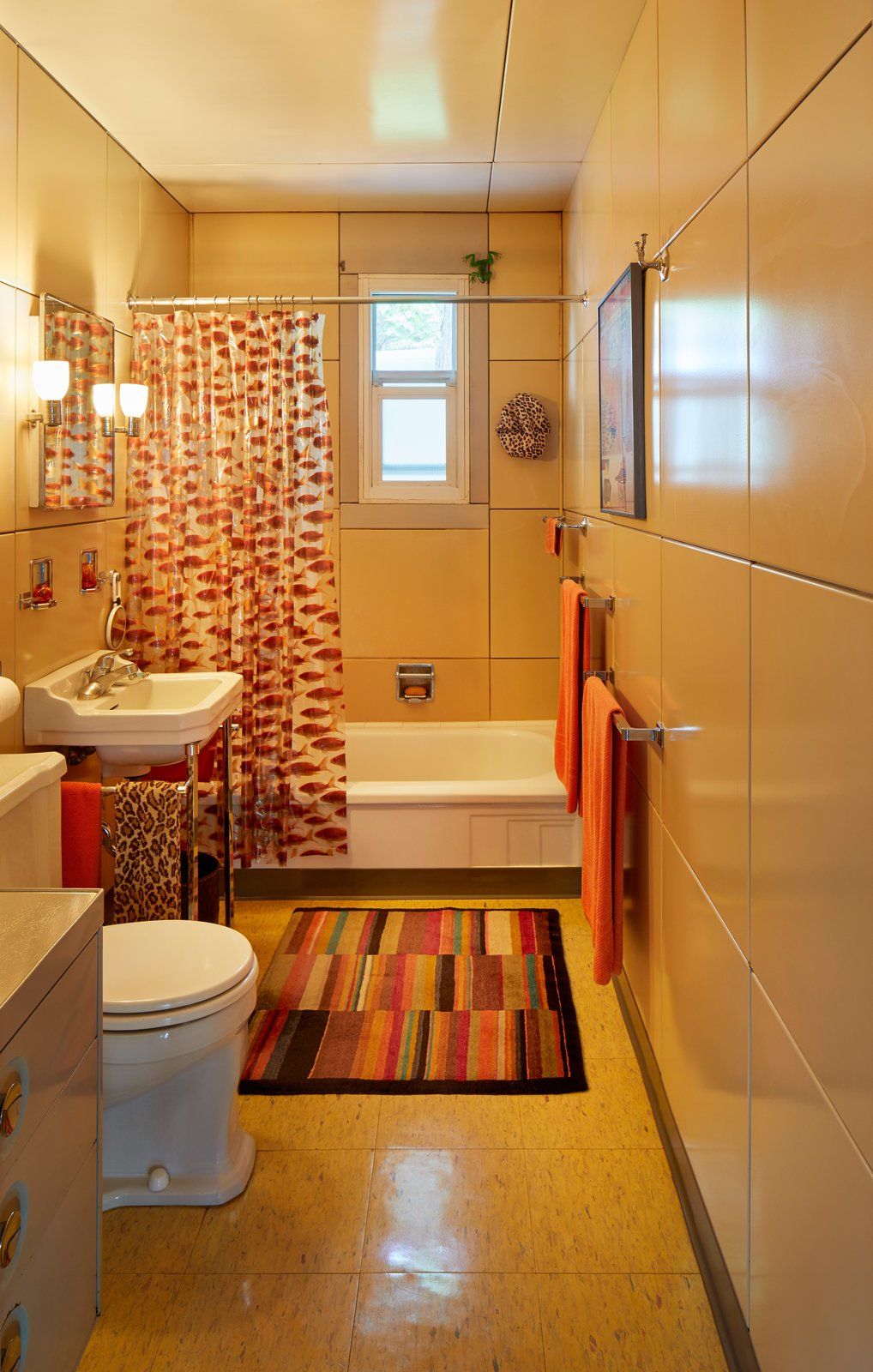 The home's interior cabinets, closets, and bathroom vanities are also made of metal.

"I feel that the legacy of my home is a promise for the future of sustainable prefab housing. The values of maximizing the efficiency in the use of space, the freedom of low-maintenance living and building with materials that will endure time and not end up in landfills are even more relevant in today's world," says the owner. "The impact of climate change, with the increased frequency of natural disasters, demands that we find a better way to provide safe, affordable, and sustainable housing. Sadly, the Lustron Corp. was an idea too far ahead of its time-now, we need to catch up."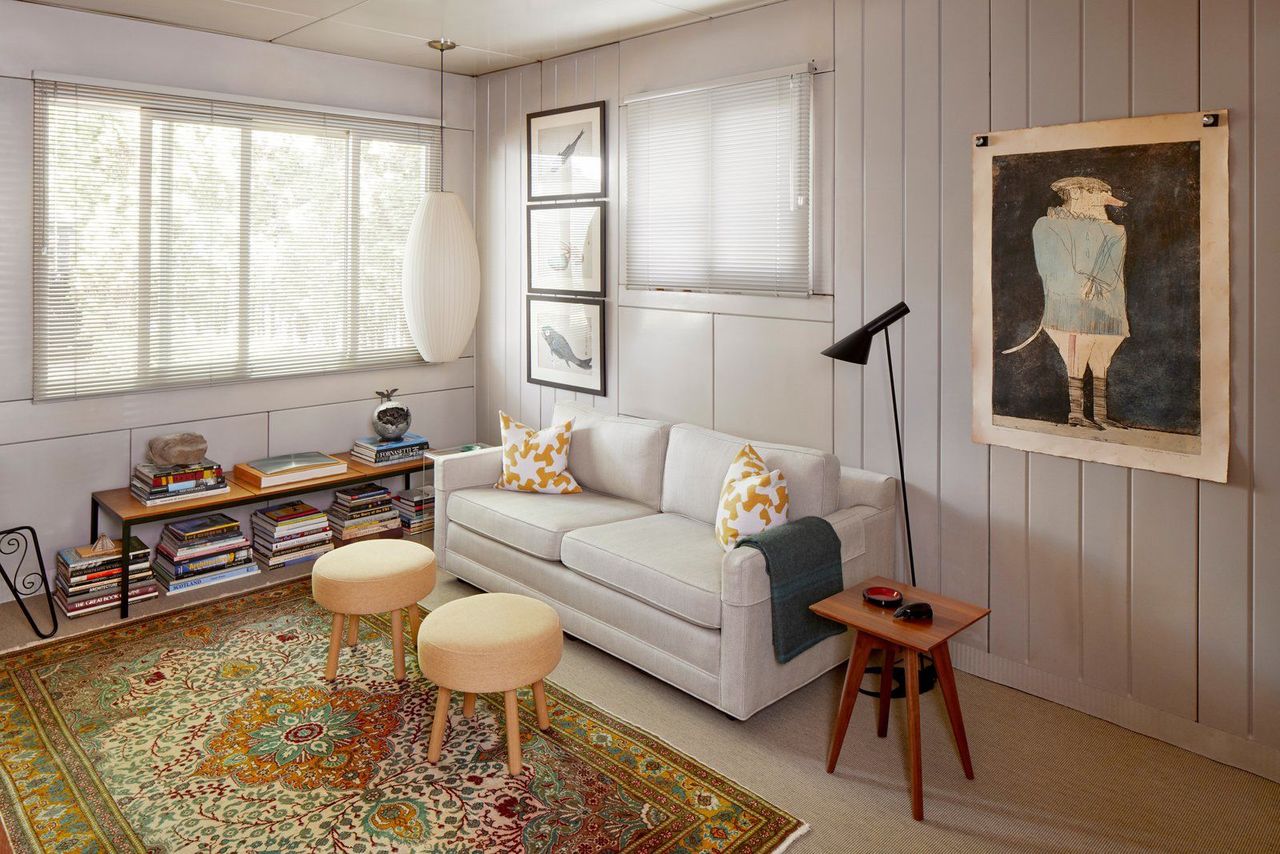 A light-filled corner nook offers an idyllic setting for reading and relaxation.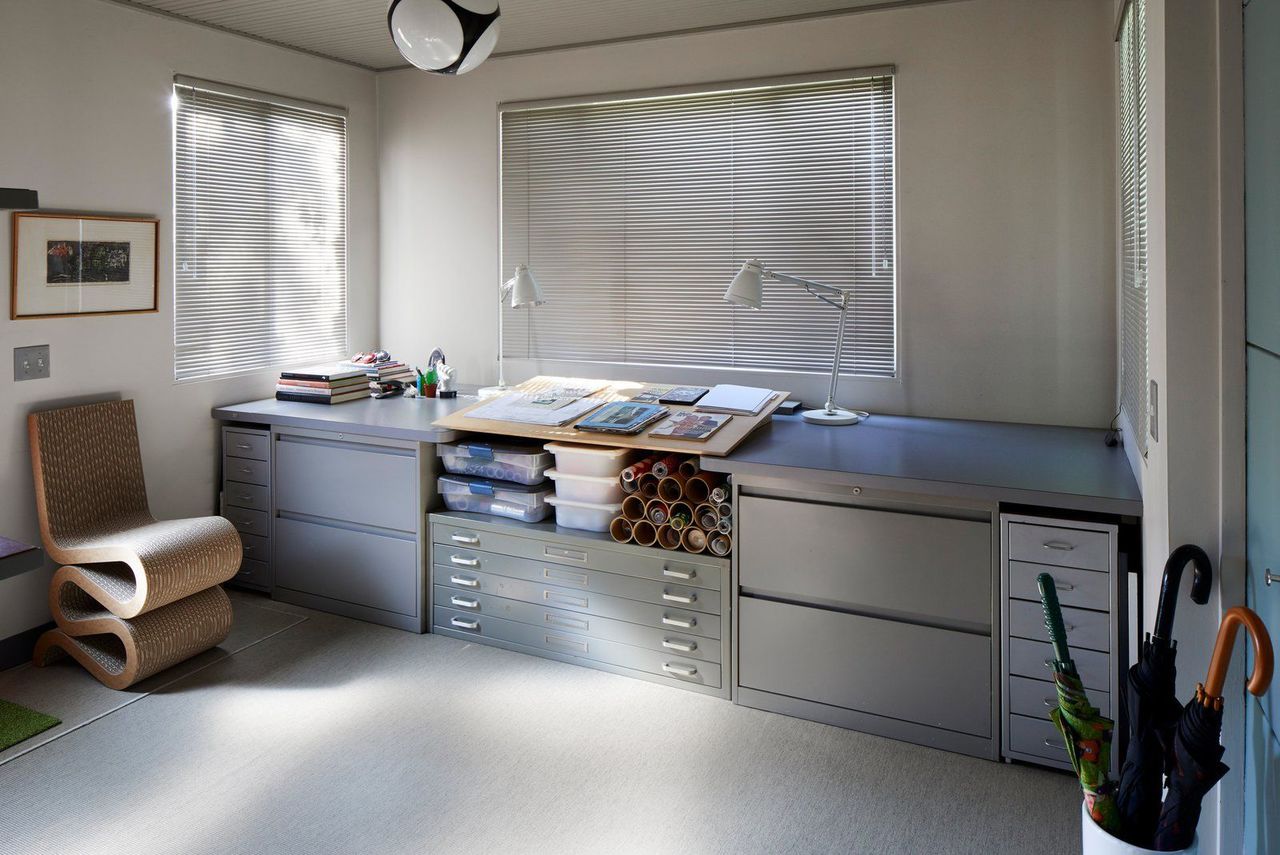 The durable, low-maintenance prefab also includes an office area, featuring plenty of storage.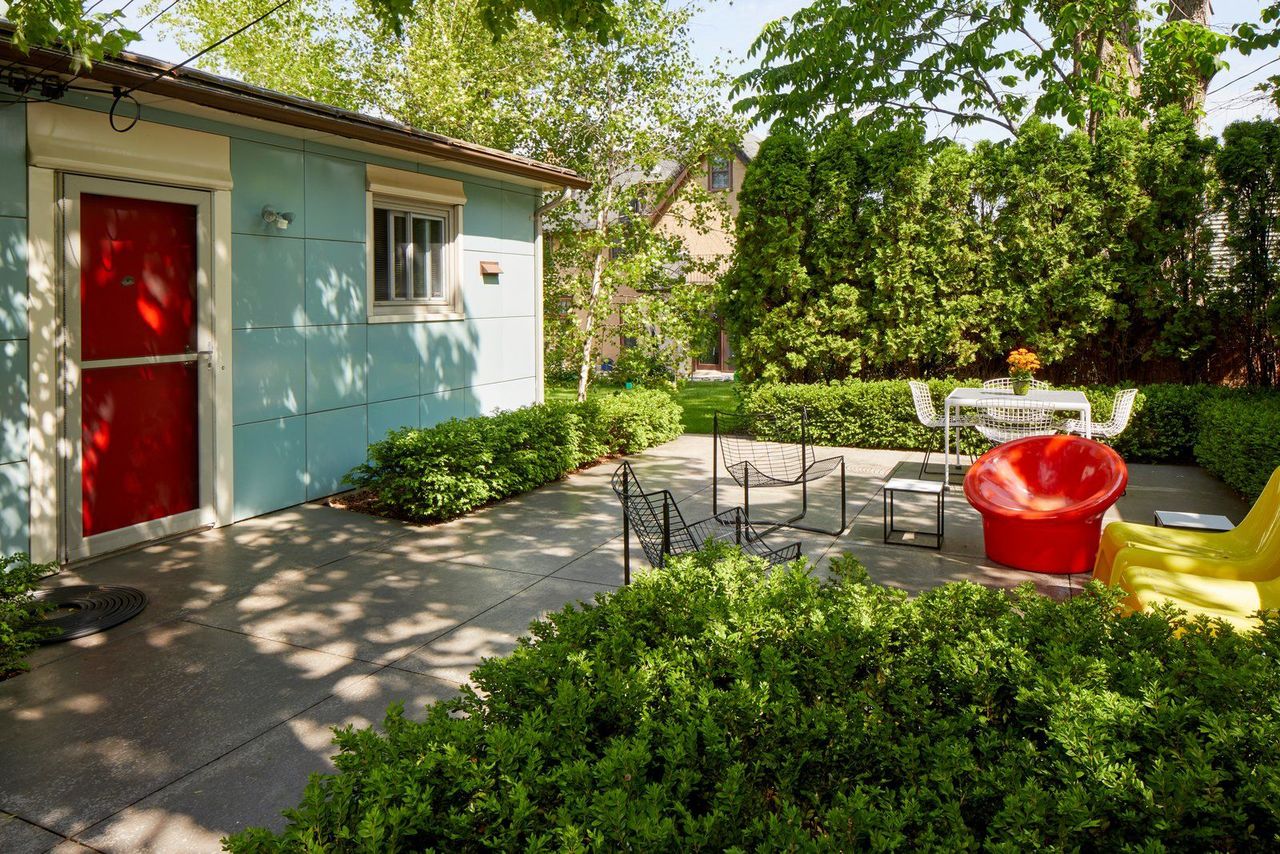 A spacious concrete patio extends the living area to the outdoors.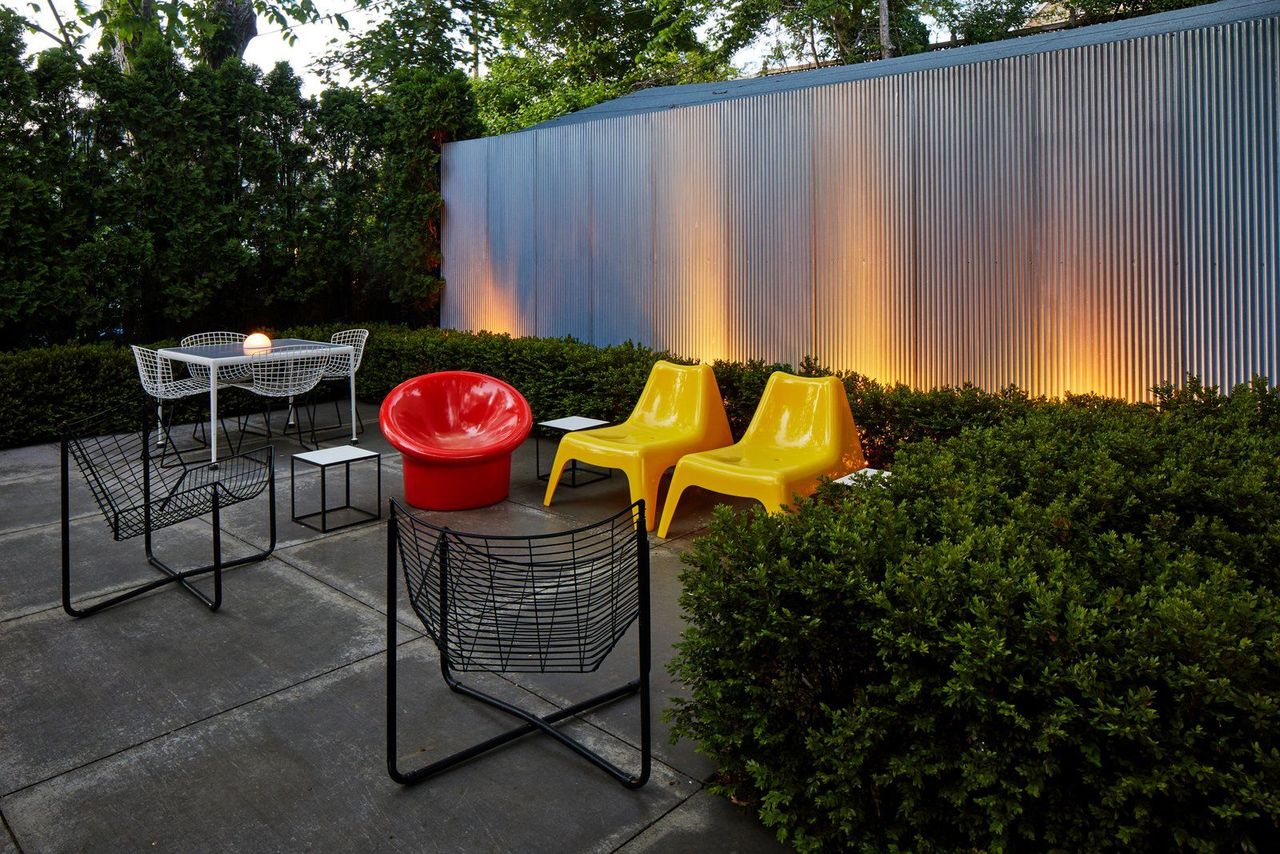 With ample seating and an illuminated landscape, the backyard can facilitate easy entertaining.