Ukraine is conspicuously diplomatic in its dealings with Vladimir Putin's top ally.
Ukrainian President Volodymyr Zelenskyy is happy to unleash withering criticism against countries including Hungary and Germany for getting too close to the Russians. But he's playing a diplomatic long game with Moscow's No. 1 ally: Chinese President Xi Jinping.

There are good reasons for not riling the Chinese, despite their "no-limits partnership" with Moscow. Zelenskyy wants to keep Beijing onside as an investor, trade partner and potential middleman — rather than push it away, and run the risk of Xi approving major exports of arms to Russia's forces. In the years ahead, China's deep pockets are also likely to play a role in helping Ukraine rebuild from the devastation of war.

As Xi visits Moscow this week, speculation is mounting that he could also finally hold the first phone call with Zelenskyy since Russia's full-scale invasion of Ukraine. While no call has been confirmed, U.S. National Security Adviser Jake Sullivan said he would welcome such a conversation between Xi and Zelenskyy, noting, "We believe that the [People's Republic of China] and President Xi himself should hear directly the Ukrainian perspective and not just the Russian perspective."

Beijing and Kyiv are hardly strangers. Before the war, China was Ukraine's leading trade partner as well as being a massive market for Black Sea barley and corn. It also invested heavily in Ukrainian infrastructure such as ports and telecommunication. At pains to avoid ructions with such a crucial partner, Kyiv even abstained during a U.N. vote last year to condemn China's persecution of its Uyghur Muslim minority.

Revealingly, although EU and NATO officials reacted extremely skeptically to a 12-step plan from China to end the war in Ukraine last month, Zelenskyy himself stressed he was willing to keep the door open for a Chinese-led dialogue.

"I think the fact that China started talking about Ukraine is not bad. But the question is what follows the words," Zelenskyy said at a press conference in Kyiv. "I think some of the Chinese proposals respect international law, and I think we can work on it with China. Why not? Our goal is to gather many around us to isolate one [Russia]."

This view on China as a potential peace-broker has severely divided opinions. Many critics note that China's chief goal is maintaining a strategic alliance with Russia that can help it counterbalance the democratic West. Commercial concerns and its image as a mediator come a distant second to that.

Oleksandr Merezhko, the head of the Ukrainian parliament's foreign policy committee, told POLITICO it did not look likely that Beijing would exert its influence over Moscow "as it does not want to stop Putin."

Peter Stano, an EU foreign affairs spokesperson, was also doubtful about China's suitability as a fair broker.

"China refuses to acknowledge who is the aggressor and who is the victim. Beijing is putting Russia on the same level with Ukraine — which is under brutal, illegal attack in violation of the U.N. charter; exactly the same charter China claims to protect," Stano said at a briefing. "Everyone is welcome to broker peace. But first of all, it needs to be accepted by the two parties involved."

By contrast, Vita Golod, chair of the board of the Ukrainian Association of Sinologists, argued that Beijing could play a useful role.

"China needs Europe. And now, it can show it through positive influence. It can create a mediator image in this war, just like Beijing reconciled the Iranian-Saudi conflict and became a real peacemaker," she told POLITICO.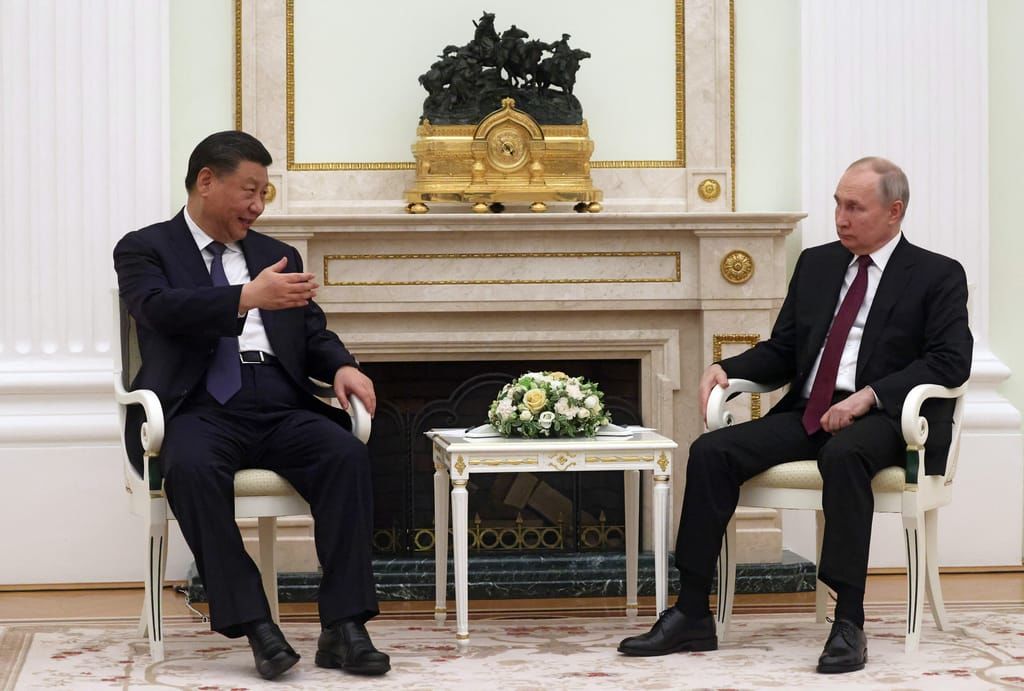 China's President Xi Jinping meets Russian President Vladimir Putin at the Kremlin in Moscow on March 20, 2023

China has the luxury of allowing itself to shut its eyes to past conflicts with Ukraine — which usually plays long, she said.

"This time, China understands that if it manages to do what the U.S. failed to do, it will consolidate its influence in Europe. And China now really needs Europe."

Engine problems

There have indeed been sore points in the Ukraine-China relationship over the past few years.

The most severe falling-out hinged on MotorSich, the largest Ukrainian aviation engine producer, which the Chinese tried to buy in a deal that Ukraine's western allies, including the United States, widely viewed as a security threat. The big fear was that key military technology would fall into Beijing's hands.

In 2017, Chinese company Skyrizon Aviation and MotorSich asked the Antimonopoly Committee of Ukraine (AMCU) to approve their merger. However, the committee rejected the deal, and state security stopped the merger. In 2020, when Skyrizon filed another request to the AMCU, the Ukrainian government ordered the nationalization of MotorSich. But it soon changed its mind, leaving the engine producer in limbo.

In response, Chinese investors filed a lawsuit in an international tribunal to recover $3.5 billion from Ukraine, believing that Kyiv had violated a 1992 investment protection agreement. In 2021, Skyrizon also filed a complaint against Ukraine in the Hague, demanding Ukraine pay $4.5 billion in damages.

"It was the business of two private institutions, and it was possible to deal with it nicely. But our government involved SBU [the security service] … Now it is the state's business, and the situation has become even worse," Golod said. "These questions are not resolved; the point is not set. We owe China a lot of money."

Presently, Ukrainian diplomatic relations with China have plunged to a crisis point, according to Merezhko from the Ukrainian parliament's foreign affairs committee. He observed that while most countries were seeking to isolate Russia, China was deepening ties with the aggressor state in many areas — turning Russia from junior partner to vassal state.

"And this will certainly have consequences for Ukraine and China's policy towards Ukraine," Merezhko said. "In addition, Ukraine has clearly chosen the path of Euro-Atlantic integration, which is the opposite of the development of relations with China. We are on the side of the free democratic world, not on the side of authoritarian regimes."

Yet while Merezhko held out little hope of real help from China, he called Ukraine's diplomatic approach to China smart in terms of Realpolitik.

"There is fear that if we start criticizing China more harshly, Beijing will use it as an excuse to strengthen its aid to Russia, and even start providing military aid," Merezhko continued.

Thin ice

Since the outbreak of the war, China has paid lip service to proclaiming its neutrality and has abstained from voting on Ukraine resolutions at the U.N.

Political temperatures have risen more recently, with U.S Secretary of State Antony Blinken saying Beijing is considering supplying weapons to Russia.

Once again, while Washington has struck a tough line on this and tested the grounds for sanctions against Beijing in the case of confirmed arms shipments, the Ukrainians are taking a highly diplomatic tack.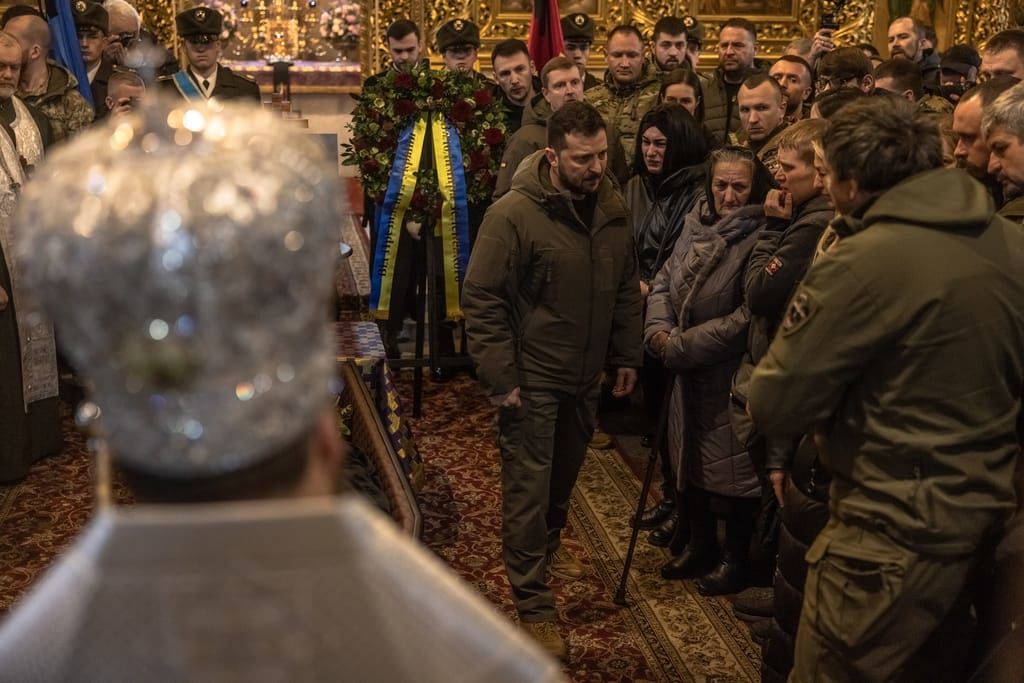 Ukrainian President Volodymyr Zelensky comforts relatives of a killed Ukrainian serviceman on March 10, 2023 in Kyiv, Ukraine

Sidestepping tensions, Oleg Ustenko, Zelenskyy's economic advisor, told POLITICO that Ukraine does not "have a clear vision in terms of sanctions on China."

Still, while Beijing's pro-Russian stance is obvious — it is pushing hard for the lifting of sanctions, for example — Serhiy Herasymchuk, deputy executive director of the Foreign Policy Council Ukrainian Prism, a nongovernmental organization, said some elements of China's 12-point plan were nevertheless kindling interest in Ukraine.

"Of course, it is not a peace plan. Some of the pillars are pro-Russian," Herasymchuk said. "But others are important. We can use them to solve our own security issues," he continued.

He indicated nuclear safety as one such point, "where we can talk about guarantees that Russia wouldn't use nuclear weapons against Ukraine. Or talk about demilitarization of Zaporizhzhia Nuclear Power Plant."

Ukraine could also benefit from Chinese mediation in food security issues as it could help to extend the Black Sea grain initiative. Currently, China is the main recipient of Ukrainian grain coming through the three corridors of the U.N. arrangement.

"China can potentially pressure Russia to prolong the initiative for much longer and potentially expand the initiative to the ports of Mykolaiv," Herasymchuk pointed out.

Still, he argued that Ukraine should exercise caution in courting Beijing, and pay extra close attention to what China's real strategic goals might be.

"I am not certain that the Ukrainian leadership understands China's interests. It would be naive to expect China to mediate in Russia's war without the broader context of China's interests," he said.