As the official business of the UN climate summit took place behind closed doors, some of the most eye-catching demonstrations, passionate speeches and unusual stories unfolded on the streets of Glasgow.
The media frenzy for Greta Thunberg

It's not often you'll see an 18-year-old surrounded by police and clamouring journalists in Glasgow Central station - but Greta Thunberg is no average teenager.

During her time in the city, people flocked to venues and demonstrations where she was rumoured to appear, hoping to catch a glimpse or a quick word on camera.

After the first day of summit discussions, as world leaders enjoyed a glamorous VIP dinner in Kelvingrove Art Gallery and Museum, she addressed a crowd in Govan's Festival Park, saying politicians were "pretending to take our future seriously".

Reiterating her comments at the Youth4Climate conference in Milan in September, she said: "We are tired of [leaders'] blah, blah, blah".

She later joined thousands of young people on the Fridays for Future march and gave a speech in George Square, branding the summit a "failure" and a "global north greenwash festival".

The arrival of the Rainbow Warrior

Residents in Glasgow were told to expect disruption to their daily lives throughout the summit, including through road closures.

Among the first to make headlines was the arrival of the Rainbow Warrior - Greenpeace's famous ship - which resulted in the temporary closure of the Erskine Bridge while the vessel sailed underneath.

It was transporting four young climate activists from areas affected by climate change and had hoped to dock opposite the conference venue - but instead stopped a couple of miles up river at the King George V dock.

The horse and cart that came from Cornwall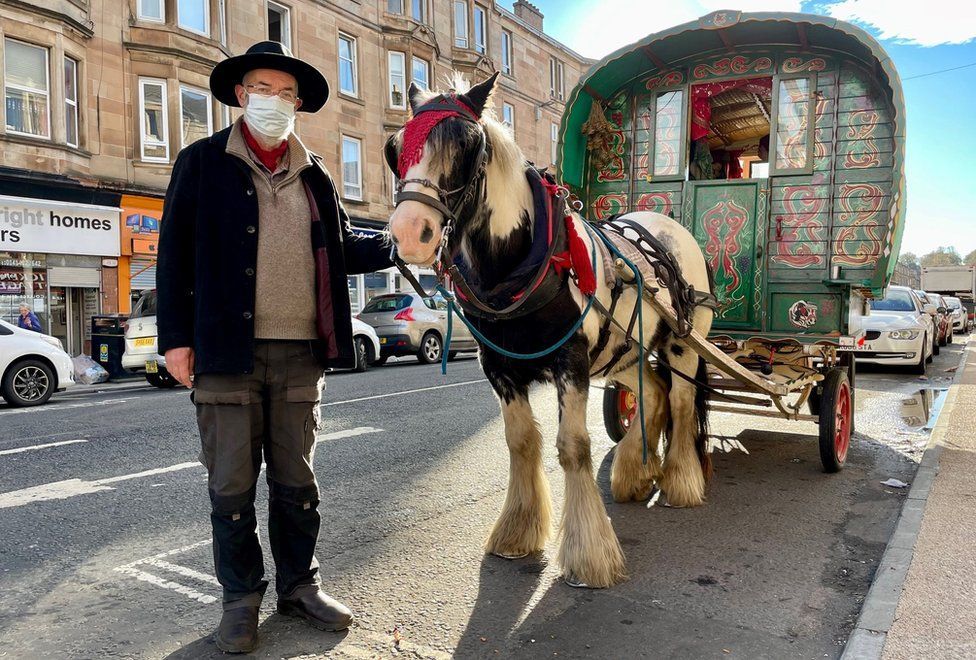 Michael Ransley and Tarateeno the Marvellous stopped for a break on Victoria Road in Glasgow

Early last week, bystanders on Victoria Road may have been fortunate enough to see Taranteeno the Marvellous clopping by.

The 15-year-old cob was with owners Michael Ransley and his partner Dr Phoebe Beedell, who set off from Cornwall for COP26 in the spring of 2019.

They had originally set off for Glasgow more than two years ago but delayed their arrival until the summit had been rescheduled.

The activists aimed to raise awareness of the climate crisis throughout the host city, and were saddened to see the number of cars on the roads.

The new generation of climate campaigners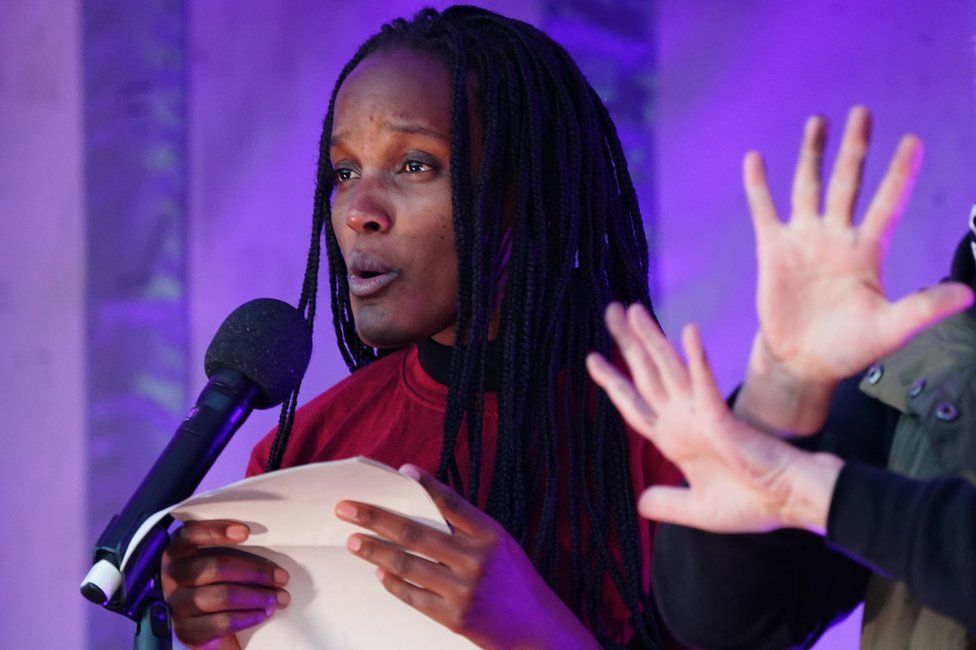 Vanessa Nakate is one of the best known of the new generation of campaigners against global warming - and was Uganda's first Fridays for Future activist.

The 24-year-old left her mark at both mass protests over the weekend, using impassioned speeches to raise awareness of the plight of the global south.

And if Ms Thunberg was the sovereign of soundbites, Ms Nakate held audiences rapt with first-hand experiences of communities devastated by climate disasters.

As one of the key speakers at the Global Day of Action rally on Glasgow Green, she told crowds how overnight storms seriously damaged a school which she and fellow campaigners helped to build in her home country.

"The strong winds and heavy rainfall will not stop, because the words and promises of leaders do not match their actions," she said.

The baby who joined a rally before her first birthday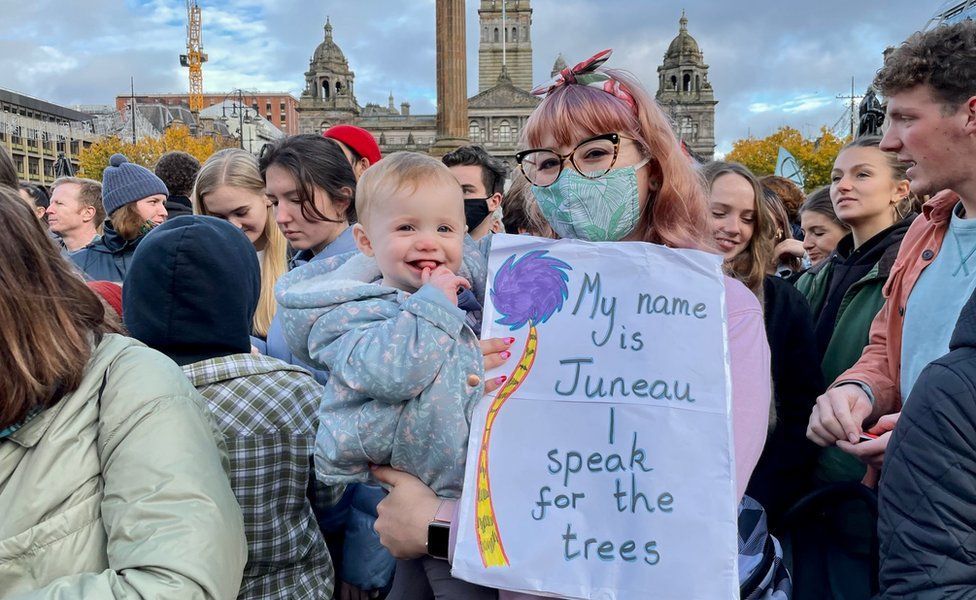 A smiling Juneau made it to her first protest before her first birthday

People of all ages joined schoolchildren as they marched from Kelvingrove Park to George Square on 5 November - among the youngest was 11-month-old Juneau.

She and her mother, April Hamilton, had travelled from Paisley because it was "too important" not to join the rally.

Ms Hamilton, a teacher, spoke highly of Greta Thunberg, whom she said was an incredible role model for her daughter.

The scientists who closed a bridge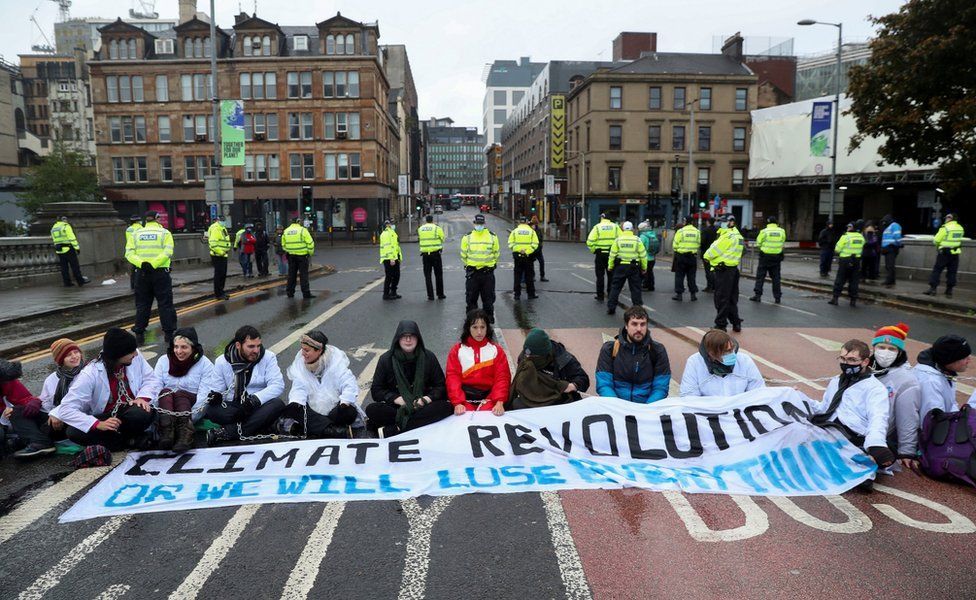 Shortly before 100,000 people were due to walk through the city centre on 6 November, a group of scientists chained themselves to the King George V Bridge.

The group from Scientist Rebellion said they could not "rely on our leaders to save us anymore" and had a "moral duty to act".

Specialist police teams used bolt cutters to remove the 21 activists. who were then arrested and released on an undertaking.

The colourful dress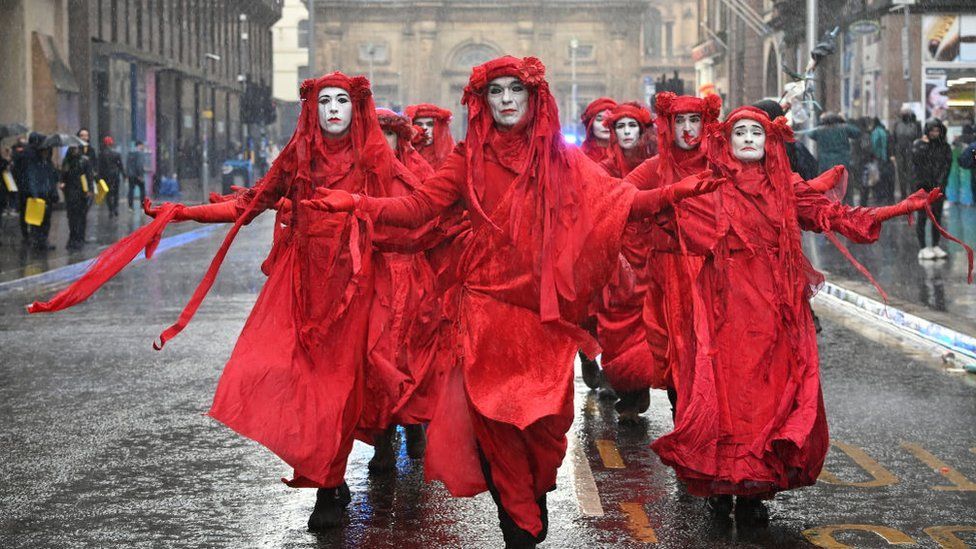 The Red Rebels again added a dramatic splash of colour to the protests

Despite pouring rain on Saturday, spirits were far from dampened - in part due to the colourful costumes and indigenous dress on display.

Some groups did not have representation during official conference proceedings, but nevertheless had eyes upon them at one of the largest protests in Glasgow's living memory.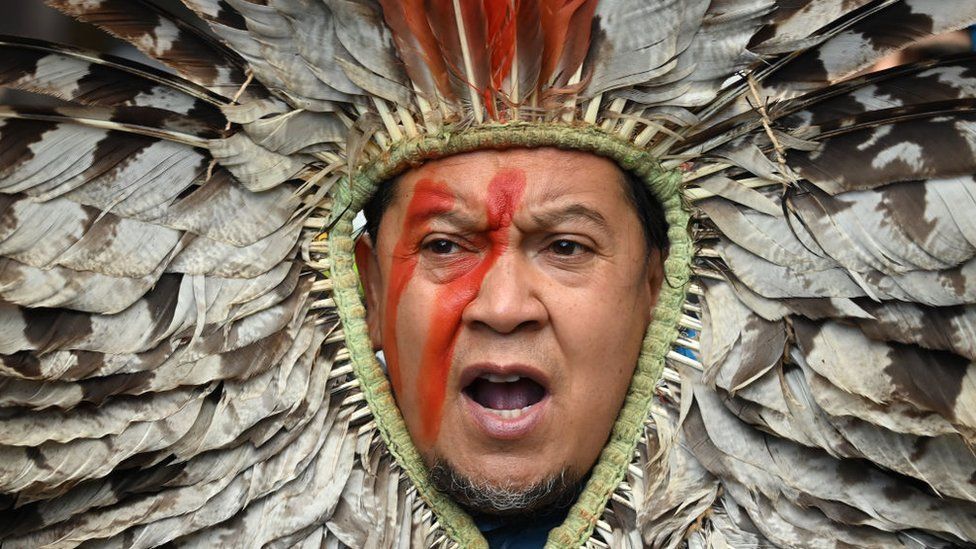 Members of indigenous groups, some of whom had no formal representation at the summit, joined the march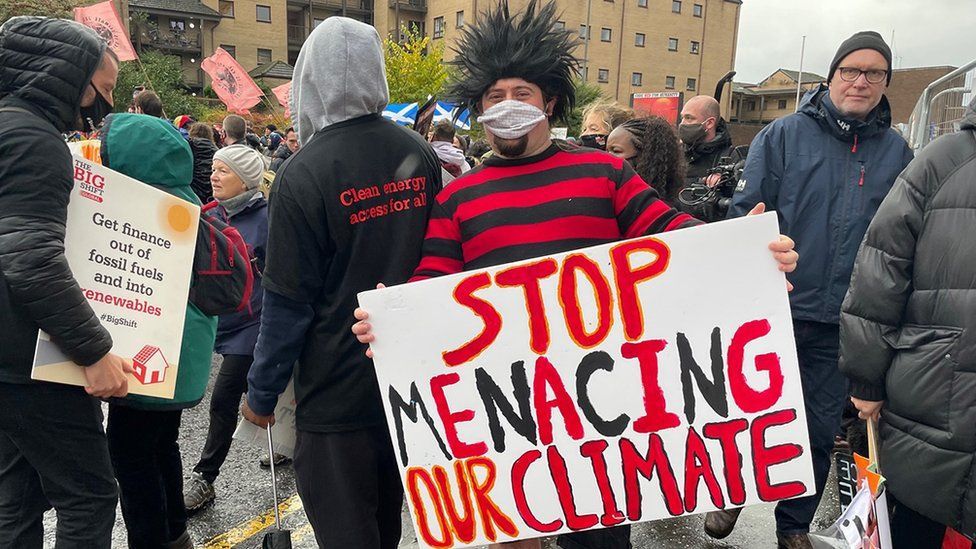 Others used their costumes to get their message across

Organisers said about 100,000 marched through the city for the rally at Glasgow Green.

Meanwhile police praised the "good natured" activists who were in "high spirits" throughout the day.

The 'artivism'

This mural in Partick is the work of Daniel Rupaszov - a 25-year-old from Hungary who belongs to a group of artists and activists who visit COP every year to create art which highlights the climate crisis.

He is one of many activists who have expressed their views through artwork, from a "carbon unicorn" made by Friends of the Earth to a large knitted display by Stiches for Survival.

The cafe that fed a horde of vegans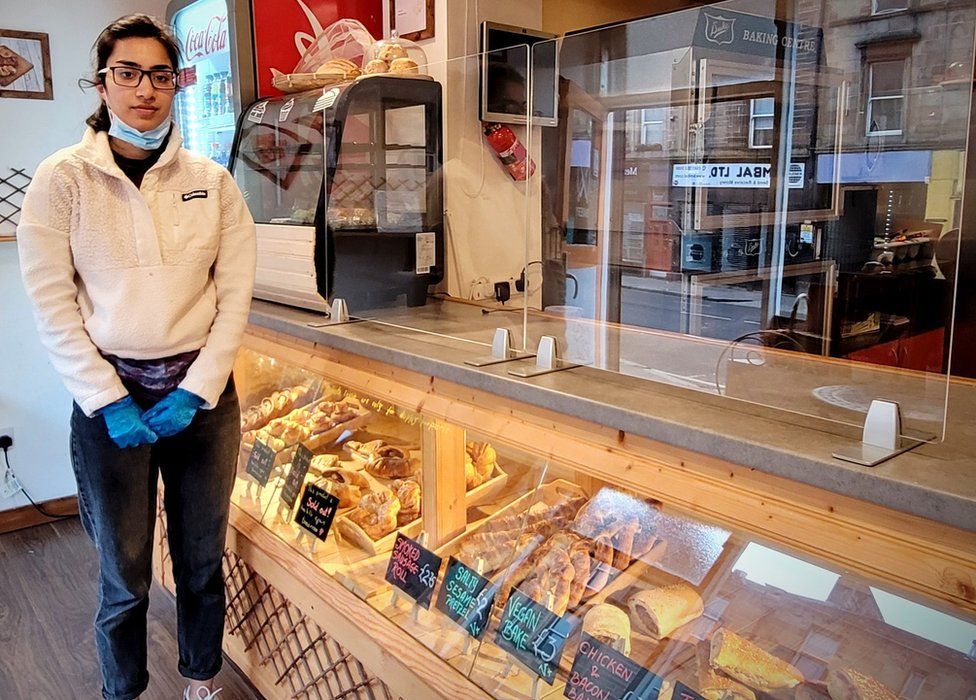 Brave Bakers on Saltmarket was one of the few businesses in the area that opted to stay open the day 100,000 protesters walked by on their way to Glasgow Green.

Arouge Salin had worked at the coffee shop for about two months when the staff of three were inundated with drenched customers vying for hot coffee and vegan pastries.

She told the BBC: "It started off quiet, but we had a queue outside the shop until the walk passed - it was non-stop from 15:30 until 18:00, and we normally shut at 17:30.

"We sold out of everything vegan - which never happens. The only thing we had left was our chicken and bacon bake which is usually the first thing to go.

"And we sold so many coffees that our machine jammed. I think people just wanted something warm."

And finally, the banner banter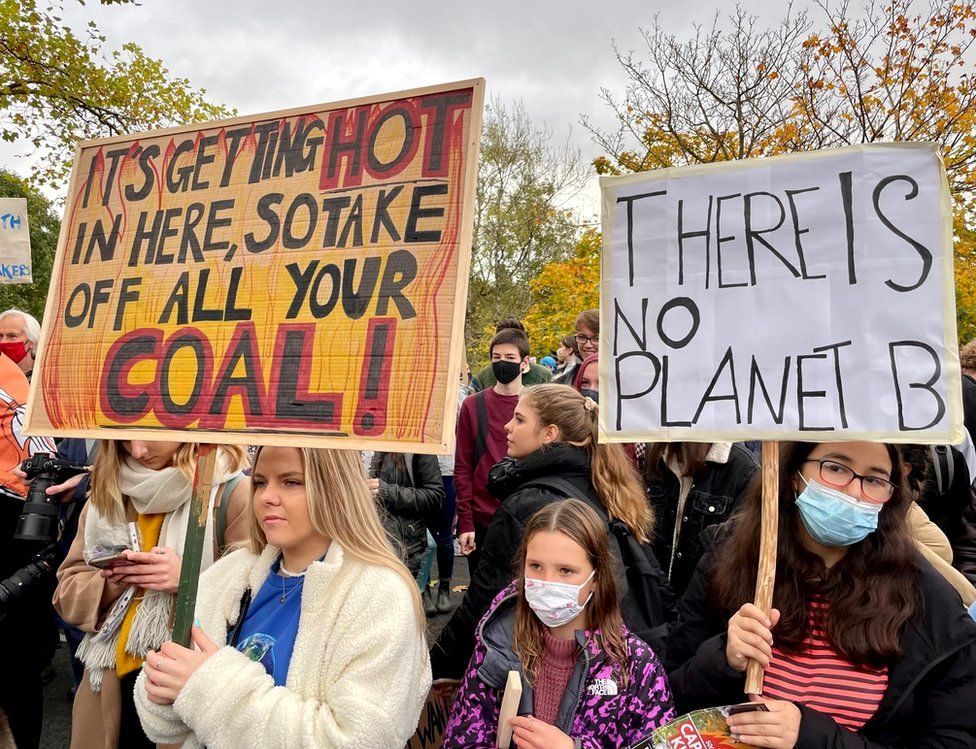 In the absence of costumes or conspicuous floats, young people used their imaginations to daub eye-catching slogans on protest signs for the youth march.

Activists made sure their messages were heard in their own voice - whether it was with a bit of humour or a Scottish accent.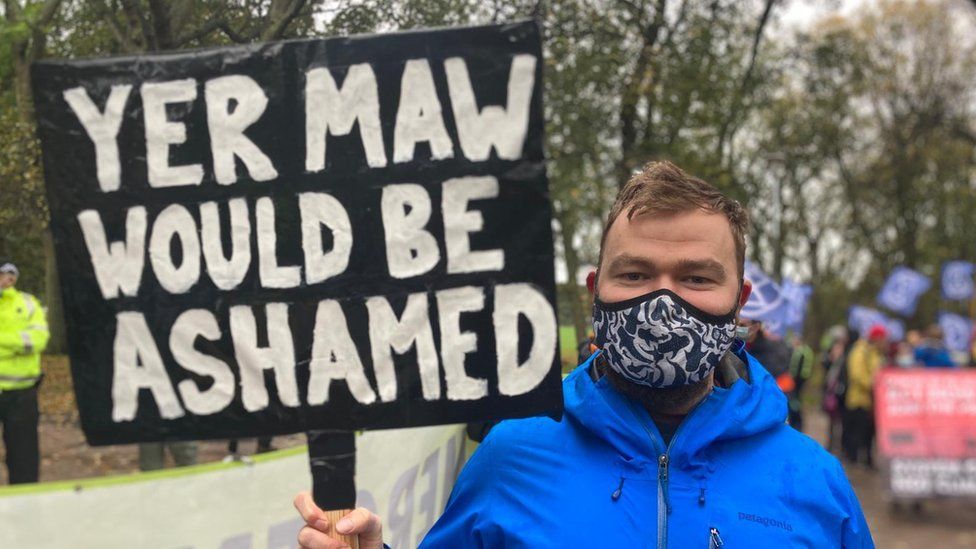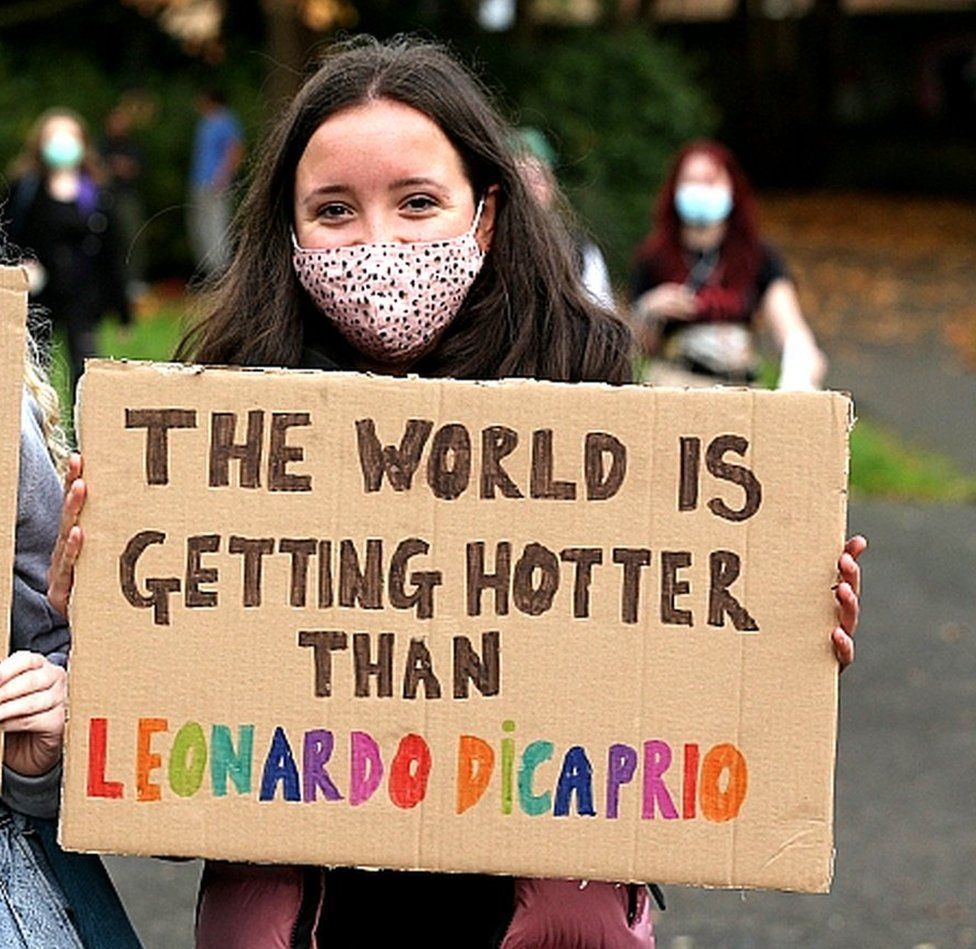 Greta Thunberg branded the COP26 climate summit a "global north greenwash festival"
Greenpeace ship Rainbow Warrior sails under Erskine Bridge