Misinformation has led to growing numbers of young, unvaccinated Covid patients in hospitals, one of Wales' top critical care consultants has said.
Dr Ami Jones said hospital staff felt "demoralised" to see the virus filling wards and intensive care units again.

"Covid has gone nowhere," said the consultant at the Grange University Hospital in Cwmbran.

Covid admissions and self-isolation of staff has led one health board to ask non-urgent patients to avoid A&Es.

Hywel Dda, which covers west Wales, has said all of their hospitals are "experiencing very high levels of urgent and emergency care demand".

Wales' case rate is the highest since January as Public Health Wales (PHW) figures said it has risen to 386.6 cases per 100,000 people in the last seven days.

But hospitalisations are much lower due to the vaccine rollout and more cases were expected by health chiefs due to the easing of most lockdown restrictions.
The number of people being treated in hospital for Covid has risen, with 40 patients, including 13 in north Wales, in critical care or on a ventilator as of Friday -up from 31 the previous week.

This is the highest daily figure since 4 March, but the figure remains much lower than at the peak of the second wave.

On Friday, 328 people were being treated for, or suspected to have Covid were in Welsh hospital beds, the highest number since April - and up 35% from the week before.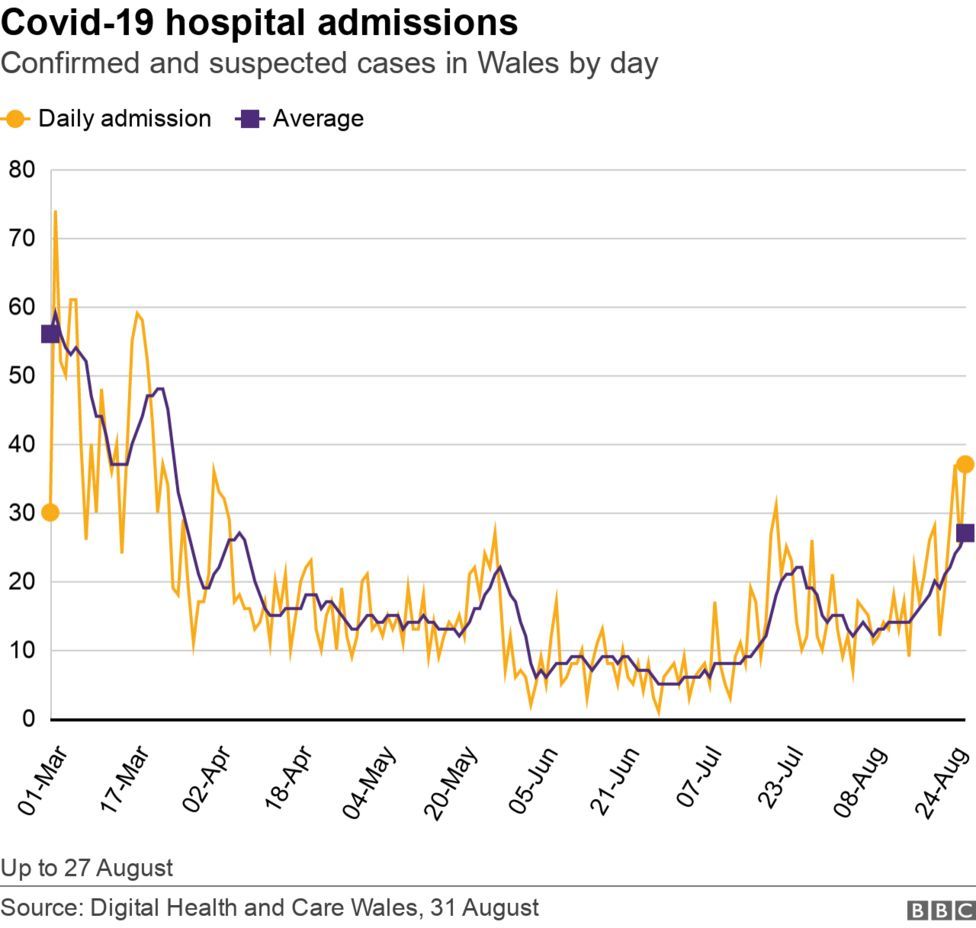 Dr Jones, who works for Aneurin Bevan University Health Board in south-east Wales, said acute hospitals, emergency departments and respiratory medicine had experienced a "much busier weekend this weekend than we've seen for months in terms of Covid".

"It's predominantly unvaccinated people we're seeing and a number of these are people in their 20s and 30s, with a small number of under-16s requiring hospital care for Covid," she said.

Cases among under-25s are continuing to rise in all but two of Wales' 22 local authority areas, with large rises in Swansea, Vale of Glamorgan and Pembrokeshire.

Pembrokeshire now has the highest case rate among the under 25s - 815.3 per 100,000, compared to a Wales average of 500.1.

Vaccination had made a huge difference in numbers requiring hospital treatment, she said, adding "we have people in our ITU who are very poorly right now who didn't get vaccinated but now wish for nothing more than to be able to turn back the clock and get their vaccine".

"We are all working very hard - we are keeping elective operations going and still running very busy emergency departments and wards.

"The staff are feeling pretty demoralised that Covid is once again filling their wards and their ITUs, especially when so many hospital cases could've been prevented by vaccination.

"It's always heart-breaking to treat patients with avoidable conditions but this time feels different as there's been so much misinformation out there it's made it very tough for people to know who to believe and who to trust.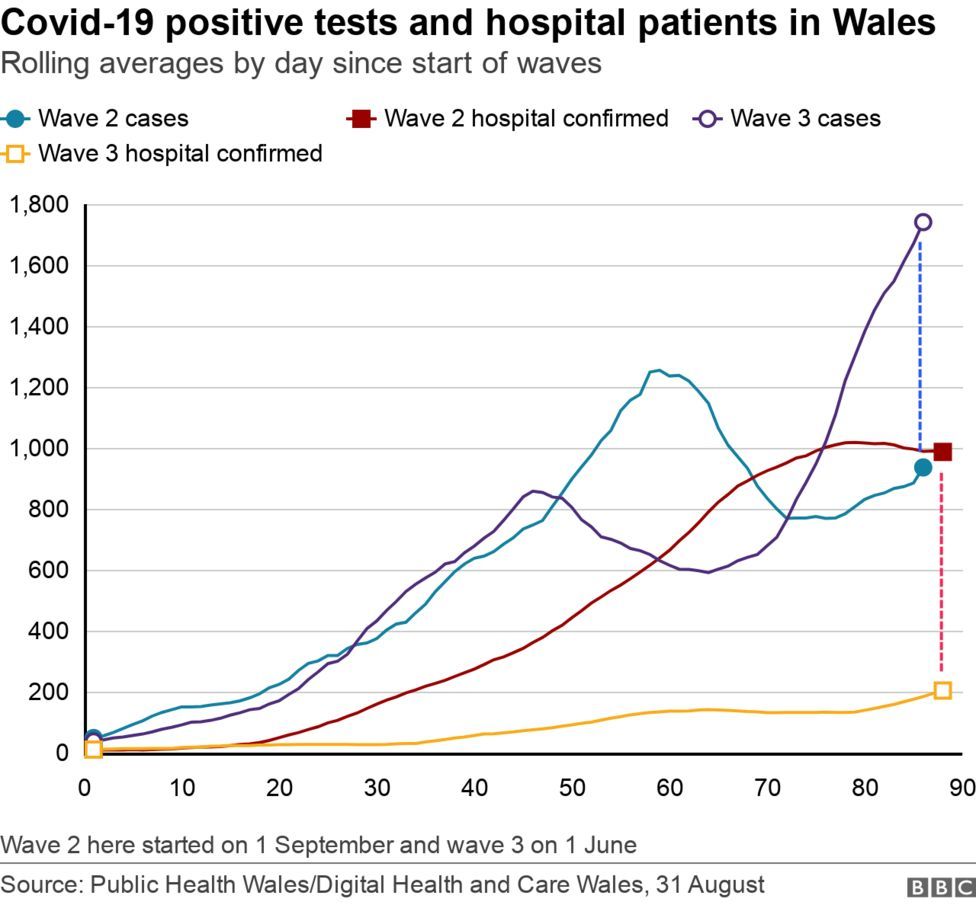 "But ask any front line worker and they will tell you that vaccination is what's making a difference to the patients we are treating at the moment."

She added that Covid was "everywhere right now" and said people needed to keeping taking precautions and being sensible, whether they were vaccinated or not.

Covid patients make up 3.9% of hospital patients in Wales.

One death, which occurred in north Wales last Thursday, and 3,872 new cases were reported in Tuesday's daily figures in Wales - bringing the total number of cases in Wales to 278,262 and deaths to 5,672 people.

Andrew Carruthers, executive director of operations at Hywel Dda health board, which serves Carmarthenshire, Pembrokeshire and Ceredigion, said: "In common with other health boards across Wales, we are continuing to see high levels of urgent and emergency care demand across our hospitals.

"This is also being compounded by a number of other issues, for example including staff summer annual leave, increased sickness absence and staff self-isolation, rising levels of Covid-positive patient admissions, and reduced bed capacity."

He appealed for members of the public to use alternatives such as their nearest pharmacy or GP and "attend A&E only if you need urgent or emergency medical care".