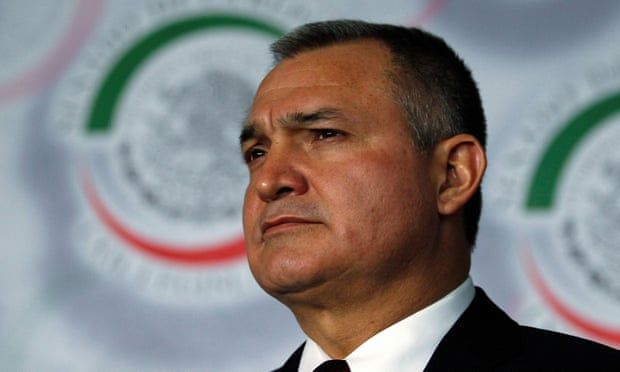 Mexico's former drugs tsar Genaro Garcia Luna convicted for aiding El Chapo cartel
Genaro Garcia Luna took millions in bribes from Sinaloa gang, Brooklyn corruption trial told
A former Mexican law enforcement official once in charge of the fight against drug traffickers has been convicted at a US corruption trial over his ties to the Sinaloa cartel.

Federal prosecutors in Brooklyn said Genaro Garcia Luna accepted millions of dollars in bribes from the cartel once run by Joaquin "El Chapo" Guzman in exchange for protection from arrest, safe passage for cocaine shipments and tipoffs about forthcoming law enforcement operations.

Garcia Luna is one of the highest-ranking Mexican officials ever accused of ties to drug trafficking. He led Mexico's Federal Investigation Agency from 2001 to 2005 and was public security minister from 2006. He worked closely with US counter-narcotics and intelligence agencies as part of former President Felipe Calderon's crackdown on cartels.

During a four-week trial, jurors heard from nine convicted cartel members who agreed to cooperate with prosecutors' investigation and testified about the bribes Garcia Luna received. Saritha Komatireddy, a prosecutor, told jurors the cartel could not have shipped drugs without his complicity.

"These leaders paid the defendant bribes for protection – and they got what they paid for," Komatireddy said in her closing argument, referring to Guzman and two other top-ranking Sinaloa cartel figures.

Garcia Luna, she said, "used his official government position to make millions of dollars for himself from the people he was supposed to prosecute".

Garcia Luna, who moved to the US after leaving office and was arrested in 2019, had pleaded not guilty.

His lawyers argued that prosecutors relied on inconsistent narratives from convicted violent criminals who were implicating him to get revenge on the man who arrested them and in a bid to lower their US prison sentences.

Cesar de Castro, a defence lawyer, portrayed Garcia Luna as a hardworking family man and said his accusers had "incredible motives to lie".

Guzman was sentenced to life in prison in 2019 after his conviction in Brooklyn on drug trafficking and murder conspiracy charges. He is held at a high-security "supermax" prison in Colorado.