A former US Marine who placed a passenger in a fatal chokehold on the New York subway has appeared in court to be charged with manslaughter.
Daniel Penny, 24, is accused of causing the death of 30-year-old Jordan Neely on 1 May. He did not enter a plea.

His lawyers said he could not have known his actions to subdue Mr Neely would lead to his death.

Mr Neely, who was homeless, was pinned to the ground and restrained for several minutes on the train carriage.

He had been shouting at other passengers and asking for money, witnesses said.

Mr Neely was later found unconscious in the carriage and taken to hospital where he was pronounced dead. His death resulted from compression of the neck, the city's medical examiner ruled.

Hands cuffed behind his back, Mr Penny appeared at Manhattan Criminal Court on Friday to be formally charged and was later released on $100,000 (£80,000) in cash bail.

He must return to court on 17 July or a warrant will be issued for his arrest, the judge said. He must also turn over his passport and seek permission to cross state lines.

On the day Mr Neely died, Mr Penny was questioned by police and then released.

But footage of the altercation on a northbound F train set off protests, and the Manhattan district attorney's office launched an investigation.

The video, captured by a freelance journalist on the train, shows the former Marine holding Mr Neely around the neck for two minutes and 55 seconds.

The journalist who filmed it, Juan Alberto Vazquez, told the New York Times that Mr Neely had shouted at passengers but did not attack anyone.

He recalled Mr Neely saying "I don't mind going to jail and getting life in prison" before he was restrained.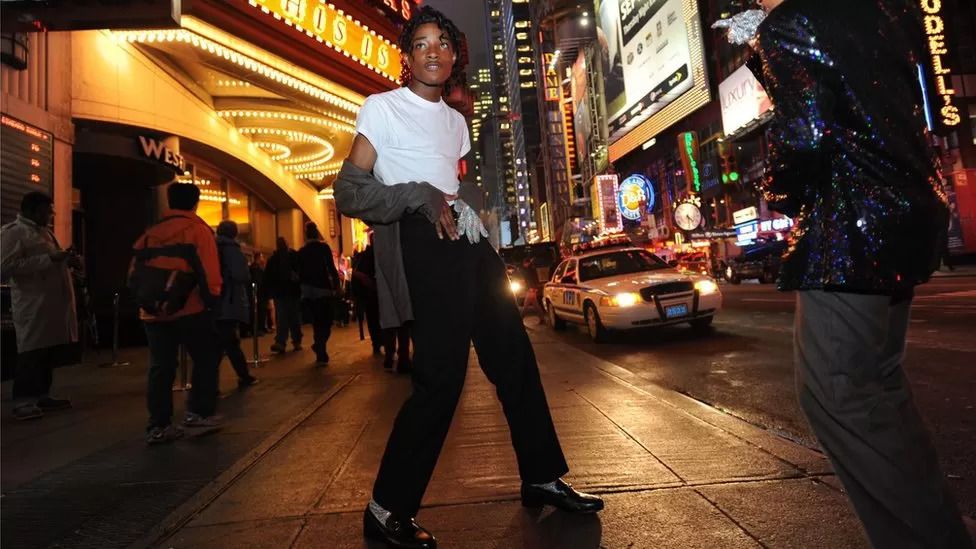 Jordan Neely in New York

On Friday morning, Mr Penny arrived in a black SUV at a police station in Manhattan to surrender to authorities. Wearing a black suit and white shirt, he did not speak or answer any questions from reporters gathered outside.

His lawyer, Thomas Kenniff, said his client has "his head held up high" and had willingly surrendered "with the sort of dignity and integrity that is characteristic of his history of service to this grateful nation".

Mr Penny "risked his own life and safety, for the good of his fellow passengers", Mr Kenniff added, expressing confidence he would be "fully absolved of any wrongdoing".

He faces a count of second-degree manslaughter and up to 15 years in jail if convicted.

According to New York law, that charge will require a jury to find that Mr Penny engaged in reckless conduct that created an unjustifiable risk of death.

"The investigation thus far has included numerous witness interviews, careful review of photo and video footage, and discussions with the Medical Examiner's Office," said Manhattan District Attorney Alvin Bragg in a statement.

"As this case proceeds, we will be constrained from speaking outside the courtroom to ensure this remains a fair and impartial matter,"

New York defence attorney Jeffrey Lichtman told the BBC he thought prosecutors would fail meet this standard, and show Mr Penny knew his actions would kill.

"If litigated properly this is a slam dunk acquittal," he said, calling Mr Penny a "sympathetic defendant".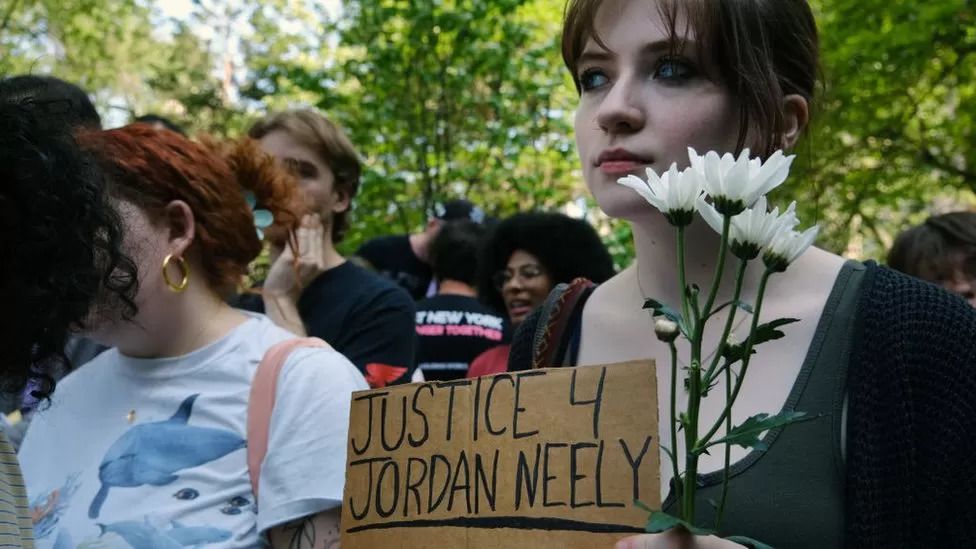 Video of the subway altercation sparked protests

In a statement released a few days after Mr Neely's death, Mr Penny's lawyers said their client had "never intended to harm Mr Neely and could not have foreseen his untimely death".

Mr Penny spent four years in the Marines, rising to the rank of sergeant before being honourably discharged in June 2021, according to his lawyers. He is now enrolled in a full-time bachelor's college degree studying architecture.

Across the street from the court, a small memorial dedicated to Mr Neely has been assembled with signs urging officials to prosecute Mr Penny.

In a statement earlier this week, Mr Neely's family said that Mr Penny needed to be in prison. "The family wants you to know that Jordan matters," they said.

Mr Neely was a Michael Jackson impersonator who frequently performed in Times Square. "He sang, he danced, he entertained," a lawyer for the family said.

His mother, Christie Neely, was murdered in 2007 by her boyfriend, who was sentenced to 30 years in prison in 2012, according to the Jersey Journal.

Following his mother's death, Mr Neely began experiencing mental health issues, said Donte Mills, a lawyer for the Neely family.

"He had demons. He went through tragedy at a very young age," Mr Mills said. "And then his mother was taken from him and her body was dumped in a suitcase on a highway, and it changed Jordan's mentality forever."

Mr Neely had 42 arrests on charges such as evading fares, theft and assaults on three women, according to US media reports. He had recently pleaded guilty to assaulting a 67-year-old woman leaving a subway station in 2021.

Mr Mills addressed the arrests on Friday, saying that Mr Penny "did not know Jordan Neely before this incident. He did not know how many times he had been arrested."

"So that's a non-factor," he added.

Mayor Eric Adams has said the case highlights the need to improve the mental health system so that it can better protect people like Mr Neely.

Mr Adams and New York state Governor Kathy Hochul have increased the presence of police to address rising crime on the city's subway.