Down Detector reported surge in outage notices for Facebook, Instagram and WhatsApp Friday afternoon
Facebook acknowledged that some users were unable to access its platforms on Friday afternoon, days after an outage knocked the social media company's services offline for several hours.

Down Detector noted a surge in outage notices for Facebook, Instagram and WhatsApp around 2 p.m. ET. Facebook said it was aware of the issues in a Twitter post.

"We're aware that some people are having trouble accessing our apps and products. We're working to get things back to normal as quickly as possible and we apologize for any inconvenience," Facebook representatives said in the post.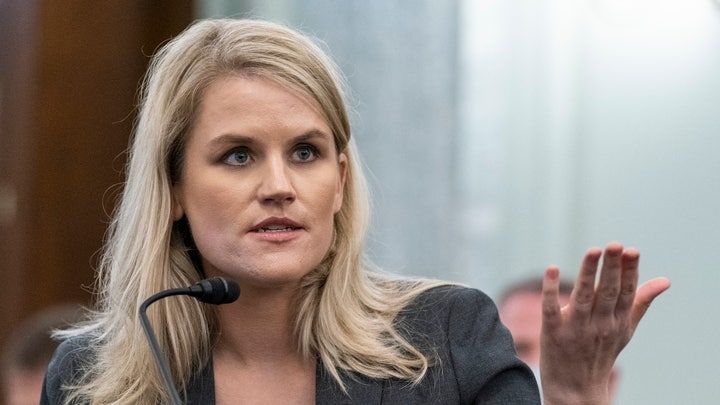 Former Facebook data scientist Frances Haugen speaks during a hearing of the Senate Commerce, Science, and Transportation Subcommittee on Consumer Protection, Product Safety, and Data Security, on Capitol Hill, Tuesday, Oct. 5, 2021, in Washington.

"We know some of you may be having some issues using Instagram right now. We're so sorry and are working as quickly as possible to fix," Instagram officials said.

The extent of the issue was not immediately clear. It's also unclear if the situation is connected to the Facebook outage that occurred earlier this week.

Facebook, Instagram and WhatsApp experienced a worldwide outage for several hours on Monday. The issues also affected the company's workforce, knocking internal systems offline and complicating efforts to address the situation. Some employees were apparently unable to enter on-campus buildings because their security badges would not work.

Officials later said a "faulty configuration change" caused the outage.

"Our engineering teams have learned that configuration changes on the backbone routers that coordinate network traffic between our data centers caused issues that interrupted this communication," Santosh Janardhan, VP of infrastructure at Facebook. "This disruption to network traffic had a cascading effect on the way our data centers communicate, bringing our services to a halt."

The service issues occurred as Facebook contends with the fallout from a whistleblower's testimony on Capitol Hill. A former employee accused Facebook executives of having extensive knowledge of its platform's flaws, including potential risks to public health, but failing to act to address them.