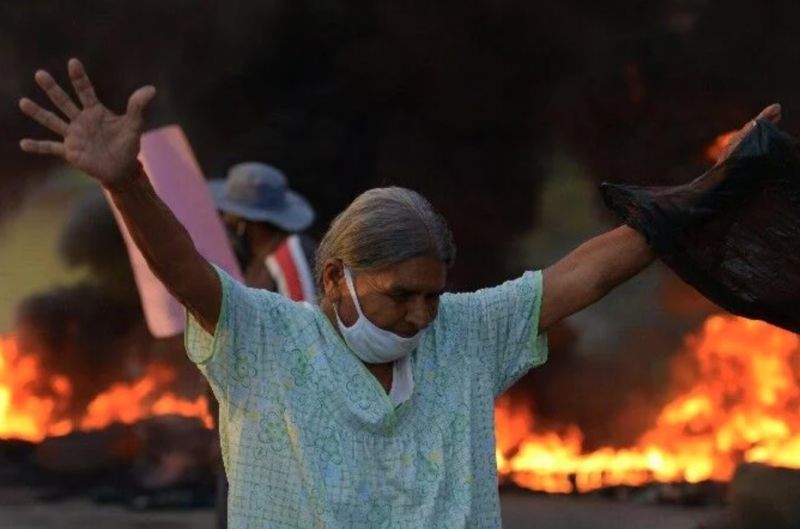 Frustrated residents stage fiery protest in T&T's Barrackpore
Fiery protests paralysed school and business activity in Barrackpore as residents blocked five main access routes into the area with burning debris.
Tyres, barrels and wooden crates were heaped on roads and set ablaze from as early as 5 a.m. Protesters stood with placards and called for the resolution of multiple issues they say are in dire need of redress while the Fire Service and the police attempted to restore order.

Protesters told reporters that action will continue in the weeks ahead if the area's poor roads, unreliable water supply and farming issues do not get a response from relevant authorities.

Apart from growing potholes and uneven roads, they said several areas have been deprived of pipe-borne water for months.

They said some farmers were owed funds from the Ministry of Agriculture and agricultural roads needed repairs.

They called on the Ministers of Works and Transport, Agriculture and Public Utilities to visit and address their concerns.

"The Government has done nothing to repair this road. Six years in a year Kanhai Road has had issues with the water supply (and) people have to live down here. If they come to put out a fire, they have nothing to connect it to. All you're hearing is taxes, taxes, taxes and we are getting nothing in return. A year-and-a-half people down here have not been working. People are suffering, and we are fed up. In Barrackpore people have reached their breaking point," said one resident.

He added: "I think the people want to see the Minister of Works and Transport down here so we can get these issues addressed. The road is deplorable, and the car is rocking like a road when you go in it. It is too bad for us to repair on our own. So much money being spent annually and what is happening here? The only time you see the Prime Minister down here is to turn the pot during election, you are not seeing none of them after."

Another resident, who did not want to be identified by name, said, "What we want is what is due to us, the people should come and see the road in Barrackpore and all over the countryside. The people are calling on the Prime Minister to pay money to the people they have outstanding money for and to pave the roads. Do something better, man."

MP for the area Michelle Benjamin, who was present at the protest, said she was on her way out of the area when she was alerted to the protests and joined in solidarity.

Among the blocked-off areas were Kanhai Junction, Cunjal and Cumuto Road with reports of protests in Indian Walk and Hindustan, she said.

"I was on my way to Port of Spain when I got a call that my constituents were protesting on the roads, farming issues, access roads and produce. This morning I came to stand with them and, believe me, we are calling to the Minister of Works to hear the concerns and address the people of Moruga/Tableland.

"This morning is concerning water, the state of the road. Right now people are losing finance because they have to pay for repairs on a weekly basis. We are asking for the Minister of Works to visit the area and answer the roads and the Minister of Agriculture to address the issues of farmers. This is their choice and I will stand with my citizens as this is a genuine complaint," said Benjamin.