Greta Thunberg has said the eventual agreement struck at COP26 was "very vague" with many loopholes.
The 18-year-old - who came to Glasgow for the summit - said it only succeeded in "watering down the blah blah blah."

Countries agreed to "phase down" rather than "phase out" coal after India and China led opposition to the commitment in earlier negotiation drafts.

After 15 days of talks, COP26 President Alok Sharma said he was "deeply sorry" for how events had unfolded.

The Glasgow Climate Pact is the first ever climate deal to explicitly plan to reduce coal, the worst fossil fuel for greenhouse gases.

The deal also presses for more urgent emission cuts and promises more money for developing countries - to help them adapt to climate impacts.

But the pledges do not go far enough to limit temperature rise to 1.5C.

'Very, very vague'

Ms Thunberg said that the "small progress" made could demonstrate a "losing" fight against the climate crisis, since time is a major factor.

She told BBC Scotland News: "I have to say unfortunately it turned out just the way I and many others had expected.

"They even succeeded at watering down the blah, blah, blah which is quite an achievement. There is still no guarantee that we will reach the Paris Agreement.

"You can still interpret it [the Glasgow pact] in many different ways - we can still expand fossil fuel infrastructure, we can increase the global emissions. It's very, very vague."

The Swedish activist joined thousands of young people - including striking school pupils - for a march through the city on 5 November.

She addressed the crowd when it arrived in George Square, saying "immediate and drastic" cuts to emissions were needed.

The protest was organised by Fridays for Future Scotland - part of an international network of young climate activists inspired by Ms Thunberg.

Activists from several other countries, including Vanessa Nakate from Uganda, also gave speeches about how climate change is already affecting their homelands.

Previously Greta Thunberg has called the climate summit a "failure" and a "PR exercise".

She has also criticised goals for cutting emissions which cause global warming, saying: "We don't just need goals for just 2030 or 2050. We, above all, need them for 2020 and every following month and year to come."

However, Ms Thunberg has so far avoided getting into the detail of what action should be taken, saying "it is nothing to do with me".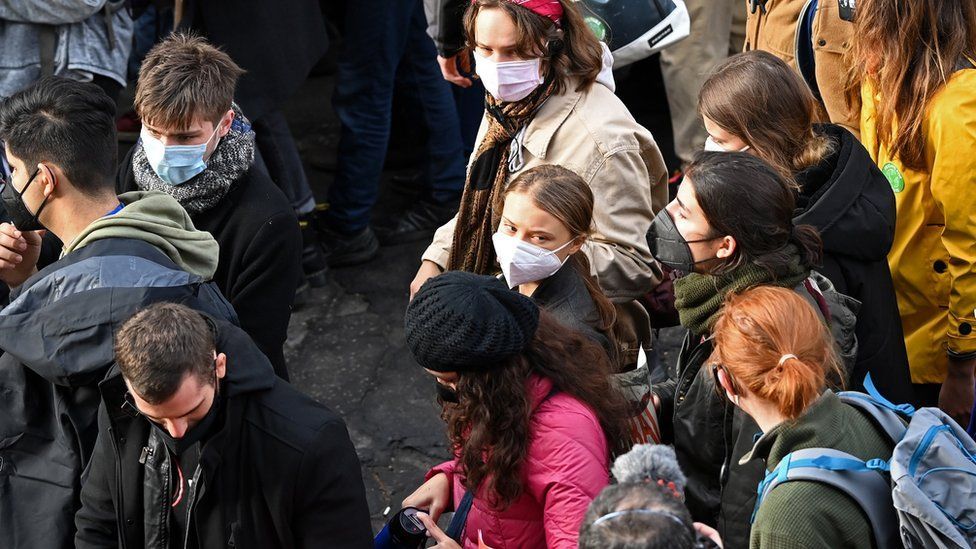 Ms Thunberg joined two marches through Glasgow during COP26

Asked if she had dismissed the conference before it had begun, she said that was how some people had "interpreted" her words - but added "of course, we need these conferences".

She continued: "It's a democratic process that is absolutely necessary for us to make progress - but they cannot be the way they are now.

"As long as there is no real massive pressure from the outside then politicians unfortunately will most likely get away with continuing like now.

"It feels like today COP is not really challenging the structures of today - it's mostly maintaining status quo. It's like we are trying to solve a problem with the methods that got us into this in the first place."

UK Prime Minister Boris Johnson said he hoped the world would "look back on COP26 in Glasgow as the beginning of the end of climate change".

However, Mr Sharma was visibly emotional as he confirmed the agreement had been reached with last-minute changes to the wording.

Now back in Sweden, Ms Thunberg said she would not like to be in his shoes - and said that although China and India had disagreed with terms on coal, there were "many villains".

She said that people inside negotiations had told her "lots of different stories".

"When we talk about climate policy we have to include the aspect of equity," she said. "It is wrong that some countries do not want to take action.

"But we have to understand that when the so-called global north refuses to take the leadership role and still refuses to deliver on the loss and damage on the promised yearly $100bn to the most vulnerable countries - the least responsible countries - of course that creates lots of tension.

"We must also remember it was not just one or two countries, there were several countries blocking several negotiations."
Greta Thunberg says "they even succeeded in watering down the blah, blah, blah"
Greta Thunberg says conferences like COP26 maintain the status quo of countries taking part
Alok Sharma fights back tears as Glasgow Climate Pact reached