Alessandro Michele's Aria collection was "contaminated" by the unmistakable work of Demna Gvasalia.
Four months on from the release of the stratospherically successful The North Face X Gucci collaboration, Alessandro Michele is back with another creative union-this time a surprise "hack" of its Kering stablemate, Balenciaga.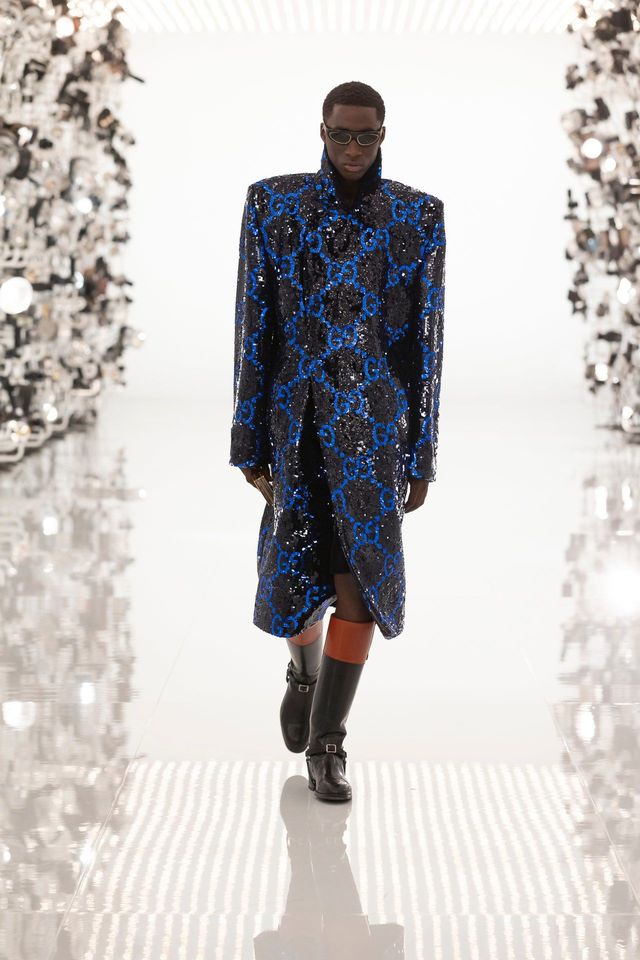 To mark Gucci's centenary year, Michele unveiled a collection "contaminated" with the hallmarks of disruptive creative director Demna Gvasalia's work. In other words, Gucci's Aria show incorporated a touch of Balenciaga attitude-and what British Vogue's fashion critic Anders Christian Madsen predicted could be the "most bullet-proof merchandise of the social media-driven fashion era".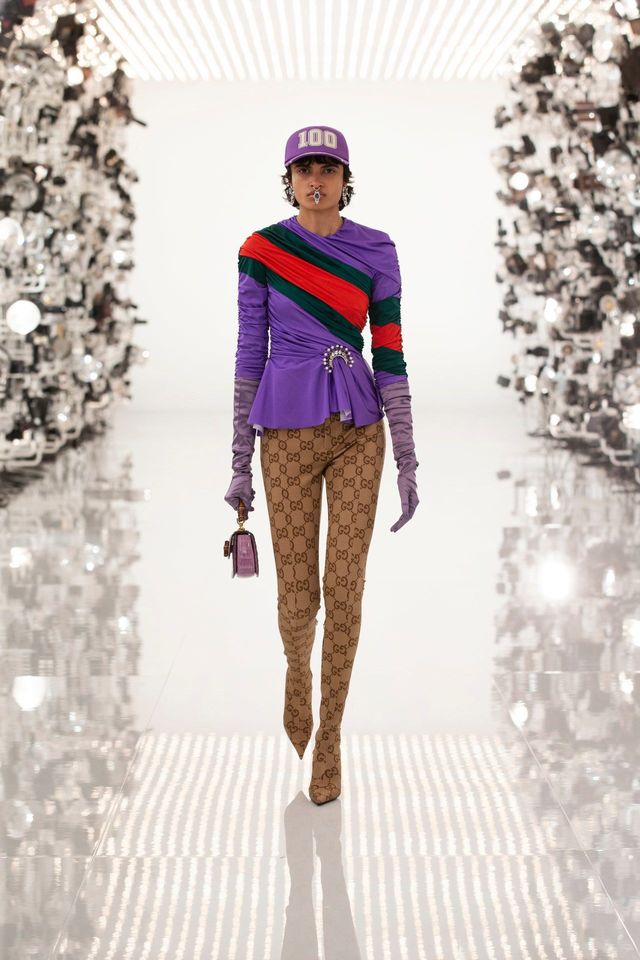 After the show a simulated text exchange between the two creatives posted on Gucci's Instagram Stories revealed where Gvasalia's love affair with Gucci began-his first purchase was a bottle of Gucci Envy perfume he said was the only thing he could get in post-USSR Georgia. Michele was similarly effusive about the house in the '90s. "Tom [Ford] is a genius", he wrote.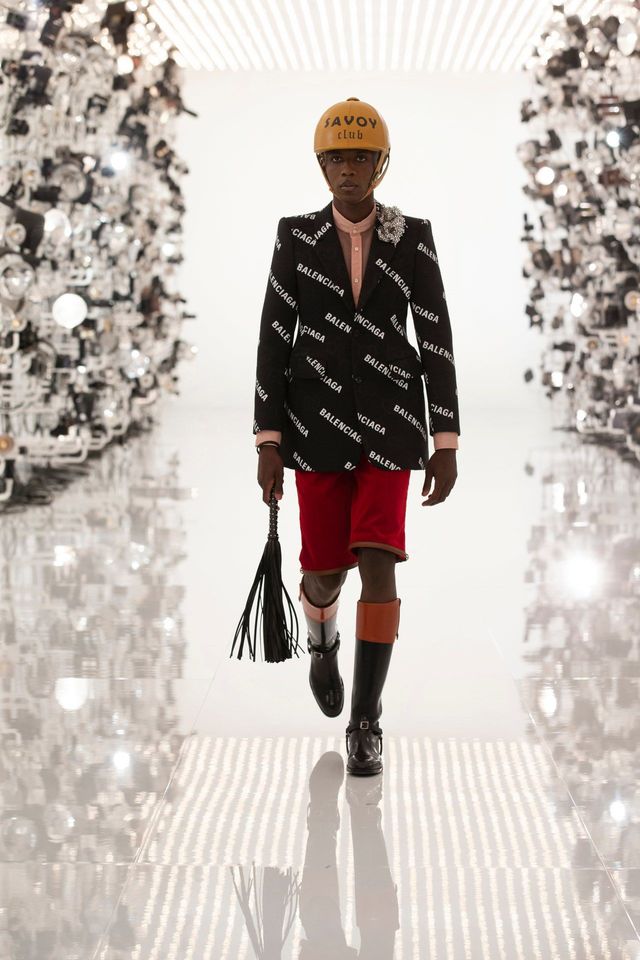 Michele's whimsical retro aesthetic was spliced with Balenciaga's underground boldness: a nostalgic velvet suit (Michele's nod to the "sexual tension" of Tom Ford's time at the helm of the house) opened the show, then several looks later, an emerald shorts suit was paired with a jockey hat, horsebit harness, sparkling choker and monogram riding boots.

Pieces emblazoned with the names of both brands instantly set social media alight. The collection included a dazzling diamanté skirt suit covered with strips of "Balenciaga" and "Gucci" emblems, striking logomania blazers, and angular outerwear decorated with the Gucci monogram and layered underneath Balenciaga's graphic font. Meanwhile offbeat hosiery/shoe hybrids screamed Demna.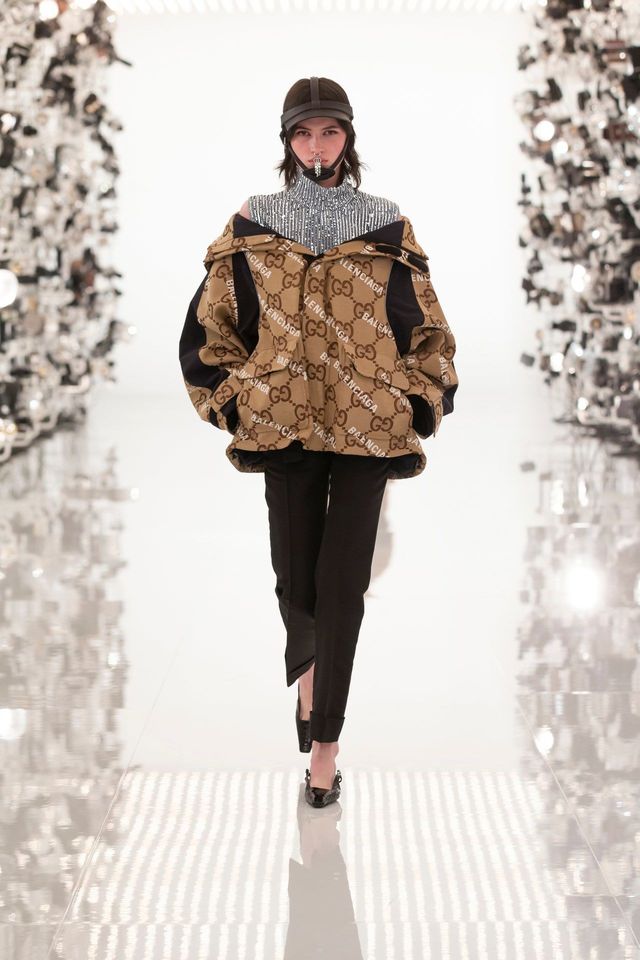 The hazy florals that were smattered across TNF puffers here took form as detailed botanical drawings, and bold psychedelic prints enhanced oversized waistcoats, jackets with equestrian buckle fastenings, and an all-in-one bodysuit.



Silhouettes were accentuated by peaked lapels and stiff shoulders that have become Gvasalia signatures, and a sprinkling of kitsch glitter was seen throughout. Nods to the Georgian designer's varsity motifs took form as Gucci-fied equestrian baseball caps emblazoned with "100", and normcore Balenciaga corporate wear was given the Michele treatment with feather cuffs, frills and sequins. Gucci's typically whimsical palette was punctuated by the occasional appearance of Balenciaga's royal blue, plus a lacquer PVC dress (complete with a whip).

There were also amalgamations of cult accessories from both houses-Balenciaga's hourglass purse was covered with double Gs, while Gucci's timeless Jackie 1961 was anointed with Balenciaga logo stripes. The jewelry didn't disappoint either: one model wore a pair of curb chains adorned with the letters of both brands, while dangling septum gems, chunky jewelry and delicate brooches were the cherries on top of a kaleidoscope of looks.