With the jailing on Friday of one man for burglary at the home of ex-footballer Ashley Cole - in which he and his partner were bound with cable ties - how are wealthy homeowners fighting back to defend their homes?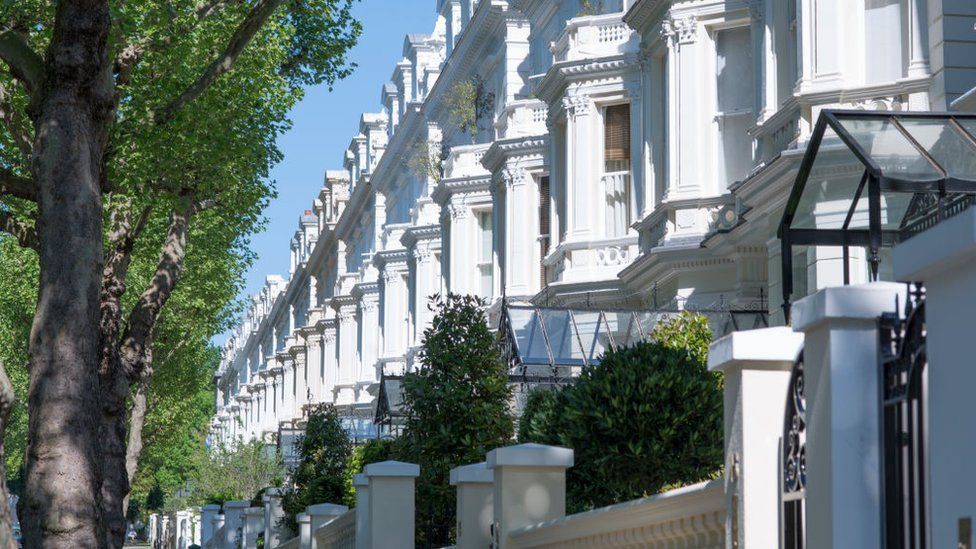 Holland Park in west London has been described as a hotbed of activity for criminals
"We're in high demand that's for sure," says John Moore, who heads up Westminster Security, a private security firm protecting homes in affluent areas like Holland Park.

The area of Kensington, where white stucco-fronted villas sell for millions, has become a "real hotbed of criminal activity", said Mr Moore.

"It is namely high-end burglaries, the criminal gangs are very professional and they're travelling from overseas, targeting properties and getting out of the country quickly.

"Literally every other night there is an incident... characters hanging about at three o'clock in the morning, clearly up to no good.

"It's really full on at the moment."

The home of former England captain David Beckham and his fashion designer wife Victoria was burgled while they were inside with their 10-year-old daughter. The Metropolitan Police said a number of items were reported to have been stolen.

It followed the 2019 burglary of Formula 1 heiress Tamara Ecclestone's mansion nearby in which an Italian gang of jewellery thieves stole hundreds of items of jewellery, cash, diamonds and precious stones worth £25m.

Mr Moore said his employees come across people carrying out reconnaissance - taking pictures of CCTV, gates and vehicles at people's homes.

"They'll go over gates and try front doors," he said. "They're that blatant they've got no shame, they just crack on."

'Manned security is expensive'

So how much does it cost wealthy home owners, many of whom spend extended periods away, to have manned security 24/7 all-year-round at their home?

Mr Moore estimated a rough figure of £250,000 to £500,000 a year - but the cost of security is a tax-deductible expense if the threat originates from someone's employment.

He explained: "There is no denying that manned security is expensive.

"A lot of clients see it as investment, so they're investing in the safety and security of their family."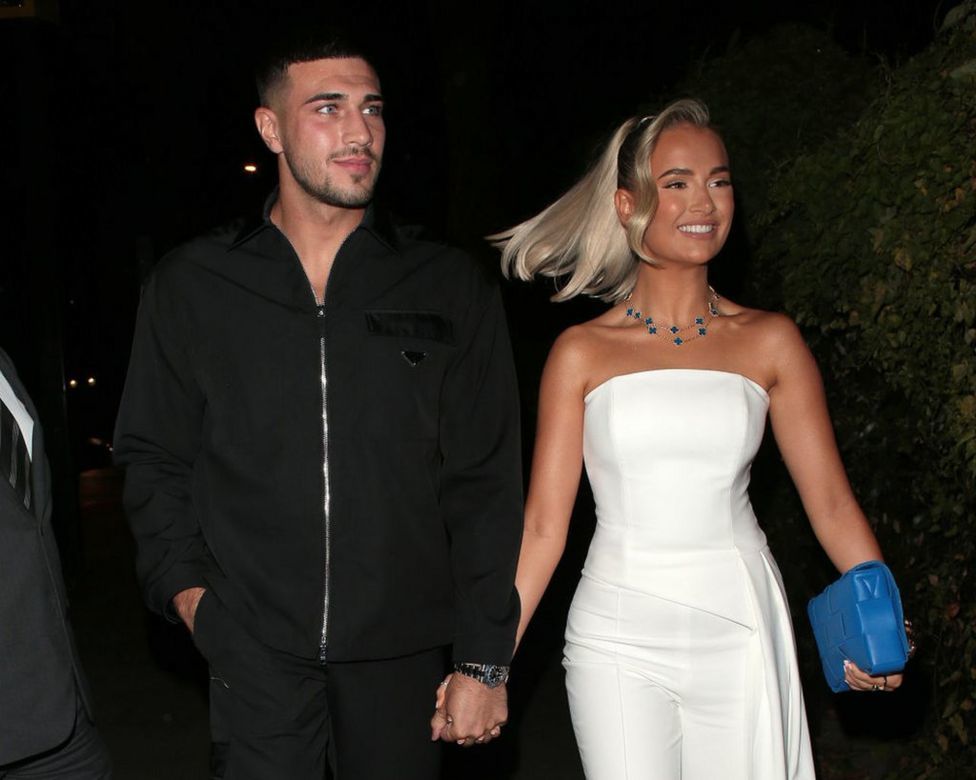 Social media influencer Molly-Mae Hague reportedly lost £800,000 worth of belongings in a raid on her Manchester flat last year

Social media influencer Molly-Mae Hague increased her security after reportedly losing £800,000 worth of belongings last year in a burglary at the Manchester apartment she shared with her boxer boyfriend, Tommy Fury.

The former Love Island contestant said the raid was "without a doubt the worst thing that's happened to me" in a teary YouTube video.

The 22-year-old said posting pictures of her glamorous lifestyle on social media might have tipped the balance between her security and sharing her life with followers.

She has since decided posting house tours on social media is an "absolute no-go", reportedly stopped ordering takeaways to her home, and admitted she has lost her interest in expensive jewellery and clothes which could "compromise" her safety.

'A dog can not be bribed'

A number of celebrities have enlisted the help of four-legged friends to protect their homes, including rapper Stormzy and footballers Jack Grealish and Jesse Lingard.

Robert Metcalfe, who runs Personal Protection Dogs in Nottingham, trains family dogs to protect their owners and property.

He also sells personal protection trained German Shepherds worth £10,000 to the likes of models and Arab princes living in London.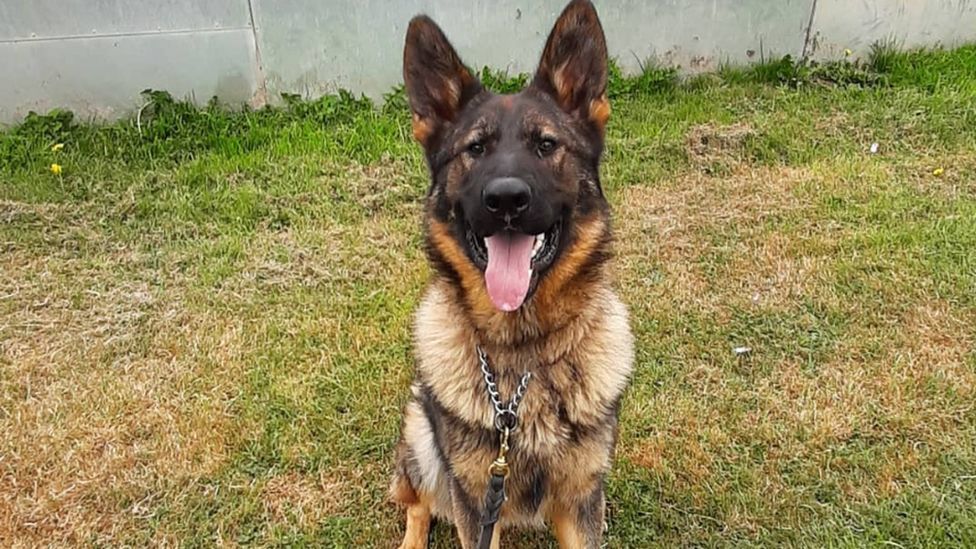 Robert supplies German Shepherds as personal protection dogs

"If you a buy a personal protection dog, it can not be bribed," Mr Metcalfe explained. "It's not going to take a backhand and disappear in the night.

"I had an enquiry from a client a week ago and asked the budget.

"They said he doesn't have a budget - his net worth is two billion."

And what happens when a person protection dogs spots an intruder in the grounds? "You want it to bark and deter them," said Mr Metcalfe.

Panic rooms 'are the norm'

In December Premier League footballer Joao Cancelo suffered cuts to the face attempting to fight off a gang of intruders at this home.

The 27-year-old said "four cowards who hurt me and tried to hurt my family" took all his jewellery in the raid.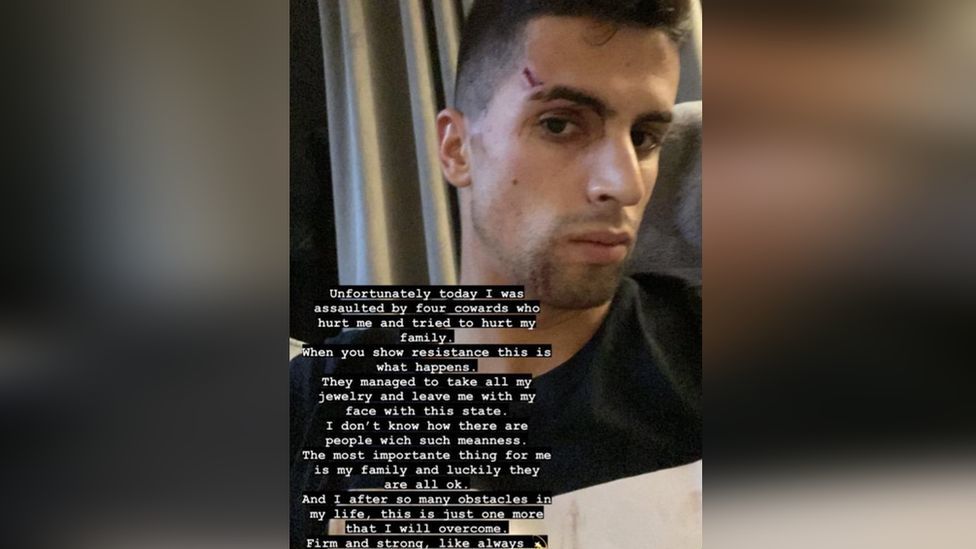 Cancelo revealed he had been attacked via Instagram in December

The rich and famous are turning to installing panic rooms over fears of being in a house with an intruder.

TV star Gemma Collins told her BBC podcast last year she had panic rooms installed in her Essex house, reportedly worth £1.3m. The Only Way Is Essex cast member previously came face-to-face with burglars escaping her previous flat in 2015.

Paul Weldon, who runs the Panic Room Company, says panic rooms now "seem to be the norm" when large houses are built. His clients include footballers.

"When architects ask what clients want in their house, they're like sauna, football pitch, cinema room," he said. "We find safe rooms are on that list more and more."

A basic panic room can cost around £40,000, he said. They can be hidden behind false walls, mirrors and even shoe racks.

So how does it work when a burglar is trying to get into someone's home whilst they are inside?

Mr Weldon said: "The general house we're talking about here has some good alarm protection, so you get notifications there's some sort of activity outside.

"So the client can get themselves locked in a safe area with good communication.

"So in that room there will be a link to the CCTV and they can call for assistance from their security team or the police."

Although enquiries for panic rooms has been eclipsed by the demand for safe rooms for a very different threat.

"The nuclear shelter side of the business has absolutely taken off," he said.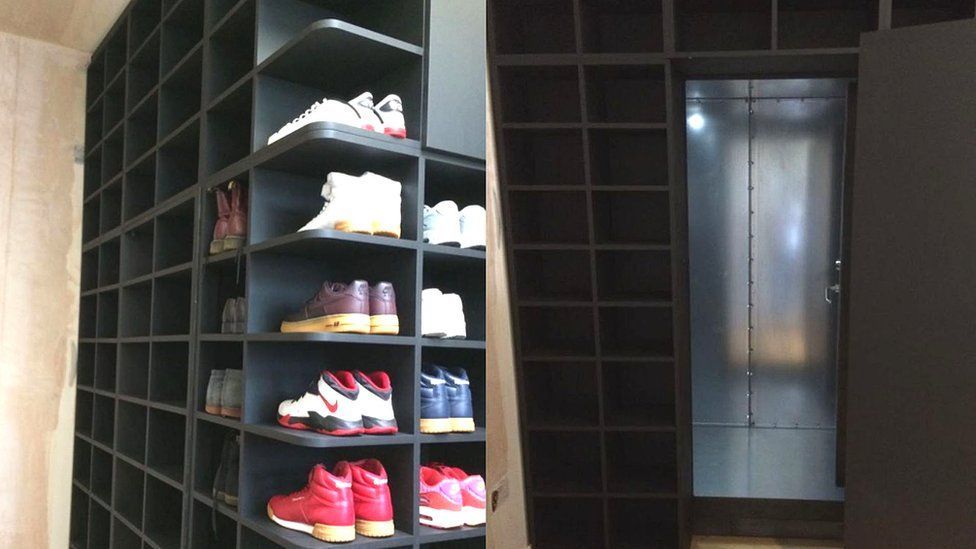 Panic rooms can be disguised by false walls, mirrors and shoe racks

But where are the police in all of this? Surely the rich and famous too should be able to rely on the police to deter criminals?

Mr Moore, a former soldier before joining the private security industry, said: "A lot of people will slag the police off, and say why should people have to pay for private security when we've got the police?

"We're lucky in London there is a high concentration of police and they are very good at turning up at short notice and being there when required.

"There will always be a requirement for private security even if the police force doubled, because the police can't be on every street corner.

"It's similar to people paying for private healthcare and private schools."