Angry motorists confronted Insulate Britain activists who blocked traffic on two roads in the latest in a series of protests.
Essex Police arrested 35 people at two locations, including at an M25 junction to the east of London.

Officers detained 16 people after being called to a slip road at junction 31 for Thurrock, just after 08:25 BST.

Police then arrested 19 people after reports of a further blockade nearby at Stonehouse Lane, Purfleet.

On what was a 13th day of protests by the group in the past five weeks, the M25 slip road blockage, near the Dartford Crossing, led to many HGV drivers turning around, causing clashes between protesters and angry motorists.

Lorry drivers blasted their horns and multiple confrontations occurred, with one protester nearly run over after stopping in front of a blue Hyundai car, whose frustrated driver called out "this is stupidity".

Motorists ripped banners out of the hands of demonstrators as they sat or lay down in the road while other protesters glued themselves to the carriageway.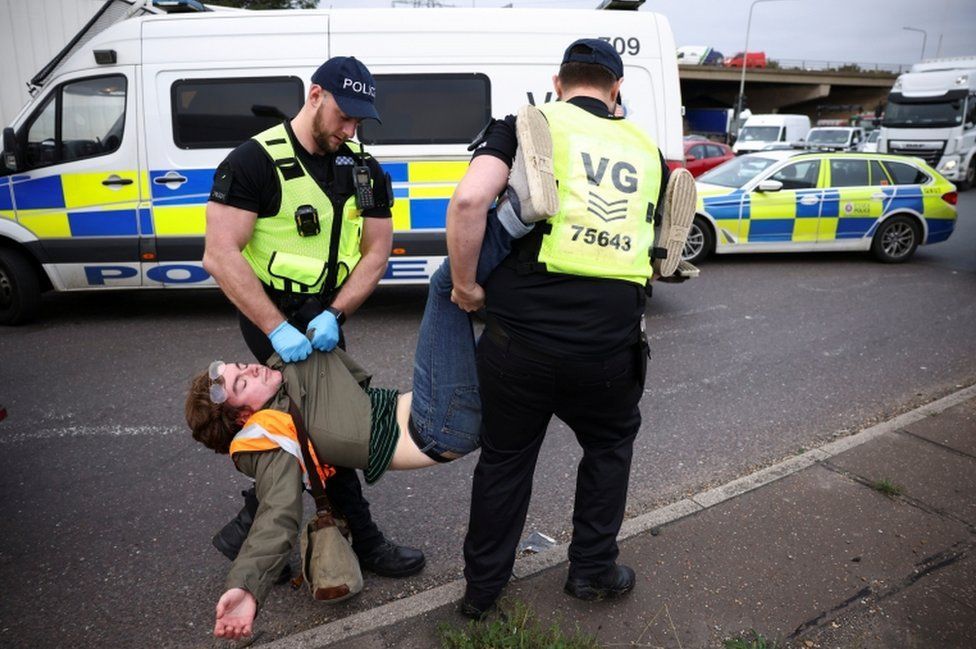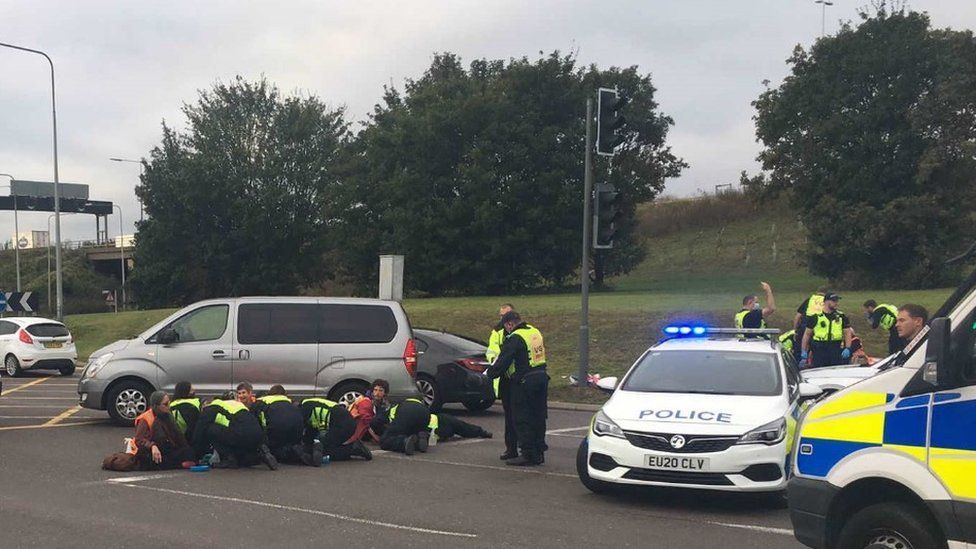 Some members of the group were repeatedly dragged off the road by drivers who were pulling on their clothes and backpacks, but they returned to their spots and sat down again.

Some HGV drivers warned that the protests could cause fuel supply problems as tankers would be unable to reach filling stations.

One driver told LBC news: "If this protest stays here for much longer, I'm afraid the nightshift driver will not be able to deliver fuel for any garages or anyone."

Essex Police removed the protesters and said all the affected roads reopened by lunchtime. The force thanked members of the public for their "patience and understanding".

Insulate Britain said about 40 people were at junction 31 and at the nearby A1090 London Road in Purfleet.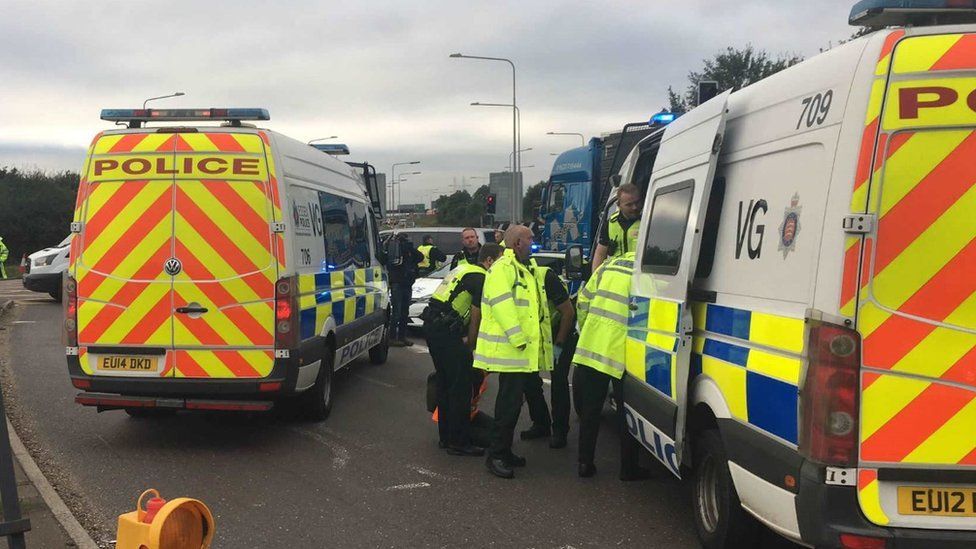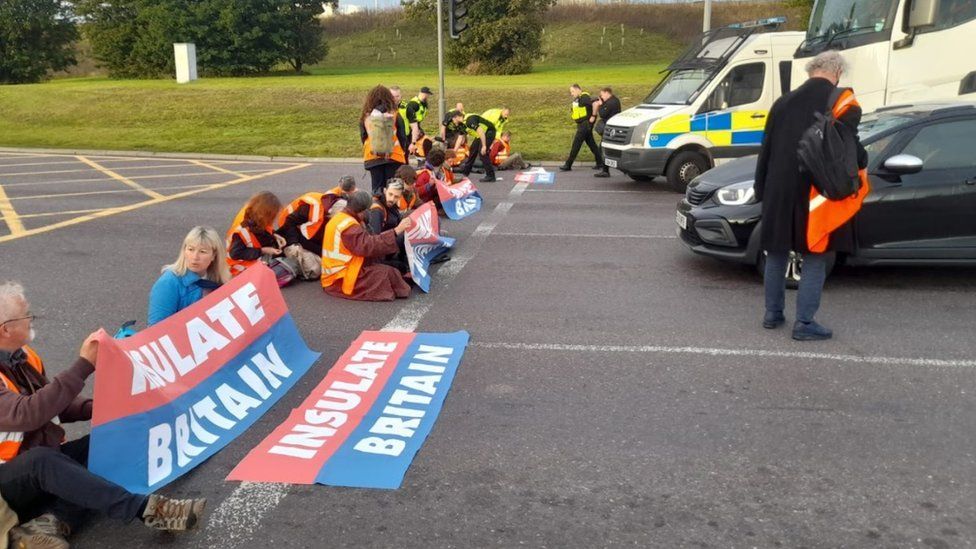 The protest group, which has been regularly blocking highways since 13 September, has been calling for the installation of heat-saving measures in social housing by 2025, and all homes by 2030.

It admitted its latest action was "in breach" of an injunction obtained by the government last month.

A spokesman, Liam Norton, said: "In 10 years' time when fuel crises are catastrophic, when the food has run out and when people are experiencing unsurvivable heatwaves, what would you be wishing you had done now?"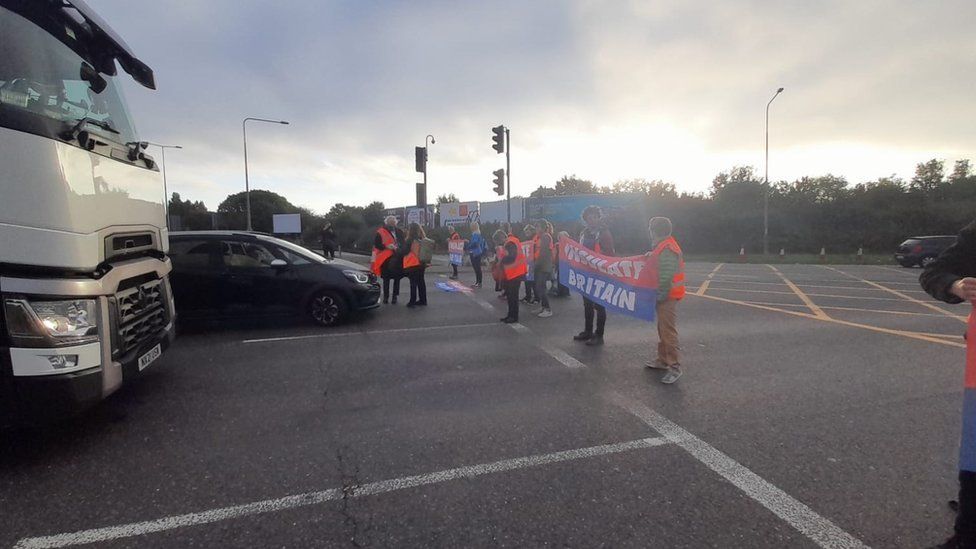 The government has said it is investing £1.3bn to support people to install energy efficiency measures.

On Thursday, 35 protesters were arrested after blocking Old Street roundabout in central London and junction 25 of M25 at Waltham Cross in Hertfordshire.

On 5 October, drivers clashed with protesters at the entrance to the Blackwall Tunnel, which goes under the Thames to the east of the Isle of Dogs, and 38 people were arrested.