"The Holme," located in Regent's Park in London, is for sale for a reported asking price around $300 million, making it the most expensive home on the market in the world.
A 205-year-old mansion in London's Regent's Park is for sale with a reported asking price of up to £250 million, or just over $300 million.

The 40-bedroom mansion sits on four acres of the park near the heart of London and was put on the market after it was repossessed from a member of the Saudi royal family, according to the Financial Times.

If it reaches the reported asking price, the property would become the most expensive ever sold in the United Kingdom. It is the most expensive home currently listed for sale in the world, according to luxury magazine the Robb Report. The Holme dethroned a three-story penthouse in New York City's Central Park Tower, which was put on the market in September for $250 million.

Another massive mansion held the previous UK record — 2-8 Rutland Gate, which overlooks London's Hyde Park was sold in 2020 for £210 million, or $232 million. The mansion was put back on the market in October for £200 million, or about $221 million.

The Holme was built in 1818 by Georgian property developer James Burton, and was first occupied by his family before being used by Bedford College. It became a private residence again in the 1980s, according to the Evening Standard.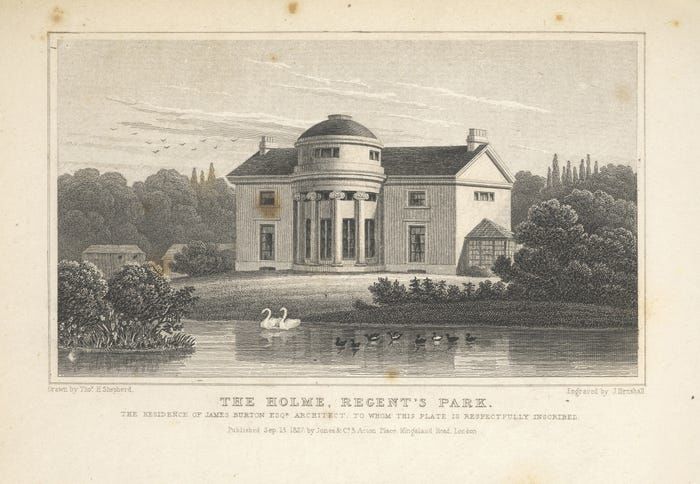 An unnamed source speaking to the Evening Standard called the London mansion "the White House in Regent's Park," comparing the building's facade and its massive scale with that of the historic home in Washington. The mansion reportedly contains 40 bedrooms, eight garages, a tennis court, a sauna, a library, and a "grand dining room" as part of its 29,000 square feet of living space.

Particularly expensive properties like The Holme typically draw interest from foreign investors who may not intend to live in the house, but instead add it to their portfolio. Bloomberg reported last summer that 48% of the homes sold in London's most expensive districts in the first six months of 2022 were sold to international buyers.

The Times reported that it was repossessed as a way to repay a loan of about $180 million, along with a New York residence and a private plane.

Knight Frank and Beauchamp Estates are reportedly the agents handling the sale, and both declined requests for comment on the proceedings.