LVMH has become the latest luxury goods firm to cheer high demand and sales growth, as the sector bounces back from the difficulties seen during the pandemic, writes Joanna Bourke.
uch of 2020 is a time plenty of luxury retailers would like to forget. Memories of having to temporarily close stores at various points for lockdowns, travel restrictions stopping well-heeled shoppers from visiting branches and consumer uncertainty are not pretty.

But Covid-19 restrictions have been easing recently, and this month so far has seen a host of positive updates from the luxury goods sector. The industry has seen big digital growth, while customers appear to be enjoying spending sprees now stores have reopened in England.

So what companies are recording growth, and why is demand so high? Will the luxury sector still be quite so in fashion with shoppers and investors later this year?


Firms having a good time of it

Looking at revenue rises, Louis Vuitton owner LVMH yesterday revealed a 56% jump to €28.7 billion in the first half. Of course a year earlier there was mega disruption from the coronavirus outbreak, but the company also pointed out that organic revenue growth was still 11% higher than the same period in 2019, pre-Covid.

LVMH said it had seen sustained revenue growth in Asia and US, and a gradual recovery in Europe. It also cheered a "remarkable" performance from the fashion and leather goods arm. Brands such as Louis Vuitton, Christian Dior and Fendi are all gaining market share.

FTSE 100 company Burberry, which has just opened a new shop on Sloane Street, and AIM-listed Mulberry have this month reported on encouraging growth. Meanwhile Covent Garden landlord Capco has observed some of its luxury tenants recording strong demand.


Why so many spending sprees?

Bernstein analyst Luca Solca reckons what was a 'perfect storm' for retailers last year has calmed down, and there is now "perfect sunshine for luxury goods spend".

He points to people wanting to get back to more normal life, some customers having saved plenty of money during the pandemic, and many governments pouring money into economies supporting workers.

Susannah Streeter, a analyst at Hargreaves Lansdown, says: "After rolling lockdowns, release from confinement has unleashed a wave of celebratory spending power. Many wealthier individuals have been in the enviable position of piling up savings over the pandemic."

Streeter adds: "With foreign holidays and expensive meals off the social calendar for months at a time, this pent up demand is translating into the purchase of luxury treats. While a holiday to Bali or the Maldives may still be problematic, the latest Louis Vuitton handbag is a welcome substitute."

She also says luxury brands have the financial fire power to sign up influencers, which continues to entice a number of customers.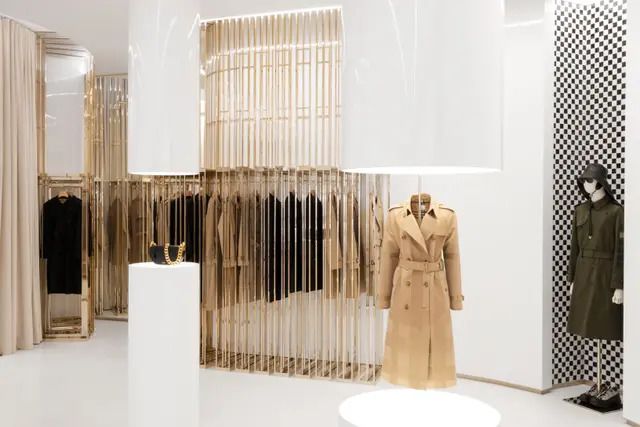 Burberry has opened a new Sloane Street store
Will the growth continue?
A July report from RBC Capital Markets looks at reasons why "over-consumption of luxury is likely to continue" in the second half.

It said the key conclusion from its analysis is that economic factors remain supportive for the sector in the next six to 12 months.

It said: "Excess savings, wage inflation, asset price inflation all contribute to increasing disposable income and 'feel good' factors which are relevant in the purchasing decision pathway for luxury goods."

The report also says younger consumers accounted for more than half of total demand for the first time in 2020, "which implies successful new customer recruitment into the luxury sector". A number of brands have invested more in digital to attract new and existing shoppers.

Many companies are also expecting footfall to rise as travel restrictions ease further.

In LVMH's results, chief executive Bernard Arnault said he believes the company is in a position to continue to grow.

The industry is not immune from further pandemic disruption, for example if there were lockdowns again. But, bosses are likely to feel optimistic about growth prospects and the savings that numerous high end fashion fans will be looking to spend.