Naiomi Glasses, a Diné textile artist, has a collection of more than 200 turquoise pieces—each one comes with a story.
Some of Naiomi Glasses's fondest childhood memories are centered around turquoise. Glasses-a Diné textile artist and weaver who recently showed her new rugs at the Santa Fe Indian Market-recalls seeing the fabulous turquoise pieces her grandmother Nellie would wear. "My late grandma was traditional, and she would say to wear your turquoise every day so that the 'holy people' would recognize you," says Glasses. "There isn't a single time I can remember her at home without at least her earrings, bracelet, and a brooch-even on days that she was just going to be home all day."

Flash-forward to present day. Glasses, who is based on the Navajo Nation in the Rock Point Chapter community, has become an avid turquoise collector herself. In fact, she boasts one of the world's most enviable collections. Each piece in her and her family's trove-whether a ring, belt, or brooch-comes embedded with a story or memory. "We are extremely blessed enough to say that it is continually growing," says Glasses of her collection. Besides being drawn to their striking color, Glasses says she enjoys collecting these gemstones because they have special significance to her tribe. "Turquoise is a big part of our Diné culture," says Glasses. "It is included in many of the traditional teachings, and it's even a sacred stone."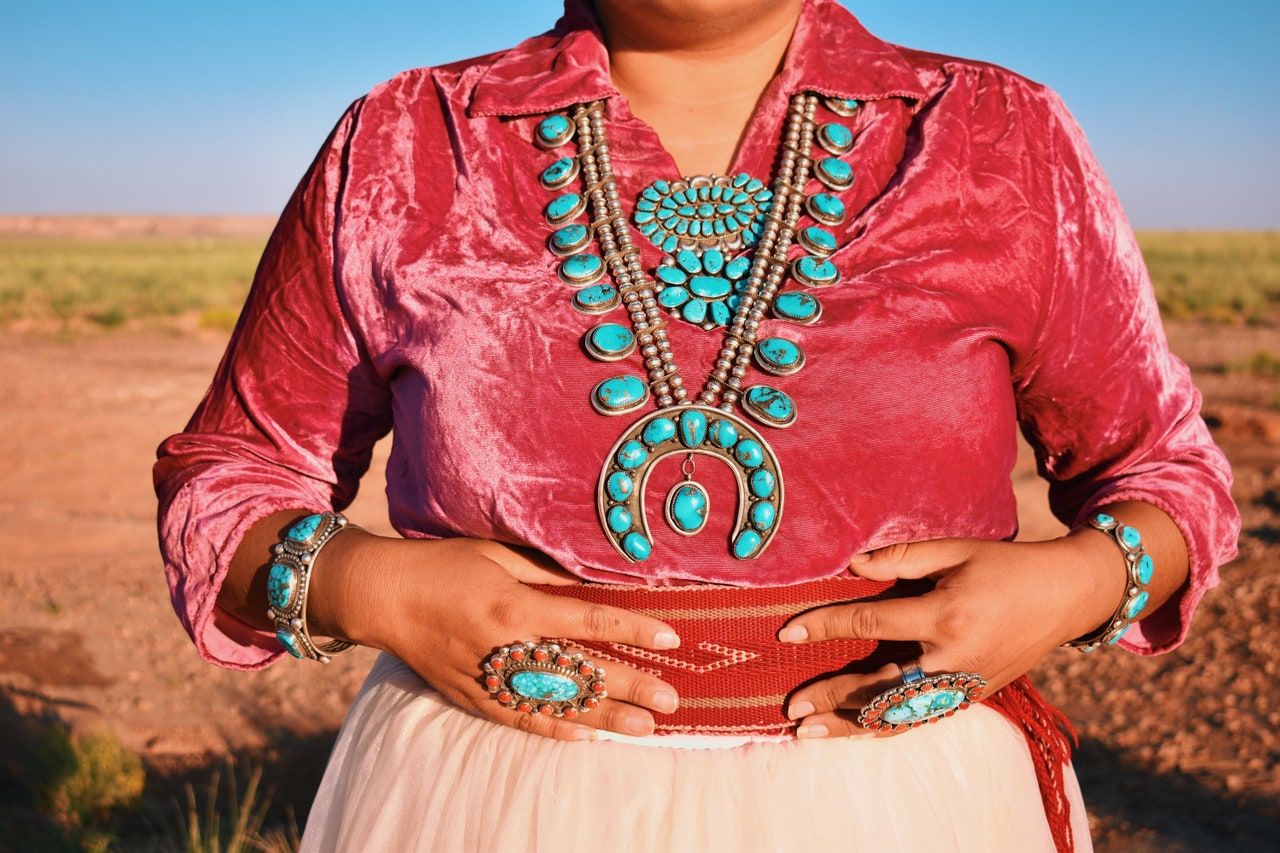 Glasses began collecting turquoise when she was just 14 years old, and now the 24-year-old's wardrobe includes a decade's worth of pieces. For those first purchases, she saved up her allowance. "When I went into the trading post, I wasn't expecting to get anything," says Glasses. "I went in with the intent to browse, but then I laid my eyes on a vintage four-row [cuff] that was missing two stones. Because of that, it was $40, and I had to have it. I've been able to replace those stones and you can hardly tell they were replaced. I've been searching for a turquoise find like that ever since." (These days, a four-row turquoise bracelet can go for well over $1,000.)

The 200-plus pieces in her collection range from discrete turquoise rings to big squash blossom necklaces, which she often pairs with knee skirts. She's collected concha belts that she's found at gas stations and kept clustered brooches that belonged to her grandmother. "From the moment she opened it as a present until she passed, it was her favorite pin, and she would often wear it even with her plain T-shirts," says Glasses of one brooch below. Glasses has so many pieces that she even began posting #TurquoiseTuesday on her Instagram, where she shares some of her favorite pieces with her 97,000 followers. "I saw that it was a hashtag, and it immediately became one of my favorite hashtags and sayings to use," says Glasses. "To whoever came up with this catchy phrase, thank you!"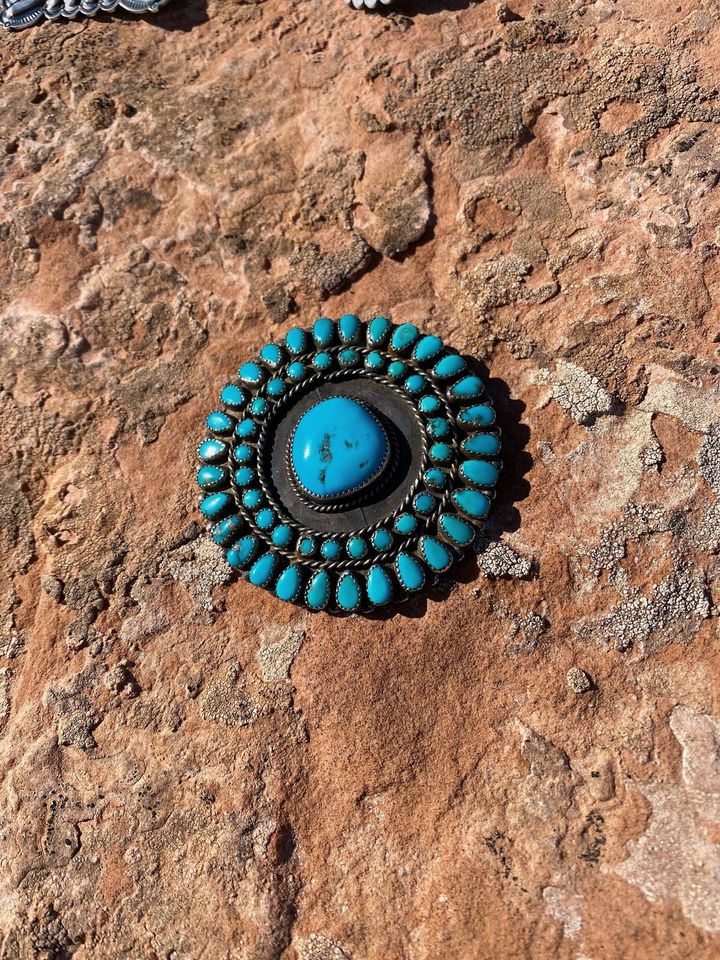 Outfit-wise, Glasses lets her turquoise pieces shine on their own. "I could wear a plain T-shirt and a plain skirt, then I toss on jewelry, and it brings the outfit up a notch," says Glasses. "When I wear my jewelry, people will ask me where I'm headed while being 'all dressed up.'"

Some of her favorite places to look for new pieces are in the nearby town of Gallup, New Mexico. "A lot of people may not know that a lot of artists live in or near Gallup," says Glasses. "I'll go to raw materials stores that carry turquoise, coral, and silver, and I'll be lucky enough to meet artists there and place future orders with them." She's also found amazing turquoise pieces at the Santa Fe Indian Market and Heard Market. "My new favorite spot is the R.C. Gorman Navajo Gallery, which features Philander Begay jewelry," says Glasses.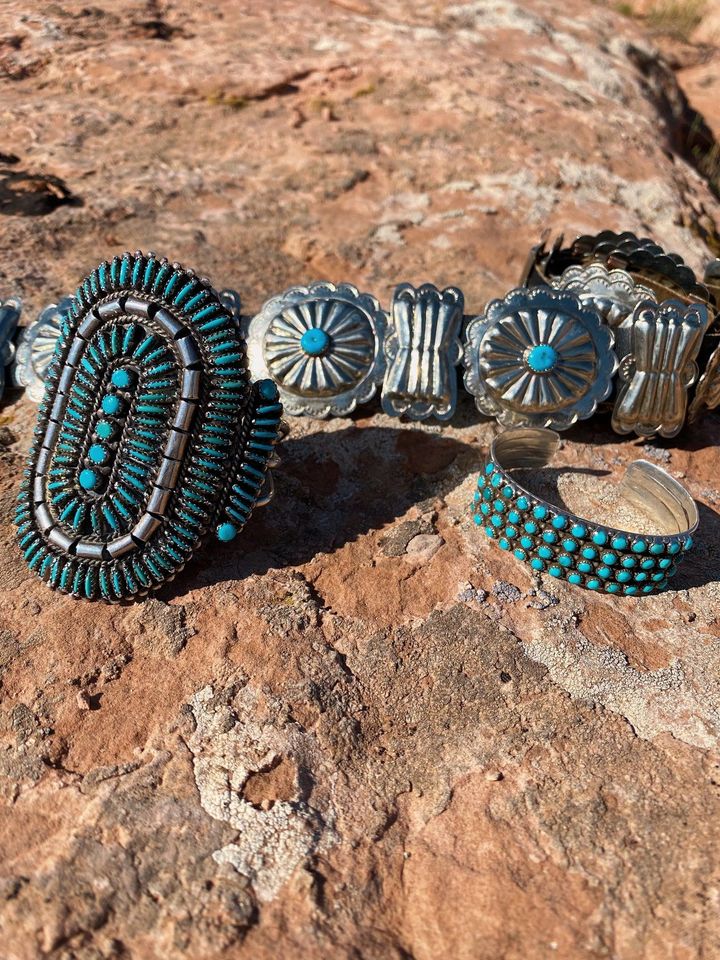 Glasses is always on the hunt for the next big turquoise find-and if anyone can find a rare piece, it's her. But for now, the window-shopping must come to a brief pause; she has more weaving to do. "I'm focusing on what I will be weaving for the next show, the Heard Museum Guild Indian Fair & Market, which is in early March," says Glasses. "There are also custom weaving orders that I'm getting done. Seeing my brother Tyler's poncho that he wove for Santa Fe Indian Market, I'd also really like to tackle more wearable pieces in my weaving journey."