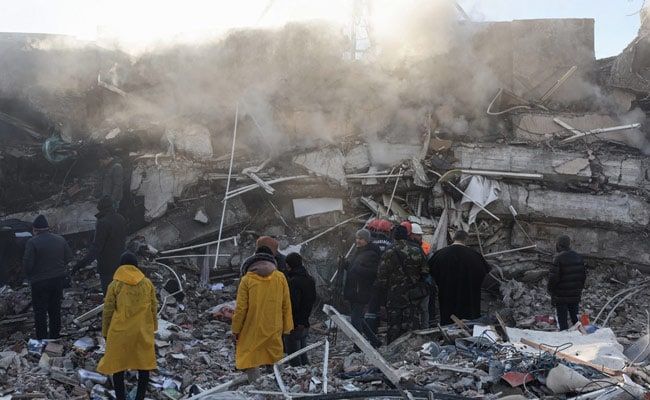 Over 7,800 Killed In Turkey, Syria Earthquake: "Children Freezing From Cold"
Turkey-Syria Earthquake: The latest toll showed 5,434 people killed in Turkey and at least 1,872 in Syria, for a combined total of 7,306 fatalities.
Rescuers in Turkey and Syria battled bitter cold Tuesday in a race against time to find survivors under buildings flattened by an earthquake that killed more than 7,800 people.

Tremors that inflicted more suffering on a border area, already plagued by conflict, left people on the streets burning debris to try to stay warm as international aid began to arrive.

But some extraordinary survival tales have emerged, including a newborn baby pulled alive from rubble in Syria, still tied by her umbilical cord to her mother who died in Monday's quake.

"We heard a voice while we were digging," Khalil al-Suwadi, a relative, told AFP. "We cleared the dust and found the baby with the umbilical cord (intact) so we cut it and my cousin took her to hospital."

The infant is the sole survivor of her immediate family, the rest of whom were killed in the rebel-held town of Jindayris.

The 7.8-magnitude quake struck Monday as people slept, flattening thousands of structures, trapping an unknown number of people and potentially impacting millions.

Whole rows of buildings collapsed, leaving some of the heaviest devastation near the quake's epicentre between the Turkish cities of Gaziantep and Kahramanmaras.

The destruction led to Turkish President Recep Tayyip Erdogan declaring Tuesday a three-month state of emergency in 10 southeastern provinces.


'Children are freezing'


Dozens of nations including the United States, China and the Gulf States have pledged to help, and search teams as well as relief supplies have begun to arrive by air.

Yet people in some of the hardest-hit areas said they felt they had been left to fend for themselves.

"I can't get my brother back from the ruins. I can't get my nephew back. Look around here. There is no state official here, for God's sake," said Ali Sagiroglu in the Turkish city of Kahramanmaras.

"For two days we haven't seen the state around here... Children are freezing from the cold," he added.

A winter storm has compounded the misery by rendering many roads -- some of them damaged by the quake -- almost impassable, resulting in traffic jams that stretch for kilometres in some regions.

The cold rain and snow are a risk both for people forced from their homes -- who took refuge in mosques, schools or even bus shelters -- and survivors buried under debris.

"It is now a race against time," said World Health Organization chief Tedros Adhanom Ghebreyesus.

"We have activated the WHO network of emergency medical teams to provide essential health care for the injured and most vulnerable," he added.


23 million could be affected


The latest toll showed 5,434 people killed in Turkey and at least 1,872 in Syria, for a combined total of 7,306 fatalities.

There are fears that the toll will rise inexorably, with WHO officials estimating up to 20,000 may have died.

WHO warned that up to 23 million people could be affected by the massive earthquake and urged nations to rush help to the disaster zone.

The Syrian Red Crescent appealed to Western countries to lift sanctions and provide aid as President Bashar al-Assad's government remains a pariah in the West, complicating international relief efforts.

Washington and the European Commission said on Monday that humanitarian programmes supported by them were responding to the destruction in Syria.

The UN's cultural agency UNESCO also said it was ready to provide assistance after two sites listed on its World Heritage list in Syria and Turkey sustained damage.

In addition to the damage to Aleppo's old city and the fortress in the southeastern Turkish city of Diyarbakir, UNESCO said at least three other World Heritage sites could be affected.

Much of the quake-hit area of northern Syria has already been decimated by years of war and aerial bombardment by Syrian and Russian forces that destroyed homes, hospitals and clinics.

Residents in the quake-devastated town of Jandairis in northern Syria used their bare hands and pickaxes to search for survivors.


'Hear their voices'


"My whole family is under there -- my sons, my daughter, my son-in-law... There's no one else to get them out," said Ali Battal, his face streaked with blood and head swathed in a wool shawl against the bitter cold.

"I hear their voices. I know they're alive but there's no one to rescue them," added the man in his 60s.

The Syrian health ministry reported damage across the provinces of Aleppo, Latakia, Hama and Tartus, where Russia is leasing a naval facility.

Even before the tragedy, buildings in Aleppo -- Syria's pre-war commercial hub -- often collapsed due to the dilapidated infrastructure.

Following the earthquake, prisoners mutinied at a jail holding mostly Islamic State group members in northwestern Syria, with at least 20 escaping, a source at the facility told AFP.

Turkey is in one of the world's most active earthquake zones.

The country's last 7.8-magnitude tremor was in 1939, when 33,000 died in the eastern Erzincan province.

The Turkish region of Duzce suffered a 7.4-magnitude earthquake in 1999, when more than 17,000 people died.

Experts have long warned a large quake could devastate Istanbul, a megalopolis of 16 million people filled with rickety homes.