People who are stuck in the province take refuge in shopping malls, stadiums, mosques and community centres.
After a series of earthquakes and aftershocks in Turkey and Syria, many tried to flee the devastated city of Gaziantep, located about 33km (20 miles) from the epicentre.

With the airport and many roads outside the city blocked, those who were unable to leave took refuge on Tuesday in shopping malls, stadiums, mosques and community centres.

"When I thought of leaving the city, it was already too late," 25-year-old Yunus Koser told Al Jazeera. Koser, who took shelter in Sih Fetullah square with his mother and brother, was working a night shift in the Ibrahimli neighbourhood – one of the city's most affected areas – when the first earthquake hit early on Monday.

He said he immediately ran home through the chaos that had overtaken the streets, only to find that his house's walls were damaged. When the second earthquake hit, Koser feared that his home was no longer safe.

"So, we preferred to camp in the open air, with dozens of other families," he said.

"Sitting next to each other, around a fire, makes the situation slightly more bearable, more humane."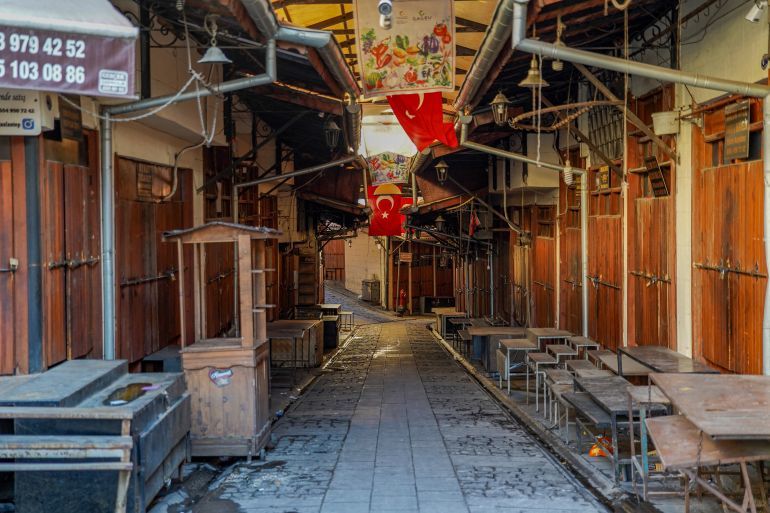 The city has become a ghost town following the disaster

A day after the earthquakes shook southeastern Turkey and northwestern Syria, killing thousands, rescue operations were under way.

The death toll surpassed 7,000 late on Tuesday and is expected to continue to rise. Many in need are still isolated due to frigid temperatures and blocked roads, preventing rescue teams from reaching the affected areas.
'As far as possible'

Mariia Honcharuk, 24, a Ukrainian refugee living in Gaziantep, said that she was still trying to leave the city.

"We are trying to go as far as possible until the situation calms down," she said.

On Monday, Honcharuk quickly packed a few clothes in a bag and hopped on the first bus to Antalya, but the bus station was full of people trying to escape the city.

When she finally managed to get a ticket, she got stuck on the road to Adana. "We had to take another road because the main one was blocked, so it took much more time than usual," Honcharuk said.

"Then, we were just waiting in a traffic jam the whole night and morning in Nurdagi [the epicentre of the earthquake], and we had to find an alternative way south."

Yahaya Hassan Labaran, a Nigerian civil engineering PhD student at Gaziantep University, said that foreign students living alone have been panic-struck by the disaster.

"When the earthquake happened, they told us to leave our dormitory immediately, without knowing if we would go back," Labaran said, adding that being stuck in a temporary shelter with hundreds of other people, with limited food and water, was emotionally draining.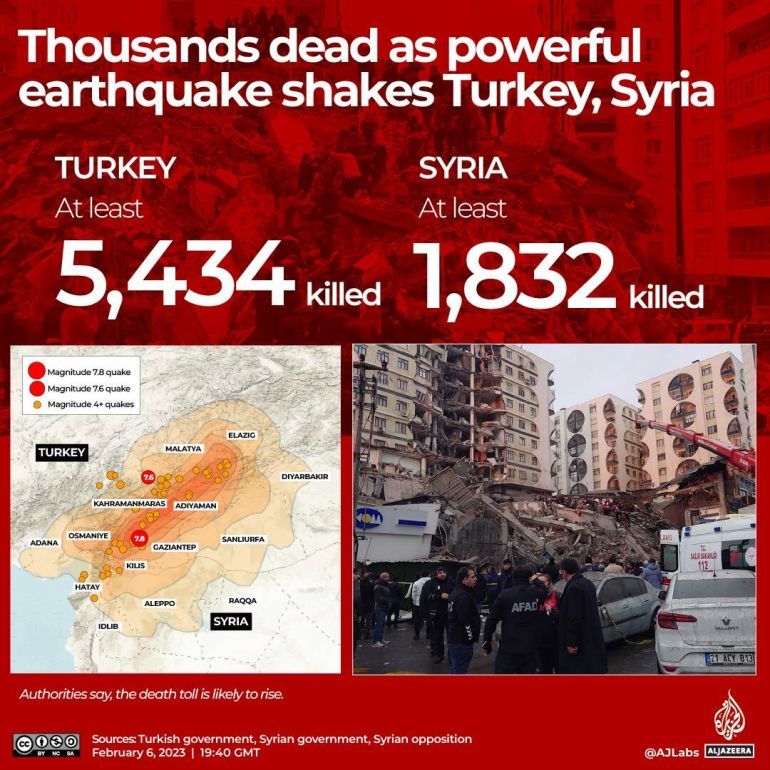 "I even left my passport in the building. I've been trying to recollect it, because I want to reach my home country, but security won't let me inside. I just want to go back home, I have never seen a disaster like this."

Experts feard that Monday's earthquakes could compound the loss of the region's cultural legacy – Turkey's government has said more than 5,600 buildings in Turkey have been destroyed. On Tuesday, UNESCO warned that several World Heritage Sites, identified by the United Nations agency for their cultural, historical, scientific and other forms of significance, might have been damaged.

After the first earthquake, Emad al-Mustafa jumped in his car with his wife and four children. Although his house, located near Sanko Park, was not damaged by the quake, he no longer believed it is safe to be there.

"When we realised there was no water, no electricity, no safety in our building, we decided to go," al-Mustafa said by telephone as he travelled to Eskisehir, a city far away from the damaged areas. "But I wish I hadn't taken that car journey. What we saw along the way was just rubbles and complete devastation, like an apocalypse movie."