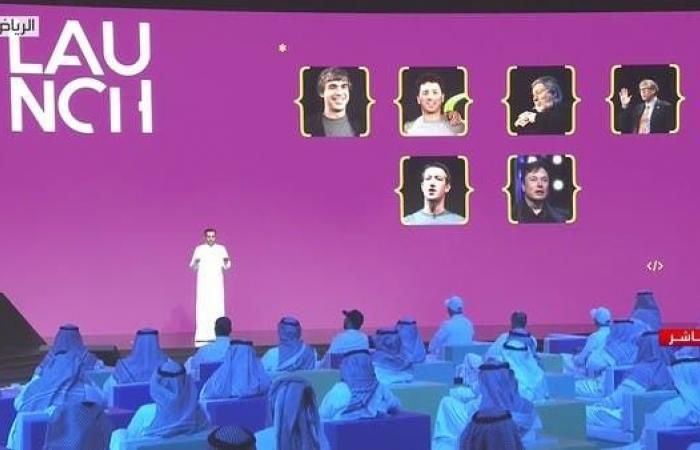 Saudi Arabia aims to qualify one "programmer" for every 100 Saudi citizens by 2030
The chairman of the board of directors of the Saudi Federation for Cyber ​​Security, Programming and Drones, Faisal Al-Khamisi, stressed the importance of programming and innovators of global programmers, as the fundamental seed for the successes of the information technology sector. globally, until the world saw large service companies become electronic platforms.
This took place during Al-Khamisi's speech at the inauguration of the Launch event, which was launched today, Wednesday, in the capital, Riyadh, and is the largest technical event in the Middle East and North Africa region, with the participation of 10 companies from the technology giants in the world.

Al-Khamisi felt that "it is not an exaggeration to say that the importance of learning programming, Soon it will be as important as learning to read and write ". He explained that the Kingdom has a clear strategy, with a specific timetable for investing in national frameworks, in order to reach a "planned target of 100 Saudis by 2030".

The event saw the start of numerous partnerships with high ministerial participation, and 10 companies of the world's technology giants, which announced the establishment of the regional headquarters in Riyadh.

In a speech at the event, Saudi Minister of Communications and Information Technology, Ing. Abdullah bin Amer Al-Sawaha, revealed the manufacturing of the first smart chips within the Kingdom with Saudi hands and minds that will be used. in military, commercial and civil applications.

The Minister of Communications announced the launch of 3 major programs in the field of technology and artificial intelligence, the first of which is the "Himma" program, the largest technical program with a 2.5 billion riyal package to support the technology market with more than 20 products and support for beginners and advanced entrepreneurs. Tuwaiq ", and his first project is" Sadaya Academy ", which is a huge project to train the new generation to harness energy and build capacity in the field of artificial intelligence.

Key attendees at the event included the Minister of Communications and Information Technologies, Ing. Abdullah Al-Sawaha, Counselor at the Royal Court, President of the General Entertainment Authority, Turki Al-Sheikh, President of Saudi Data and Artificial Intelligence Authority, Dr. Abdullah Sharaf Al-Ghamdi, and the chairman of the board of directors of the Saudi Federation for Cyber ​​Security, Programming and Drones, Faisal Al-Khamisi, and numerous other speakers, with the participation of the national operator of telecommunications stc.