Sir Richard Branson has said he feared he was going to lose his entire business empire during the pandemic.
The British businessman said he found a media backlash "painful" after the Virgin Group asked the UK government for a loan to save the company.

Given his personal wealth and home on a Caribbean island, he was criticised for asking for a bailout when airline Virgin Atlantic hit trouble.

Sir Richard told the BBC he personally lost around £1.5bn during the pandemic.

The struggles to save his businesses left him "a little depressed" for a couple of months, he said. "I'd never experienced that before in my life."

Worst case scenario

He explained: "We had 50, 60 planes all on the ground, and the health clubs all closed, the hotels all closed. And the worst [case] would have been 60,000 people out on the streets."

The support the company requested was, he said, "not gifts from government, but underwriting loans so the cost to the airline... was not prohibitive."

The government refused his request for a reported £500m bailout, however. A private rescue deal eventually saw the Virgin Group inject £200m, with an additional £1bn provided by investors and creditors.

"There was a time when I thought we were going to lose everything," Sir Richard said. "We sold shares in companies that were public and that was one way we managed to find money."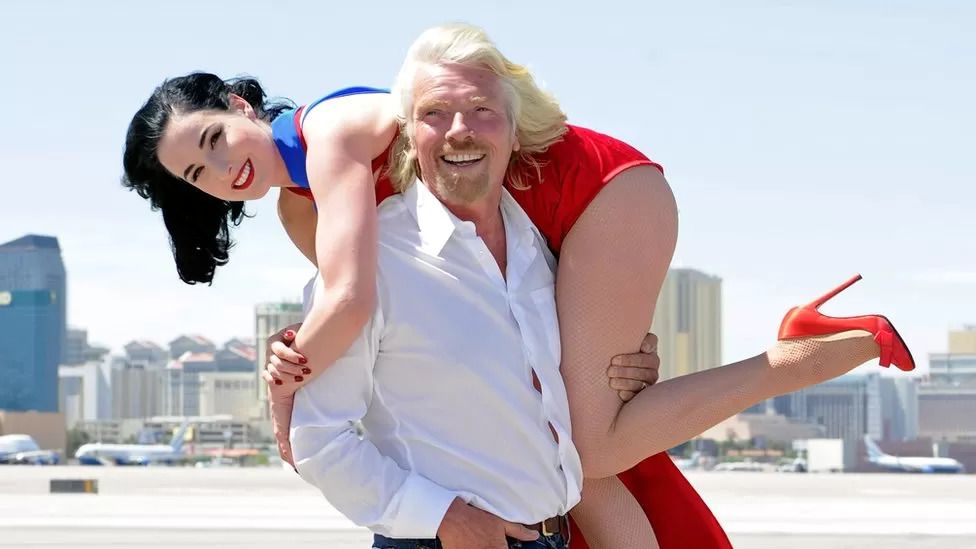 Sir Richard, pictured with burlesque artist Dita Von Teese in 2010, said people would feel "uncomfortable" with such photoshoots today

In a wide-ranging interview with the BBC's Amol Rajan, Sir Richard also discussed his marketing campaigns and publicity stunts of the past - often involving glamorous women, who he sometimes threw over his shoulder.

Asked if those stunts now made him wince, he replied: "It would make me wince if I felt the women were uncomfortable at all.

"I don't think that I ever made anybody feel uncomfortable. In those days, it made them smile... But today obviously, I think people would feel uncomfortable with something like that.

"So it's changed and I fully accept that. And I've changed alongside everybody else."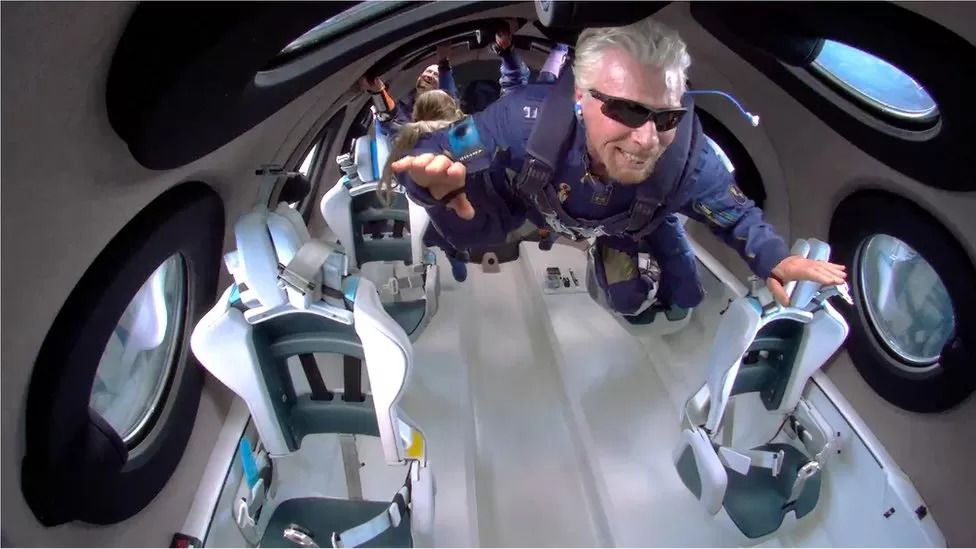 Sir Richard Branson travelled to space in 2021 in his Virgin Galactic commercial space plane

In 2021, Sir Richard achieved a lifelong ambition and reached the edge of space in his Virgin Galactic commercial space plane. "It was one of those most extraordinary days, every aspect of it", he said.

He defended space exploration as a worthwhile investment, when asked whether launching rockets should be a priority for the ultra-rich, or is compatible with tackling climate change - a cause to which he has devoted extensive effort and money.

"Communication between people is being transformed because of space travel and satellites up there," he said. "Monitoring things like the depredation of rainforests and illegal fishing... [there are] all these kinds of benefits that come from space travel."

However, his satellite launch rocket company Virgin Orbit filed for bankruptcy in the US last month after failing to secure new investment.

Succession planning

In recent years, Sir Richard has also campaigned to promote awareness of dyslexia, a term rarely used and even less understood when he dropped out of school at 15. He revealed that, shortly after being sent to boarding school aged seven, he was beaten so badly - "for being stupid" - that he bled.

"It was... pretty horrendous in those days. And yes, as a dyslexic, I thought I must be stupid because they had never heard of [it]. The word dyslexic didn't exist."

As well as dyslexia, Sir Richard thinks he probably has attention deficit disorder, and acknowledged he does get bored easily.

At the age of 72, the businessman still heads the Virgin Group - but admitted he does have thoughts about succession planning.

"We have serious discussions as a family about how the company can transform hopefully thousands people's lives in the years to come and hopefully in the centuries to come," he said.