CEO Elon Musk sees infinite demand for Teslas, provides little insight into next-generation vehicle
Elon Musk's Tesla Inc. spent around $28 billion to cement itself as the world's most valuable car company. It is now preparing to invest roughly five times that as it strives to meet the next objective: Becoming the world's largest car maker by volume.

Chief Financial Officer Zach Kirkhorn said publicly for the first time on Wednesday that Tesla could need to spend nearly $150 billion more to achieve its long-term goals, which includes selling 20 million vehicles a year. Today's largest auto maker sells roughly half that annually, while Tesla delivered around 1.3 million vehicles to customers globally last year.

Tesla leadership, in their presentation to investors gathered at the company's Austin-area factory, spoke to both the scale of the company's ambitions and how they had overcome hurdles, including reducing manufacturing costs. What stood out, as much as anything, was what they didn't talk about in detail: a new vehicle.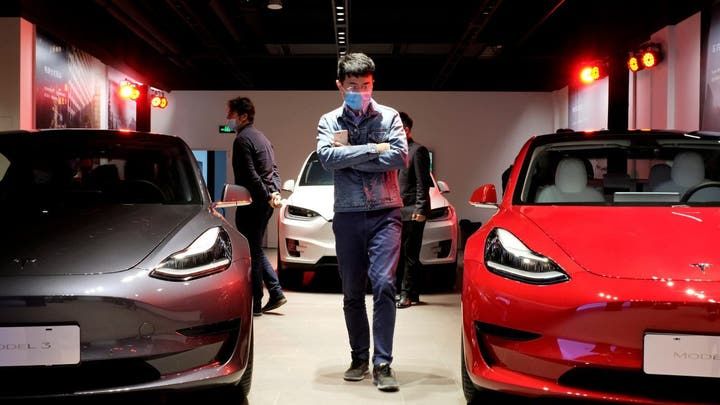 A man wearing a face mask following the coronavirus disease (1COVID1-19) outbreak walks by Tesla Model 3 sedans and Tesla Model X sport utility vehicle at a new Tesla showroom in Shanghai, China May 8, 2020. 

Tesla hinted at coming models, displaying a slide with two vehicles cloaked in sheets, without sharing specifics. Wall Street had been clamoring for details on when Tesla might introduce a new, less expensive car that would expand its reach.

Wells Fargo analysts called it disappointing that "there was no reveal, timeline, or even basic product description of the next gen model."

The company currently offers four-passenger vehicles, with a fifth—the Cybertruck pickup—slated to hit the market later this year. The least expensive of those offerings is priced at more than $40,000 in the U.S.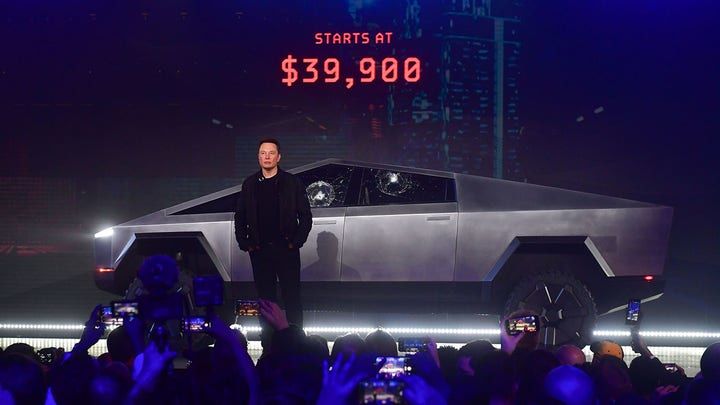 Tesla co-founder and CEO Elon Musk stands in front of the newly unveiled all-electric battery-powered Tesla's Cybertruck at Tesla Design Center in Hawthorne, California on November 21, 2019.

It would be jumping the gun, Mr. Musk said, to discuss a coming vehicle, saying the company would have a separate product event. However, he and others underscored the importance of affordability.

Any new, more affordable model is unlikely to contribute meaningfully to Tesla's sales until 2025 at the earliest, Bernstein Research analyst Toni Sacconaghi Jr. said in a note to investors. In the meantime, he said, Tesla will need to lower prices to hit its growth targets.

Tesla shares slumped more than 6% in Thursday trading.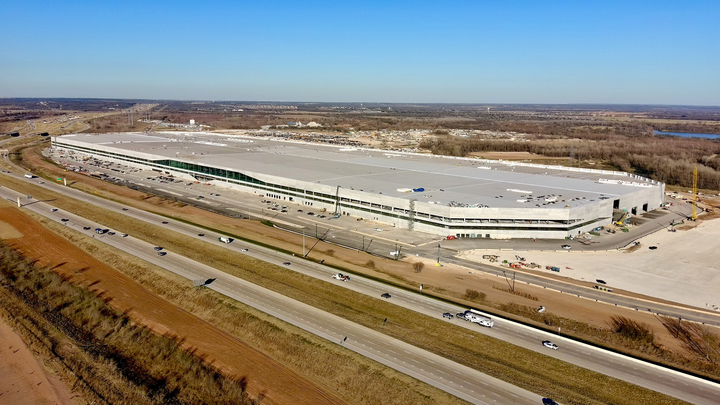 Tesla Gigafactory Texas on Jan. 17

Mr. Musk, the chief executive, confirmed plans to build a new factory in Mexico while expanding the company's existing plants. Tesla currently makes vehicles in the U.S., China and Germany. Mr. Musk has said the company is likely to need roughly a dozen factories to meet its long-term sales goal.

California Gov. Gavin Newsom and Tesla CEO Elon Musk announced the location of the company's new global engineering headquarters. The facility will be in the former computer-maker Hewlett Packard building in Palo Alto. Photo: Tesla

Tesla will build its next-generation vehicle in Mexico and elsewhere, the company indicated.

Mr. Kirkhorn, the CFO, said his investment forecast of up to $175 billion, including around $28 billion already spent, was intended to illustrate the feasibility of Tesla's goals.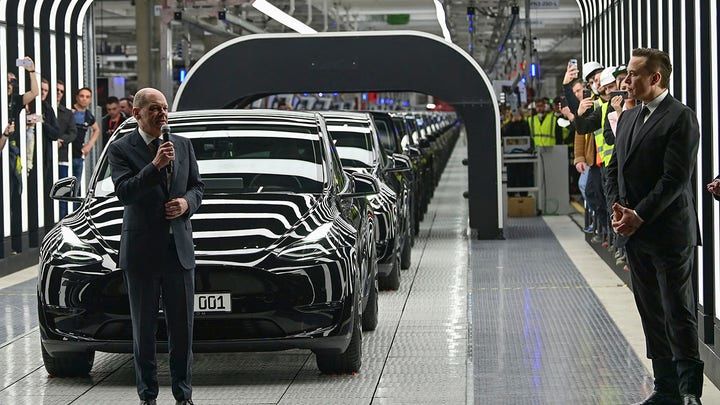 German Chancellor Olaf Scholz, left, talks to Elon Musk, Tesla CEO, at the opening of the Tesla factory Berlin Brandenburg in Gruenheide, Germany, Tuesday, March 22, 2022. The first European factory in Gruenheide, designed for 500,000 vehicles per ye


"We may choose to vertically integrate more into things. We may find efficiencies elsewhere," he said.

Meanwhile, Tesla is getting into the business of making the materials needed to produce the battery cells that power its electric vehicles. It broke ground on a lithium refinery near Corpus Christi, Texas, and is building a battery materials facility in the Austin area, said Drew Baglino, the company's senior vice president of powertrain and energy engineering.

"We are also trying to accelerate the pace of the industry by trying some new things that are a little bit more scalable and de-risking certain innovations that improve productivity," Mr. Baglino said.

Tesla is expanding from a position of relative financial strength. The company has weathered periods of extreme financial strain, narrowly avoiding bankruptcy in 2008 and again roughly a decade later as it struggled to ramp up production of the Model 3 sedan, Mr. Musk has said. Now, Tesla is sitting on a war chest of around $22 billion in cash and short-term investments.

The company, which has reported 14 profitable quarters in a row, slashed vehicle prices earlier this year—some by nearly 20% in the U.S.—amid concerns about sagging demand. It has since nudged some prices back up. Tesla found that "even small changes in the price have a big effect on demand, very big," Mr. Musk said.

He again dismissed the notion that Tesla could struggle to find buyers. "Demand for our vehicles, in terms of desire to own them, may as well be infinite," he said.

Unleashing that demand will require cost reductions, though, Tesla powertrain engineering leader Colin Campbell said. "If we want to make EVs more accessible to people, they have to be cheaper," he said. "We can make lower cost products that are still efficient and compelling and we can make them at scale."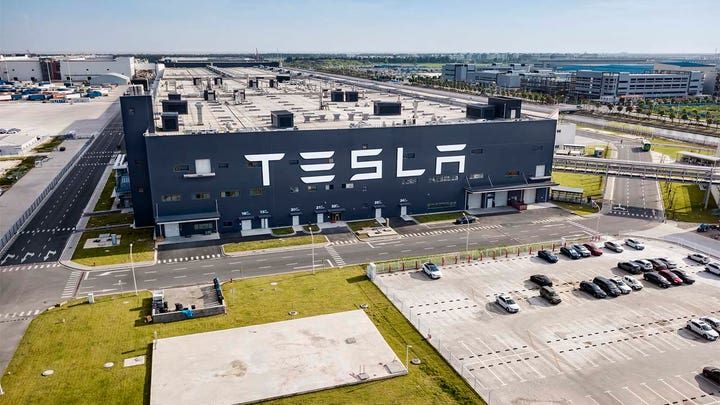 Shanghai, China - August 1, 2020: Exterior view of automobile plant Tesla Gigafactory 3 located in Pudong District, Shanghai, China.

Scaling up manufacturing hasn't always been easy for Tesla. The company faced "production hell" in the early days of making the Model 3. At one point last year, Mr. Musk called the company's new factories in Germany and Texas "gigantic money furnaces." It has taken Tesla two decades to produce four million vehicles.

On Wednesday, Mr. Musk reflected on the challenge ahead.

"The hard part is building the cars and the entire supply chain that goes with the cars. This is a logistics challenge of extraordinary difficulty," he said.