Bringing a whole new meaning to 'it's written all over your face', the likes of Cardi B and Justin Bieber are all driving a trend to get inked on the most visible part of the body. Martha Alexander explores the rise of the celebrity face tattoo
Getting inked is pricey, it's painful and it's permanent — and all of this is amplified if it's on your face.

And yet the addition of Wave, Cardi B's son's name, tattooed on the singer's jawline has only caused minor ripples, when once upon a time an A-list, female celebrity getting this sort of marking would have caused shockwaves.

Cardi B tweeted that she loved the tattoo, in honour of her one-year-old son, but some of her fans expressed concern that she got something so visible with variations on the theme of facial inkings "messing up" natural beauty.

While in some indigenous cultures — including some in Alaska, Canada and New Zealand — the face tattoo can be a sign of womanhood and accomplishment, for westerners it has evaded popularity in the mainstream.

While some will wince at Cardi's new ink she's far from the only celebrity to embrace face tattoos: in fact, having artwork on cheekbones, framing eyes or nestling next to an earlobe is being increasingly adopted by starlets, screen actors and fashion houses.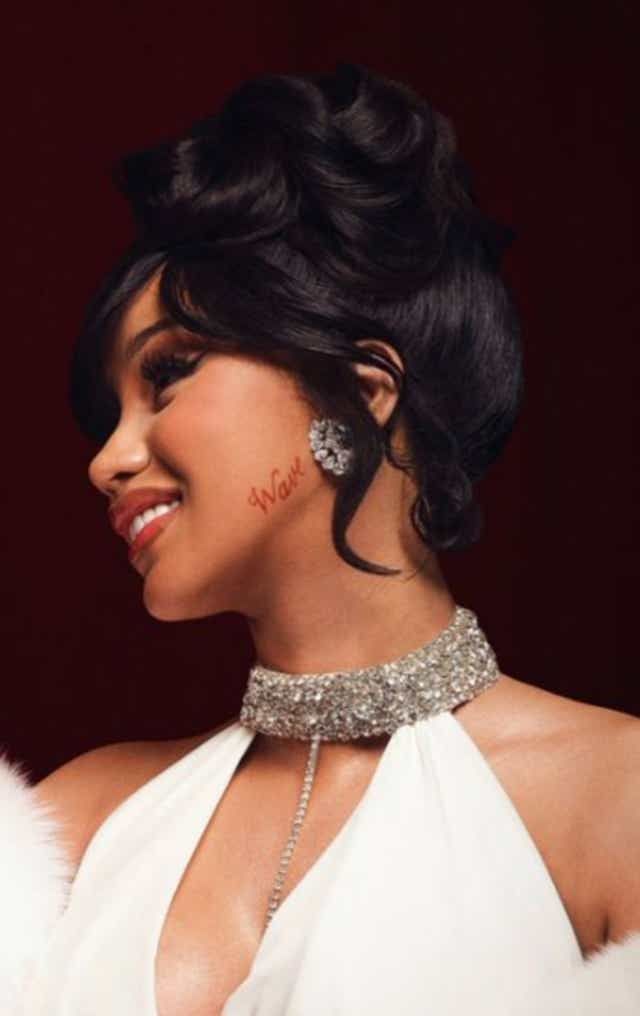 Cardi B

Cardi's inking comes after model and influencer Lottie Moss unveiled a tattoo of the word 'lover' in flowing cursive beneath her eye last December and implied that it was done during a big night out, commenting, "don't drink alcohol, kids". The 24-year-old half sister of supermodel Kate Moss also said "we're going to learn to love it, the world will learn to love it and my mum will learn to love it".

Justin Bieber has both a tiny cross below his eye and the word 'grace' above one of his eyebrows. Euphoria star Dominic Fike has a little apple on his cheekbone and the letters LBE — standing for Lame Boyz ENT, the name of a band he was once in — on his forehead.

Meanwhile Blink 182 drummer and husband of Kourtney Kardashian, Travis Barker's face looks relatively unmarked with just three tattoos — compared to his entire scalp and neck which are completely covered by ink.

Model Amber Rose has her sons' names, Bash and Slash, right across her forehead.

High fashion is increasingly getting in on the act: in 2020 British Vogue featured Rihanna complete with a large but temporary face tattoo of the word 'TRUTH'. Last October, Valentino featured face art on the runway while showcasing its SS23 collections at Paris Fashion Week. Created by iconic makeup artist Pat McGrath, the tattoos of the Valentino logo were of course temporary but still managed to appear intricate, sinister and shocking all at once.

People get tattoos for all sorts of different reasons, from frivolous impulsivity to highly sentimental mementos but singer Post Malone has said his 14 face tattoos — the most famous being Always Tired under his eyes — are a way of coping with a lack of confidence in his appearance. He told GQ in 2020: "I'm a ugly-ass motherf****r. It does maybe come from a place of insecurity, to where I don't like how I look, so I'm going to put something cool on there so I can look at myself and say, 'You look cool, kid,' and have a modicum of self-confidence, when it comes to my appearance." He also has swords, the Playboy bunny and a length of barbed wire.

But can we expect this to be a trend that filters down to 'normal' people? It seems unlikely, not least because, as evolved as we think we are as a society, plenty of careers are simply not be compatible with facial ink. For jobs not in the arts, performance or media — having messages on your face is the sort of individuality that is going to be off-brand for most companies, especially those who want you to represent them and not draw attention to yourself beyond the work you are doing.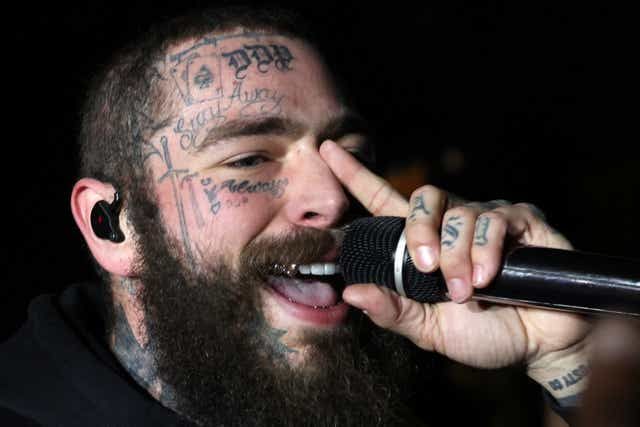 Post Malone

It is also worth noting that plenty of people are denied access to bars and restaurants for having facial tattoos — there is still mistrust around it.

It is also definitely still associated with rebellion. One Twitter poster wrote "Can't wait to disappoint my family with a face tattoo". When Presley Gerber had 'misunderstood' stamped across his cheek he was met with derision, with people calling him out on instagram for being a try hard. "You're not a gangsta or a trap singer like you're a model you're the f***ing Cindy Crawford son stop trying to appear someone you're not you're rich man do something with it."

There is certainly the argument that a face tattoo is the ultimate status symbol, because regardless of what it says and why, the very fact of its existence and permanence is shorthand for 'I don't need to live by the same rules as everyone else'.

Is there any greater privilege?