David Malpass' missteps on climate change haven't brought the swift end to his career his foes had hoped for.
A long-running campaign to oust World Bank President David Malpass — led by climate hawks within the Biden administration and European capitals — has been given a huge assist by Malpass himself.

But no one wants to strike the final blow, yet.

In an extraordinary unforced error during a New York Times panel last week, Malpass dodged answering directly when asked if burning fossil fuels contributed to global warming, saying only: "I am not a scientist." Two days later he said: "It's clear that greenhouse gas emissions from human activity are causing climate change," and that he should have been more precise in saying he was not a climate-denier.

Cue outrage and calls for him to be fired.

Malpass' fate lies in the hands of U.S. President Joe Biden, who has worked hard to reestablish Washington as a leader on climate change after that was undermined by Donald Trump, the president who appointed Malpass. In a long-standing convention, the U.S. as the largest shareholder selects the head of the world's biggest development bank, although the appointment has to be ratified by the bank's board.

Pressure on Biden to remove Malpass grew Thursday, when members from his own Democratic party urged canning the World Bank chief. "We need a World Bank leader who fully appreciates the threat of climate change," 27 House Democrats wrote in a letter that described Malpass as "brazenly ignorant towards the impacts of the climate crisis."

But opinions on what to do about Malpass are split within the administration.

"There's no executioner here," said one person who has been involved in Biden administration discussions on the bank chief.

On Friday, the White House condemned Malpass' comments but pushed responsibility to the U.S. Treasury and the other big countries that are also major World Bank shareholders. "It is a partnership, is how we see this," said Press Secretary Karine Jean-Pierre.

A source familiar with the administration's thinking said: "There is currently no formal process within the administration to consider pushing for Malpass' removal."

Despite Swiss, German and Danish officials all expressing concern in comments to POLITICO — German Economic Cooperation and Development State Secretary Jochen Flasbarth said Malpass' statement was "irritating" — none have publicly called for him to go.

"Personnel issues are not on the agenda at the moment," said Flasbarth. From Europe's perspective, Malpass' position is an internal U.S. matter. "We are firmly on Washington's side on this, now and in the future," said Flasbarth.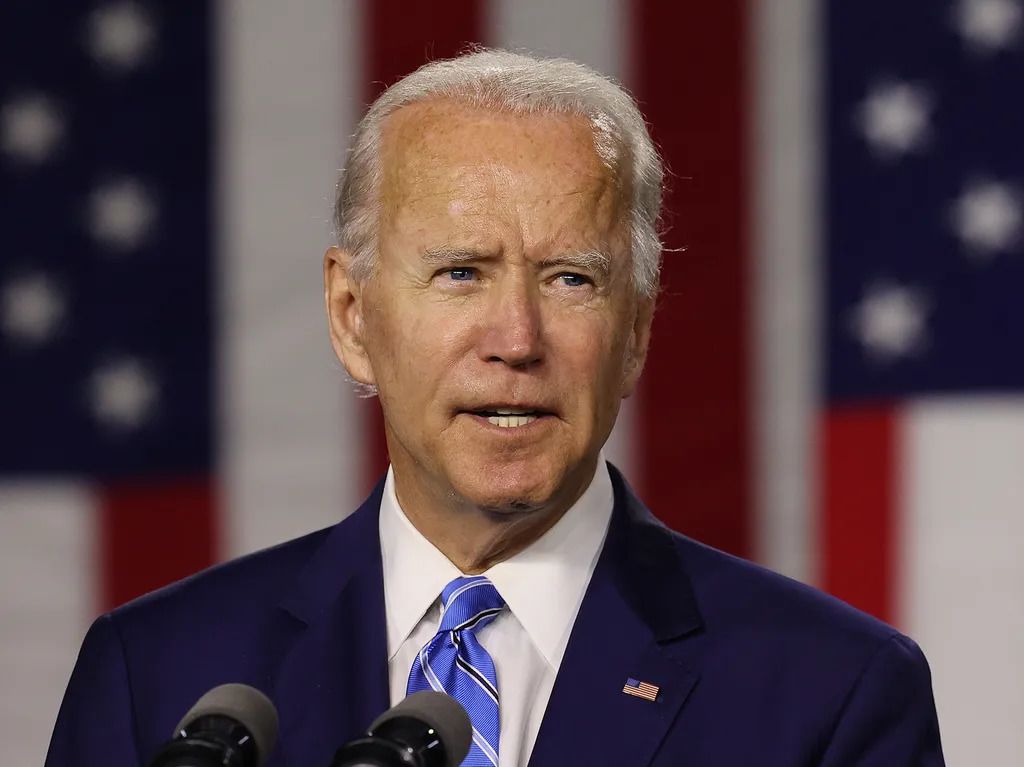 David Malpass' fate lies in the hands of U.S. President Joe Biden

An EU official, speaking on the condition of anonymity to discuss sensitive deliberations, added the bloc's leadership is also focused on systemic improvements at the World Bank, noting "there seems to be very little appetite at this stage" for a leadership change.

Nevertheless, those who want Malpass ousted feel he is suddenly vulnerable and a dormant campaign to remove him has been revived.

European governments are not officially calling for a replacement following last week's comments, but U.S. officials have fielded calls from their counterparts in several Western European governments urging them to fire Malpass ever since Biden entered office, according to people familiar with the discussions on both sides.

He is seen by NGOs, European officials and some World Bank employees as being too reluctant to radically shift the bank's lending to tackle climate change, especially in the world's poorest countries — something that U.S. Treasury Secretary Janet Yellen wants to happen to respond to the scale of the climate crisis in the developing world.

Since the comments last week, U.S. officials who oppose Malpass told their European counterparts they were working to remove the World Bank boss, a second EU official said, also speaking anonymously so as to discuss sensitive diplomacy.

More pressure

That campaign has been bolstered by environmental groups who, after agitating in the background for months, are ramping up the public pressure campaign to force the Biden administration's hand.

Prominent activist Bill McKibben joined other advocates for a protest outside the World Bank's Washington headquarters on Tuesday, urging its shareholders to "fire Malpass." Activists will also hold daily demonstrations during the World Bank's annual meeting the week of October 11, said Collin Rees, a campaigner with Oil Change International.

Many view the annual meeting as a critical moment and attempts to sway the White House are ramping up.

The White House is getting "private pressure" on Malpass, said Justin Guay, director of global climate strategy with the Sunrise Project, who said, "they are hearing more calls that he needs to go."

One person who has spoken directly with Biden officials said the administration is weighing a list of replacement names, which they said indicates the Malpass impasse has reached new heights. Several people said Special Climate Envoy John Kerry's team at the State Department is pushing hard for a change in bank leadership.

"John Kerry is on this bandwagon. He's no lover of Malpass," the person said, requesting anonymity to discuss details of private conversations.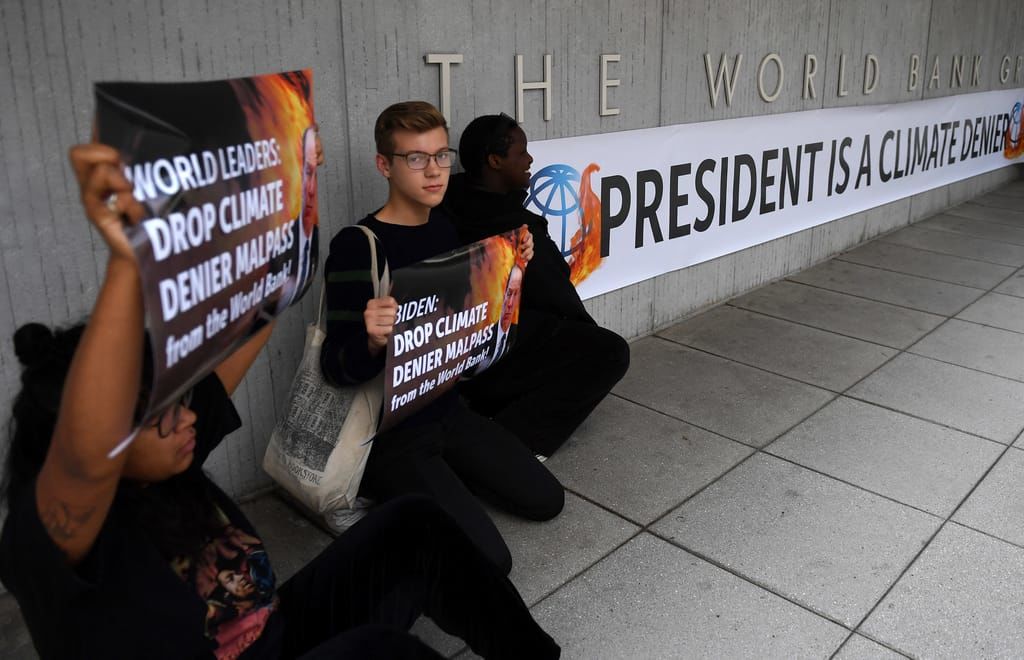 Activists in front of the World Bank's headquarters in Washington on September 22, 2022

Asked about Malpass at the same New York Times event, Kerry said only: "I can't comment on what the status is of an individual — that is the president's decision."

The State Department declined to comment.

Names that green groups have put forward for consideration for the World Bank position include Rockefeller Foundation President Raj Shah, London School of Economics Director Minouche Shafik, Federal Reserve Vice Chair Lael Brainard, U.S. Agency for International Development Administrator Samantha Power, Export-Import Bank Chair Reta Jo Lewis and Raghuram Rajan, the former chief economist and research director at the International Monetary Fund.

But the U.S. government is split on the best way forward.

Malpass is a Republican and a former official in the Trump Treasury Department. A person involved in administration conversations around him said there was a fear that sacking the World Bank chief would set a precedent and any future Democrat-appointed bank leader would be seen as fair game by a Republican president.

Arguments to keep him in place are largely led by the Treasury, according to two people familiar with the discussions. The department reviewed Malpass' position after winning power and concluded that it was possible to work with him to institute some of the sweeping reforms to the bank that Yellen has publicly demanded.

Treasury did not respond to a question on whether there was a review of Malpass last year.

A Treasury official noted that it is expecting the World Bank to make more progress on goals Yellen laid out in a July meeting with the heads of multilateral development banks, which included steering more finance to climate adaptation and renewable energy.

There had been some evidence that efforts to nudge Malpass had been paying off, with even some major critics accepting that a slow change was happening under his watch.

The World Bank delivered a record $31.7 billion in fiscal year 2022 to address climate change — up 19 percent over the previous year's financing, which was also a record.

"The World Bank has become a central, important and good actor on climate," Germany's Flasbarth said.

Malpass had also embraced a greener message in public in recent months. Speaking to POLITICO last week, Malpass tried to get back on message and keep his job.

"It's clear that greenhouse gas emissions from human activity are adding to — are causing — climate change," he said. "And so the task for us, for the world, is to pull together the projects and the funding that actually has an impact."

Asked about his future plans, Malpass responded: "Not resigning."