Danish architecture practice Bjarke Ingels Group (BIG) has created a prefab, low-income apartment building in Copenhagen that's refreshingly bright, spacious, and beautiful.
Commissioned by Lejerbo, a Danish non-profit affordable housing association, this 73,195-square-foot building offers 66 new residential apartments that don't compromise on style or coziness. Despite the strict budget allocated for the project, BIG designed each apartment with warm and welcoming features such as 11.5-foot-high ceilings, expansive floor-to-ceiling windows, and outdoor terraces.

Named the Dortheavej Residence, after its address in the northwest part of Copenhagen, the five-story apartment building winds through an area of car repair shops and industrial buildings constructed from the 1930s to the 1950s.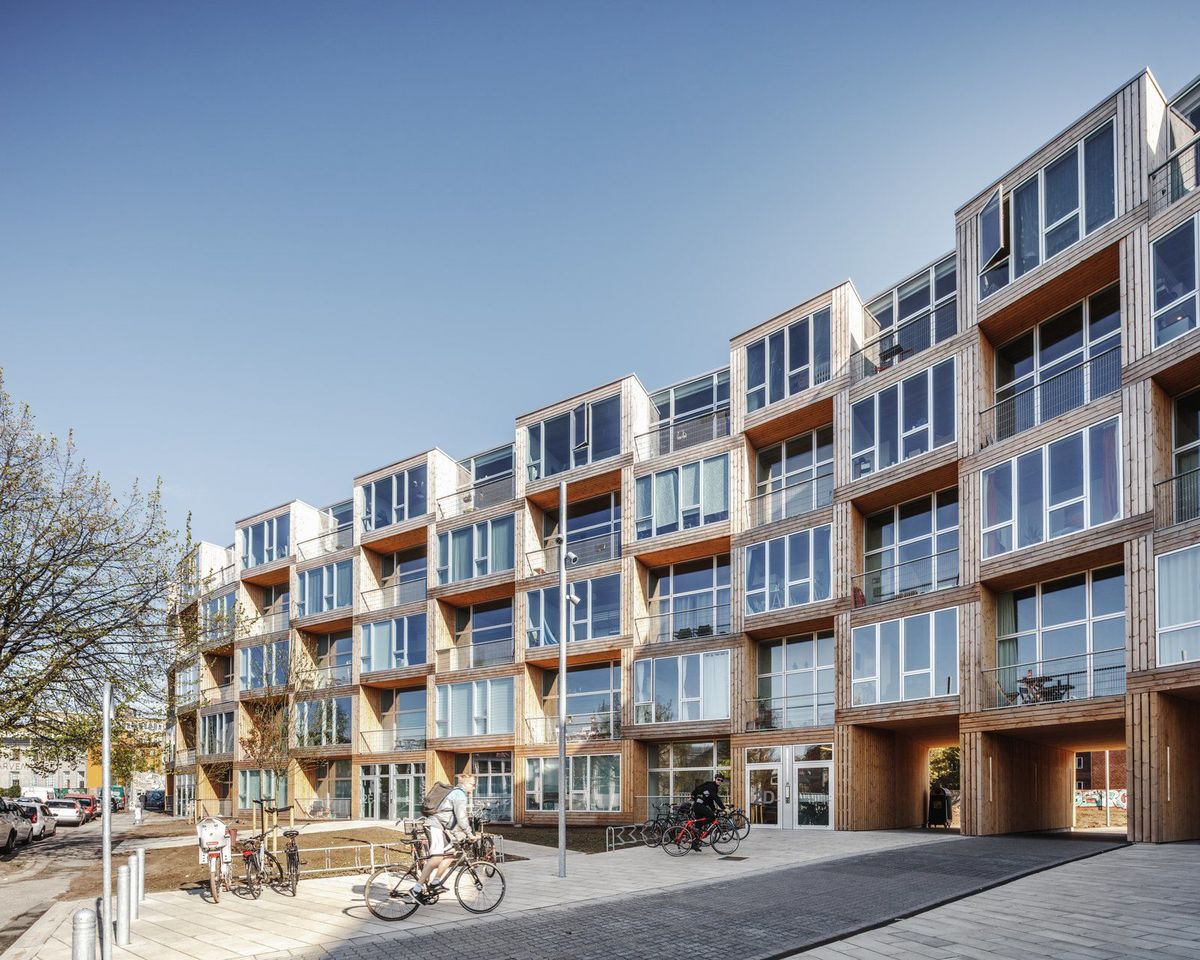 The 73,195-square-foot prefab building hosts 66 new apartments.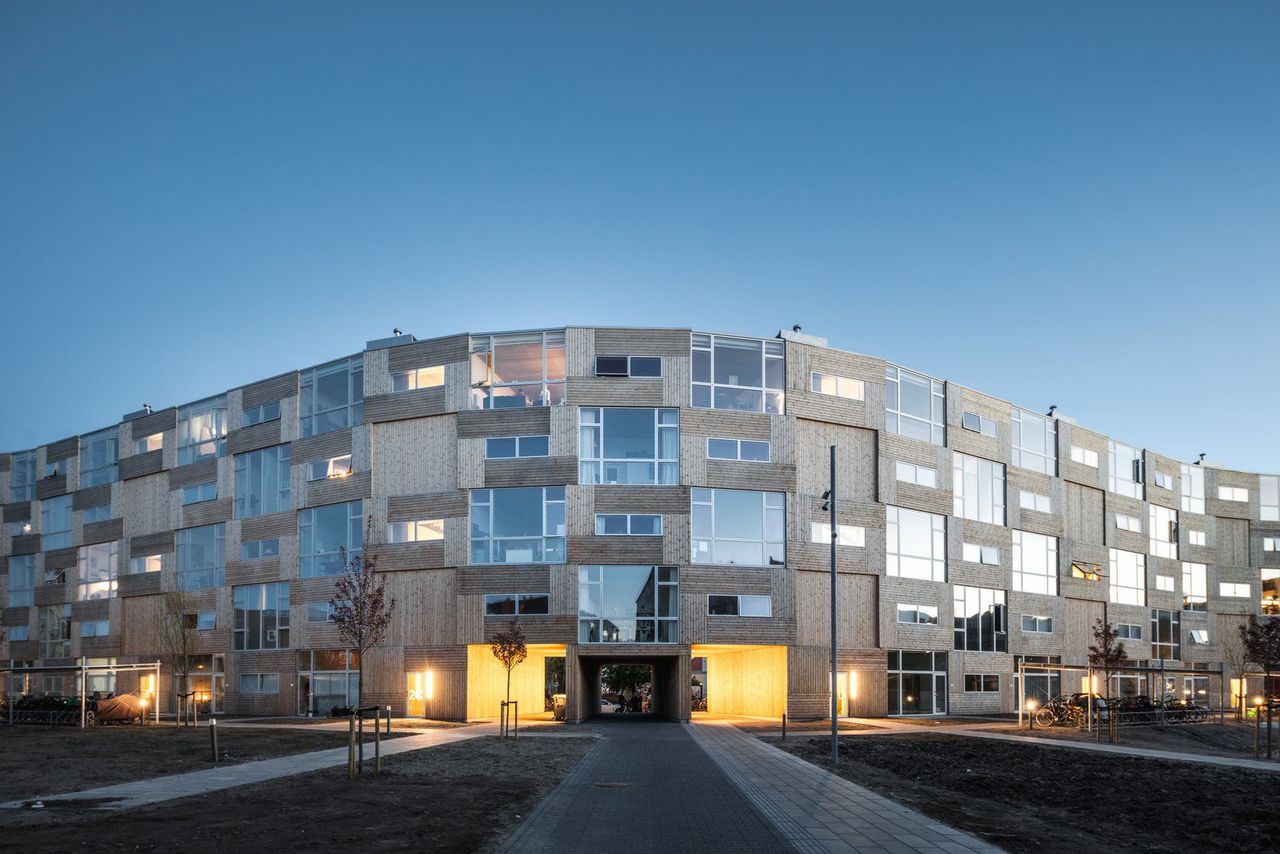 The apartment building has an organic curving form.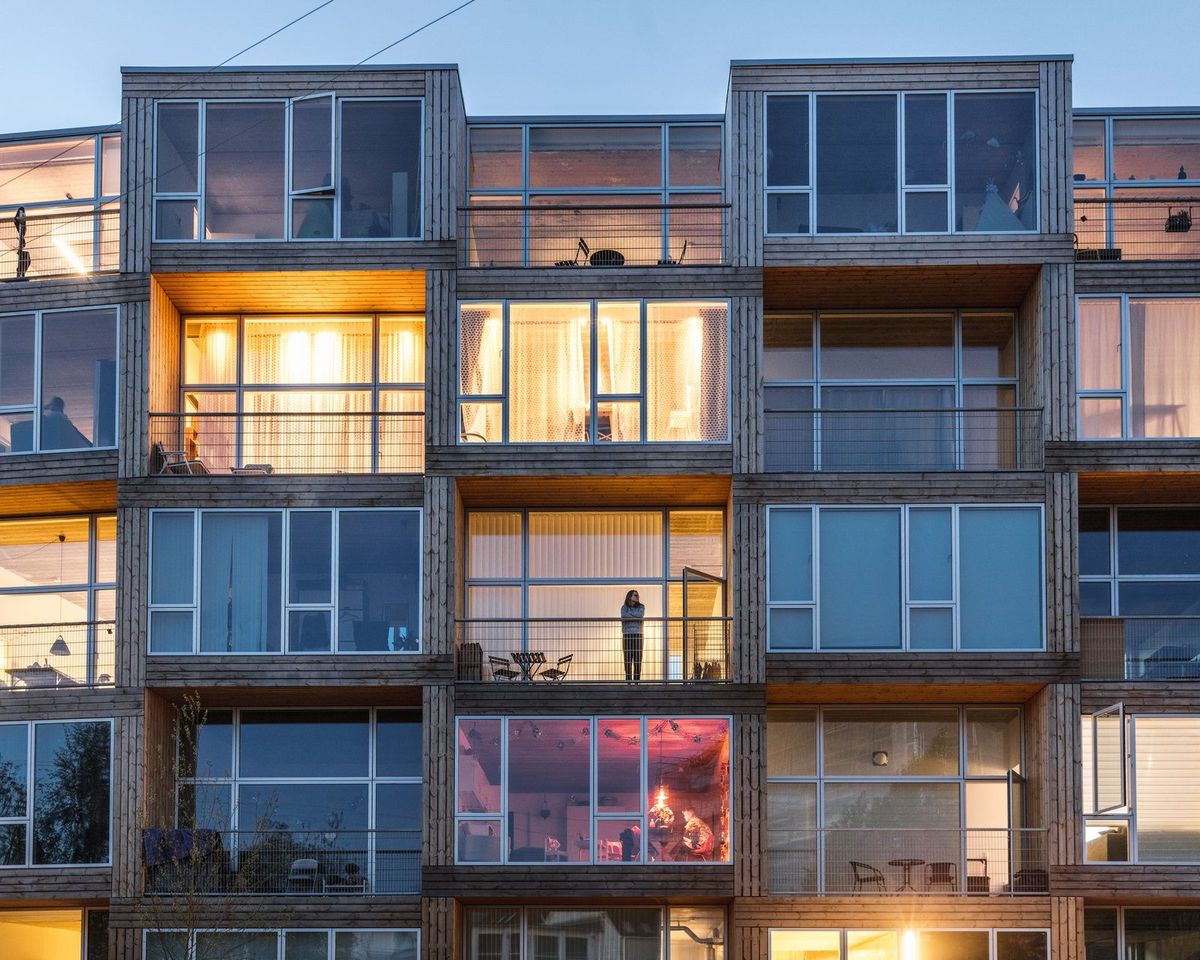 Each unit has 11.5-foot-high ceilings, expansive floor-to-ceiling windows, and outdoor terraces.

Lejerbo wanted the new building to create much-needed public space for the neighborhood. They also sought to create open pedestrian walkways while preserving the green yard adjacent to the site.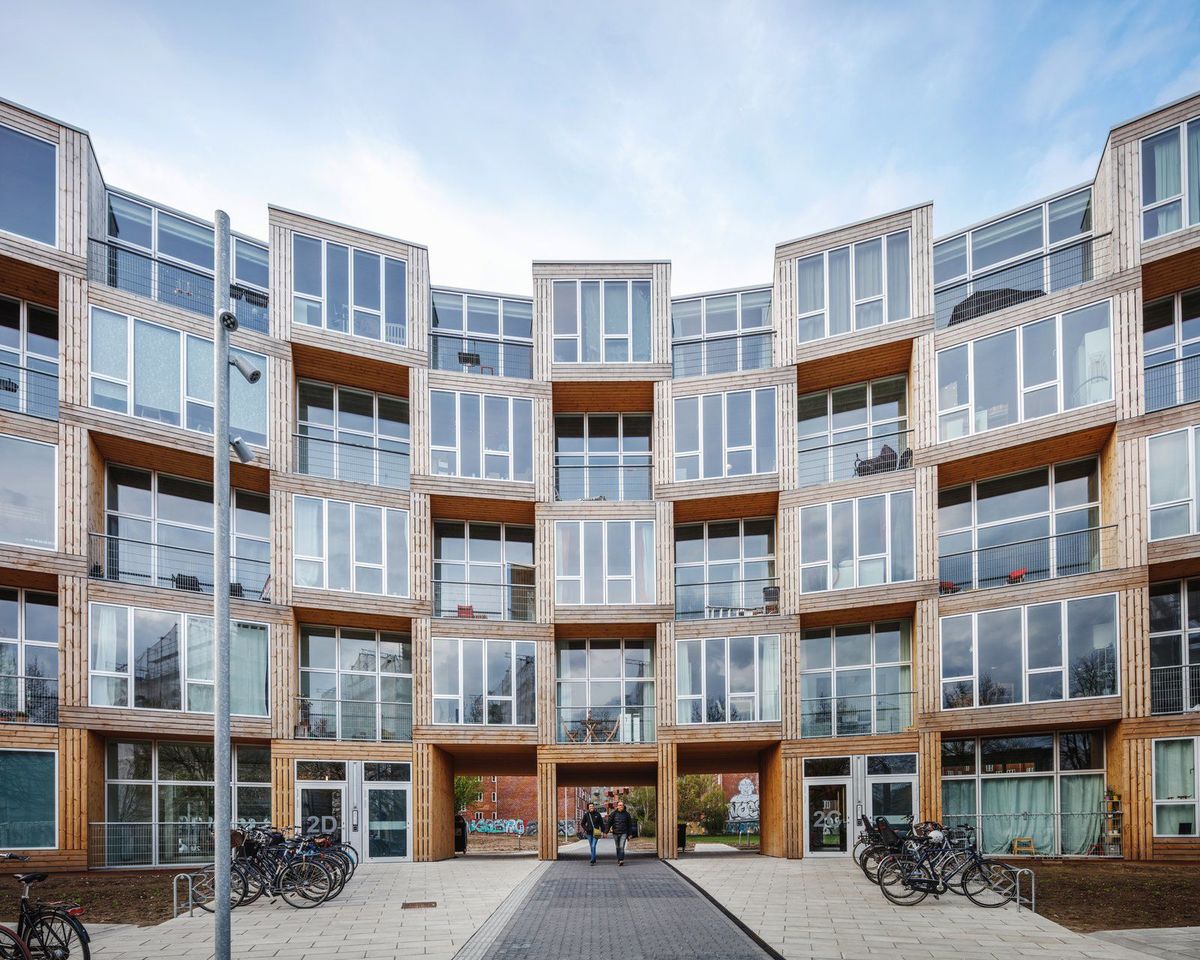 The apartment takes the form of a singular prefab structure.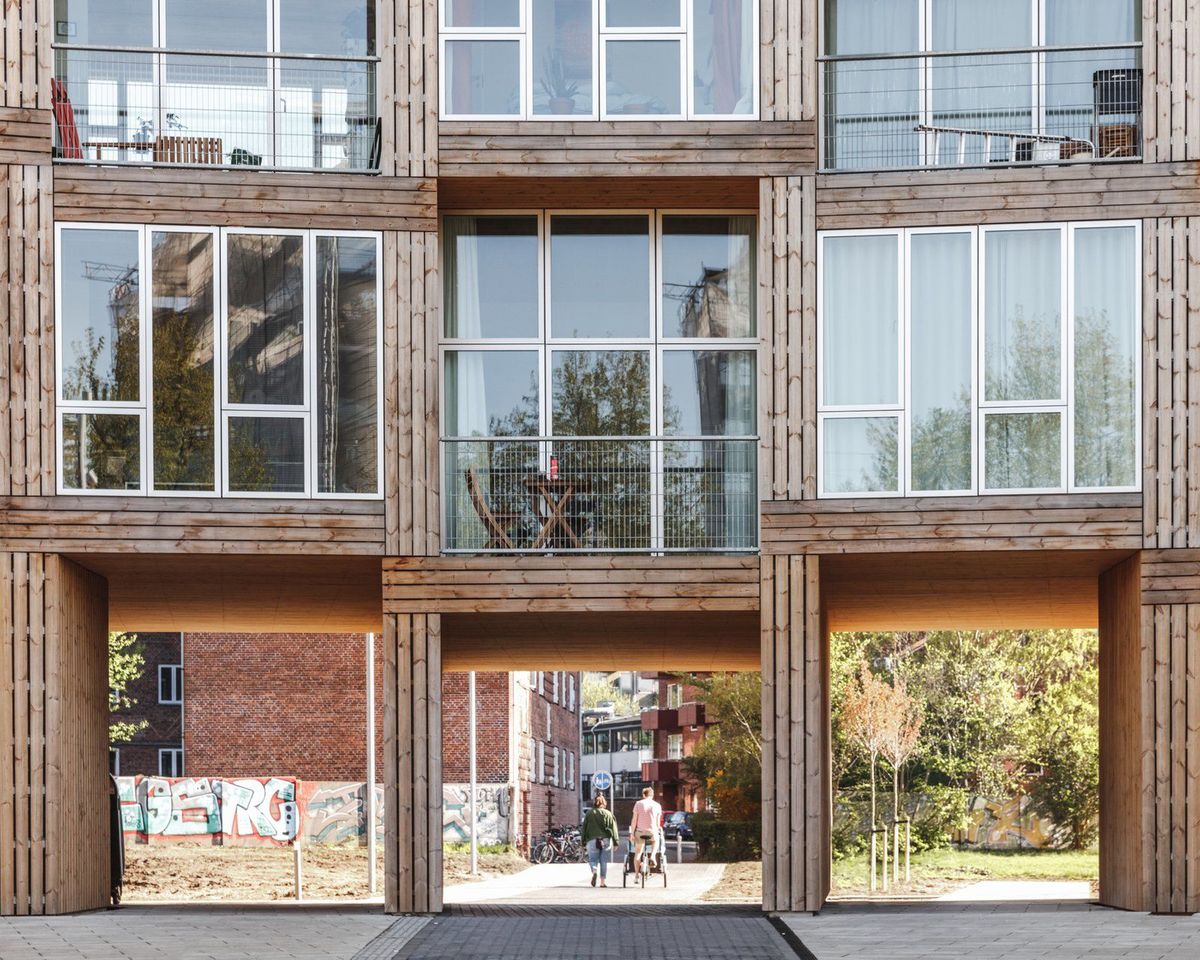 The Dortheavej Residence offers affordable and attractive public housing in Copenhagen.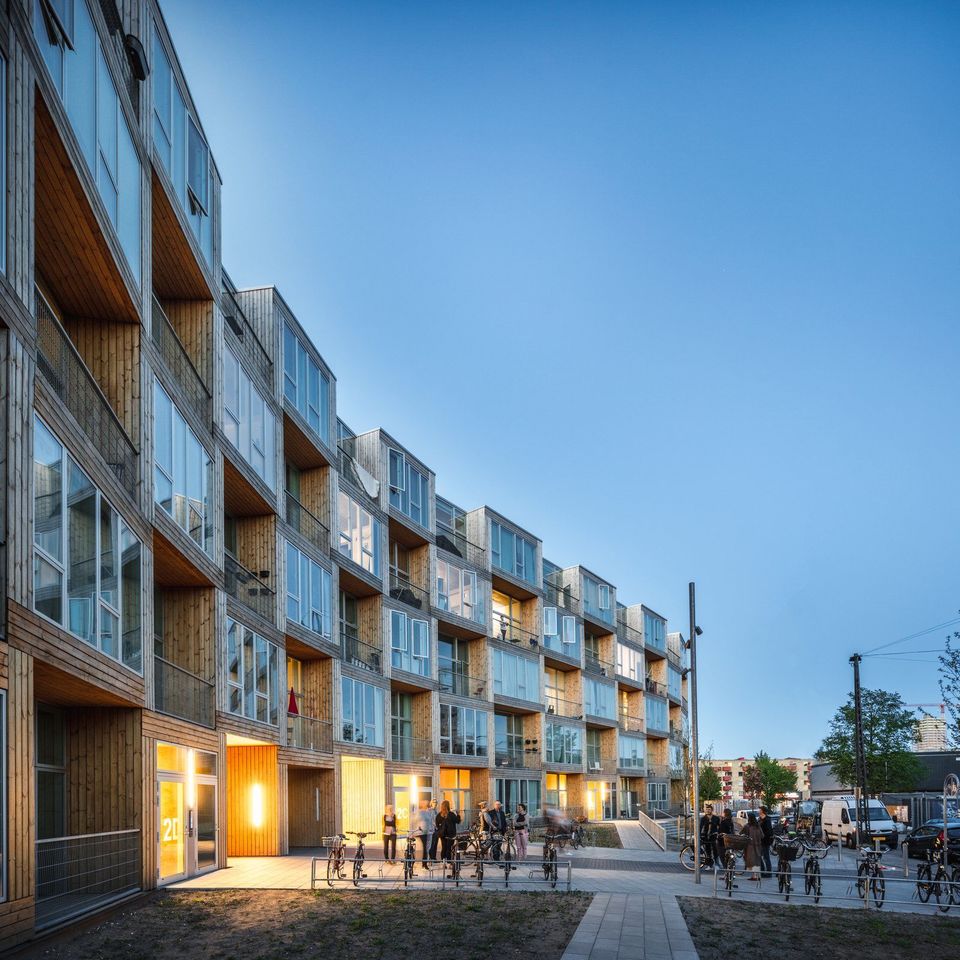 One of the project's goals is to revitalize the community.

BIG responded to Lejerbo's brief with a singular prefab structure based on a checked pattern.

"Conceived as a porous wall, the building gently curves in the center, creating space for a public plaza towards the street on the south side and an intimate green courtyard towards the north. On the street level, the building opens up to allow the residents and general public to pass seamlessly into the courtyard," says BIG's founder Bjarke Ingels.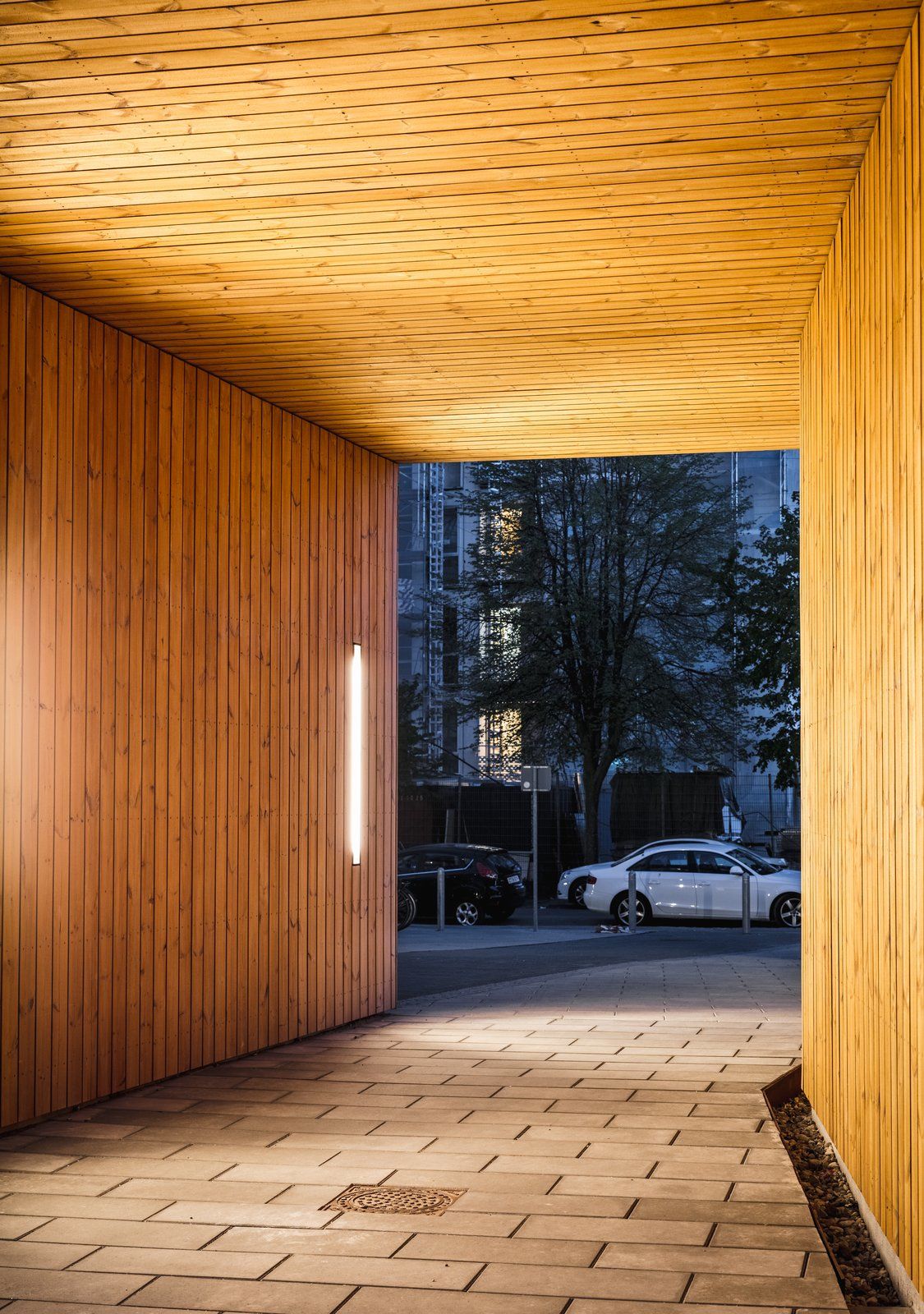 A threshold on the ground level leads from the street to the green interior courtyard.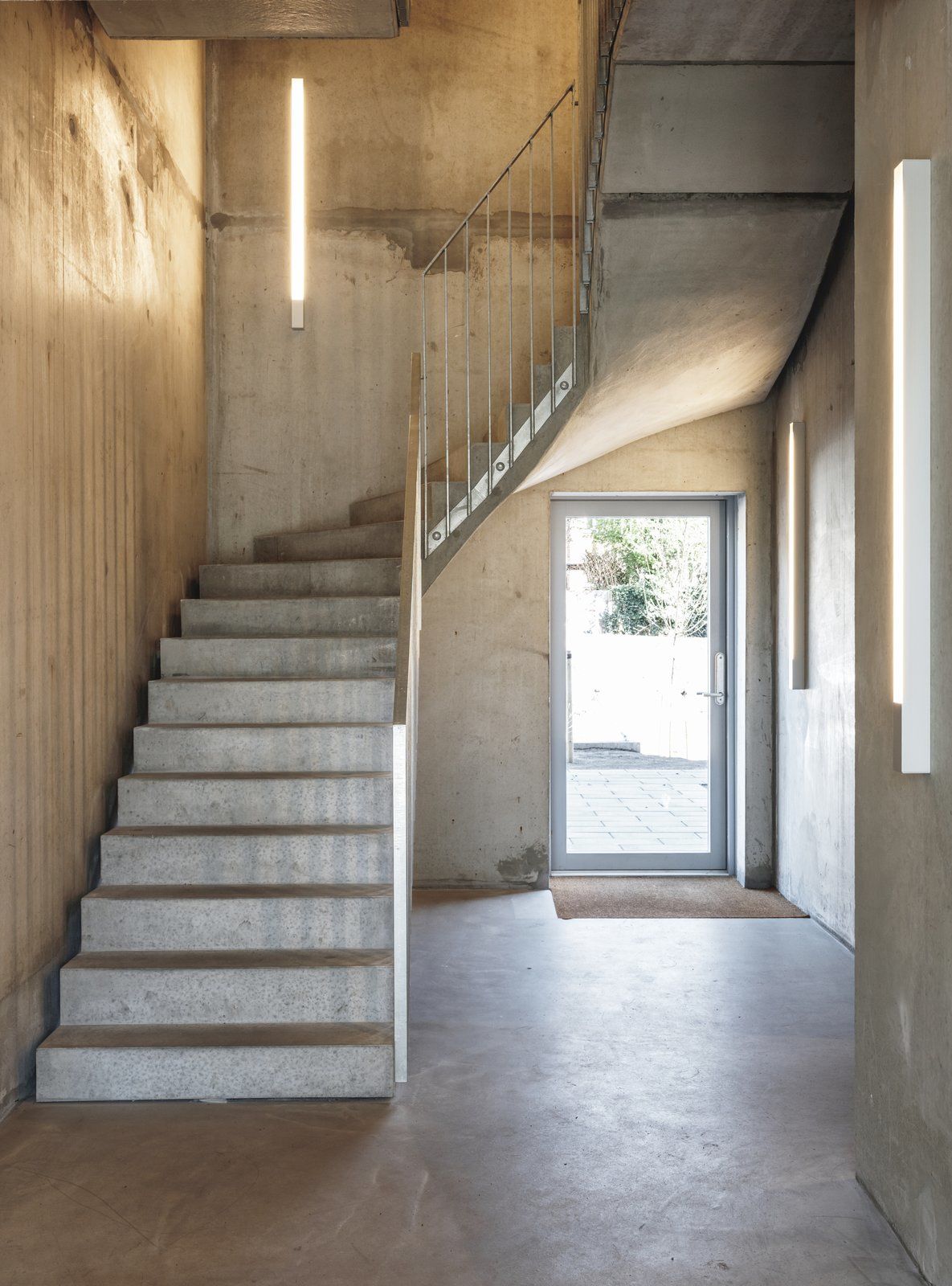 A staircase leads up to the apartment units.

The cuboid modules are reiterated along the building's curve and stacked up to the height of the surround buildings. The stacked formation creates space between the modules so each apartment can have its own small terrace, fresh air, and sunlight.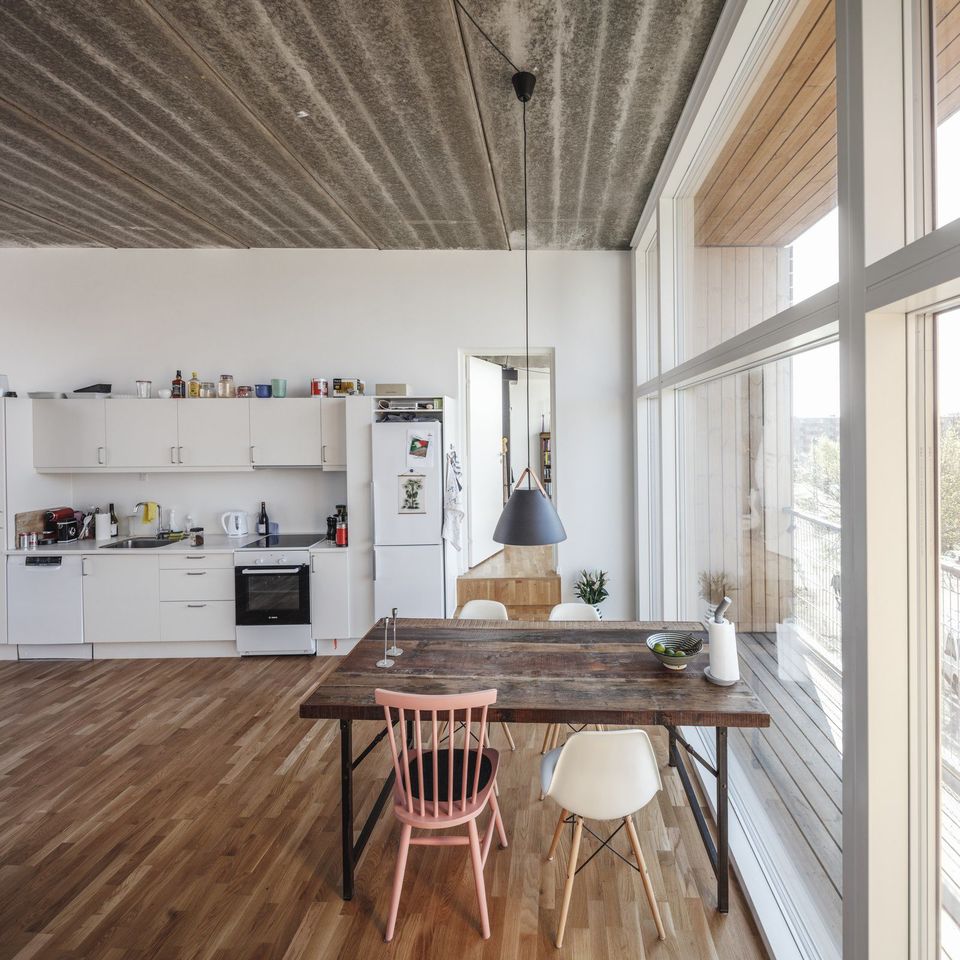 An open-plan kitchen and dining area.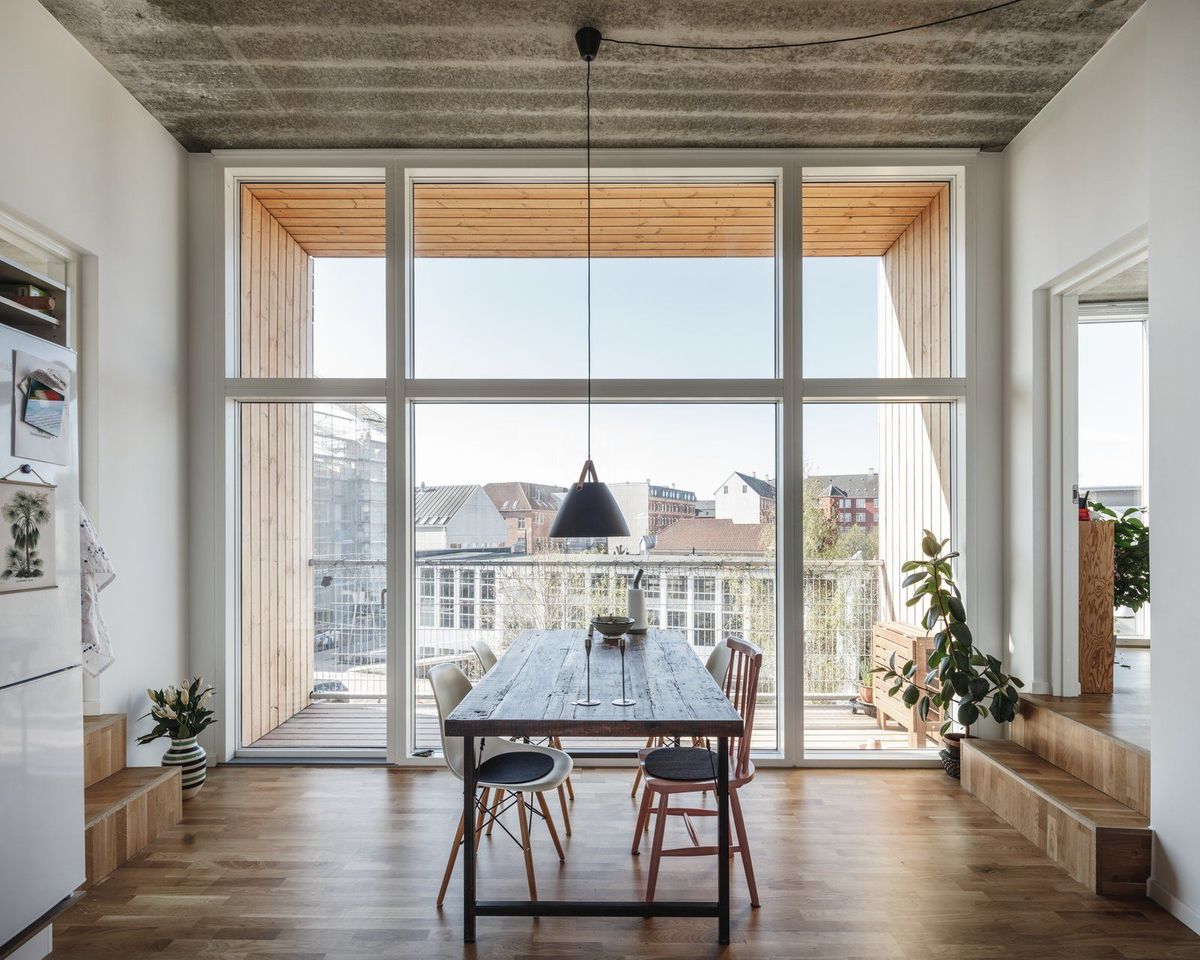 A dining area that opens out to a balcony.

The building's facade is clad with long wooden planks that accentuate the outline of the modules and the structure's checkered pattern. The apartments range from 646 feet to 1,238 square feet. All have floor-to-ceiling windows that overlook views of the green courtyard and bring in plenty of light.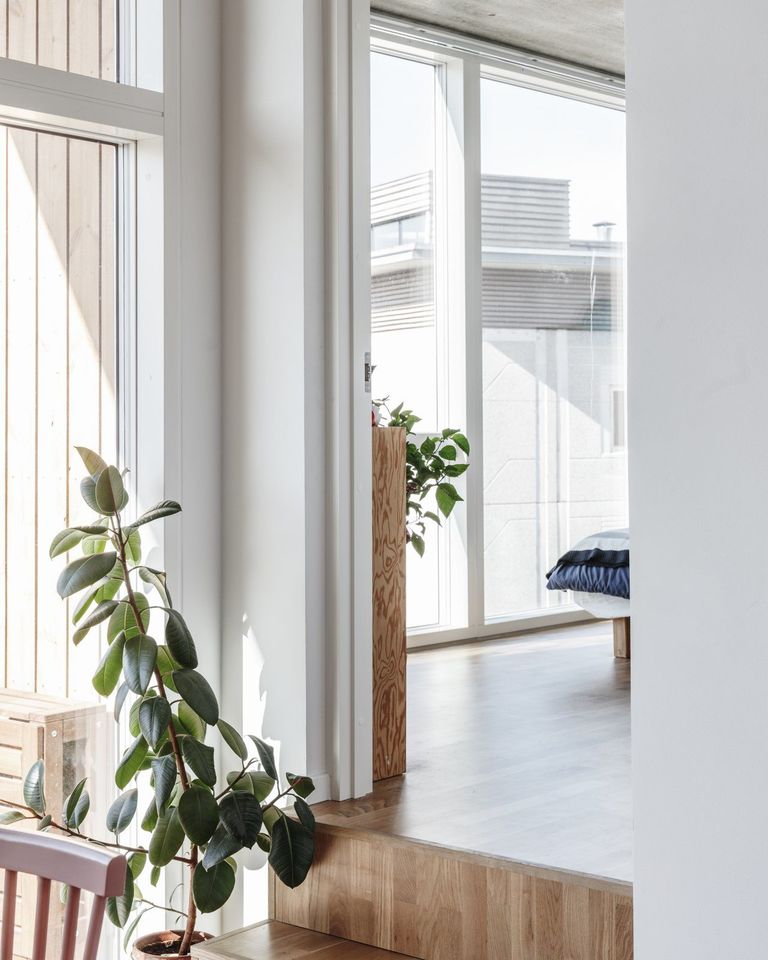 Steps lead up from the dining area to a bedroom.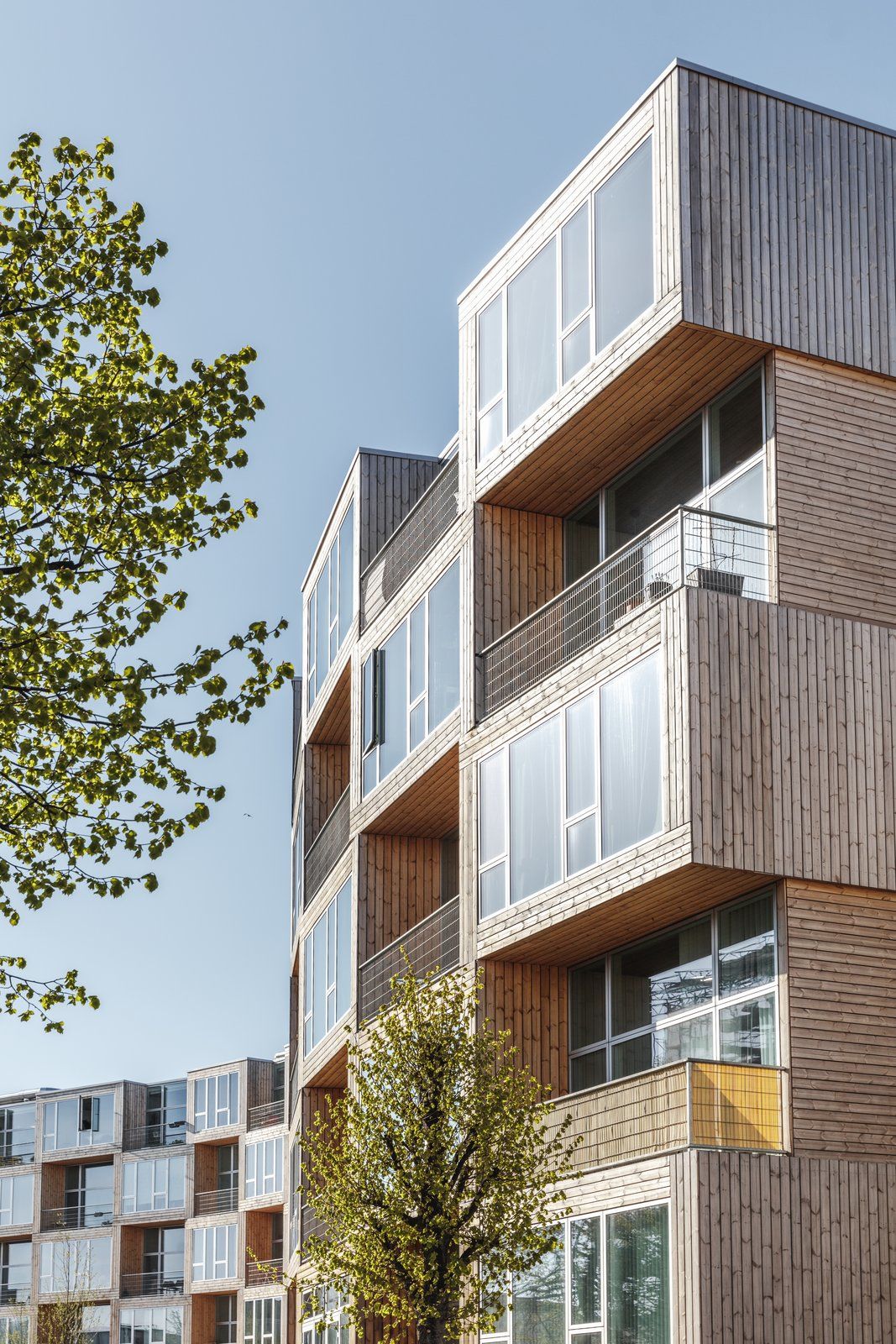 Balconies on the south facade.

The north side of the facade looks towards an enclosed green public courtyard that residents of Dortheavej Residence and the neighboring buildings can use for recreation. On the south side, which faces the sun, the apartments have balconies that add depth to the facade.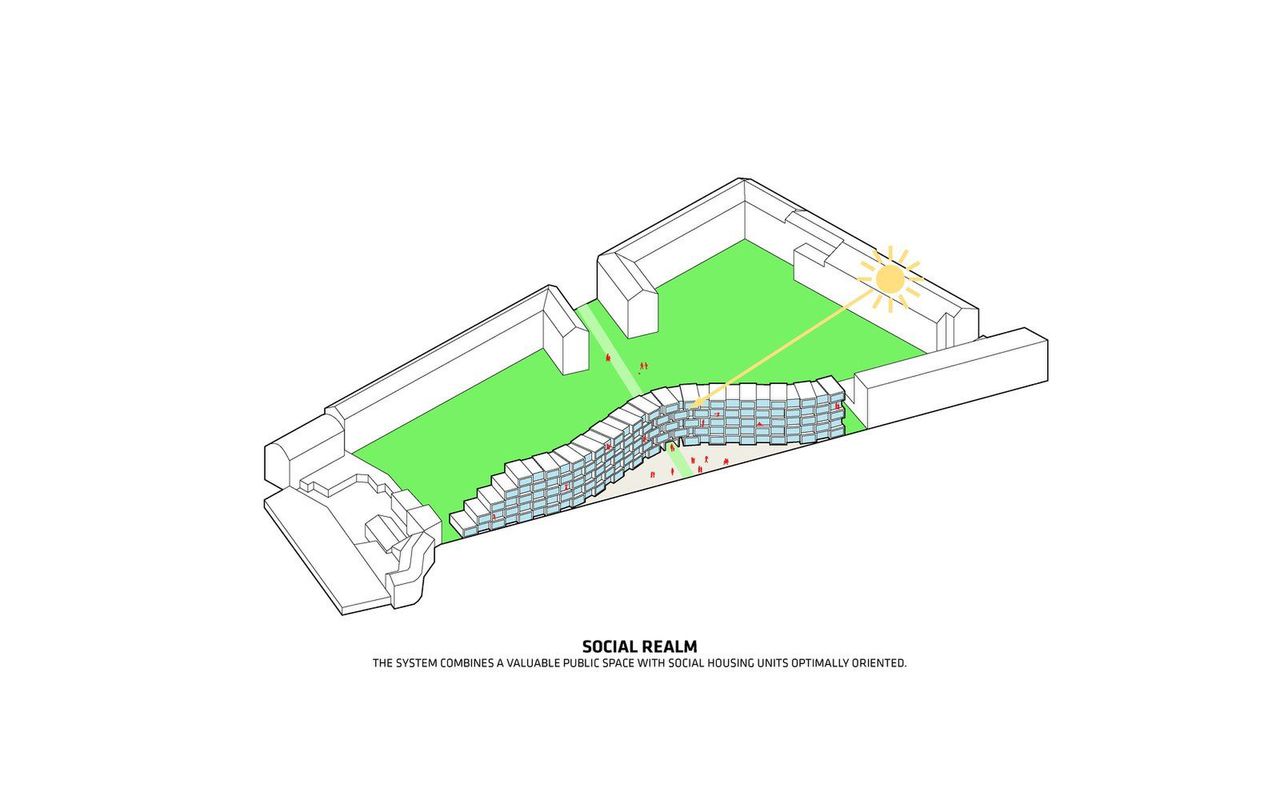 A model of Dortheavej Residence.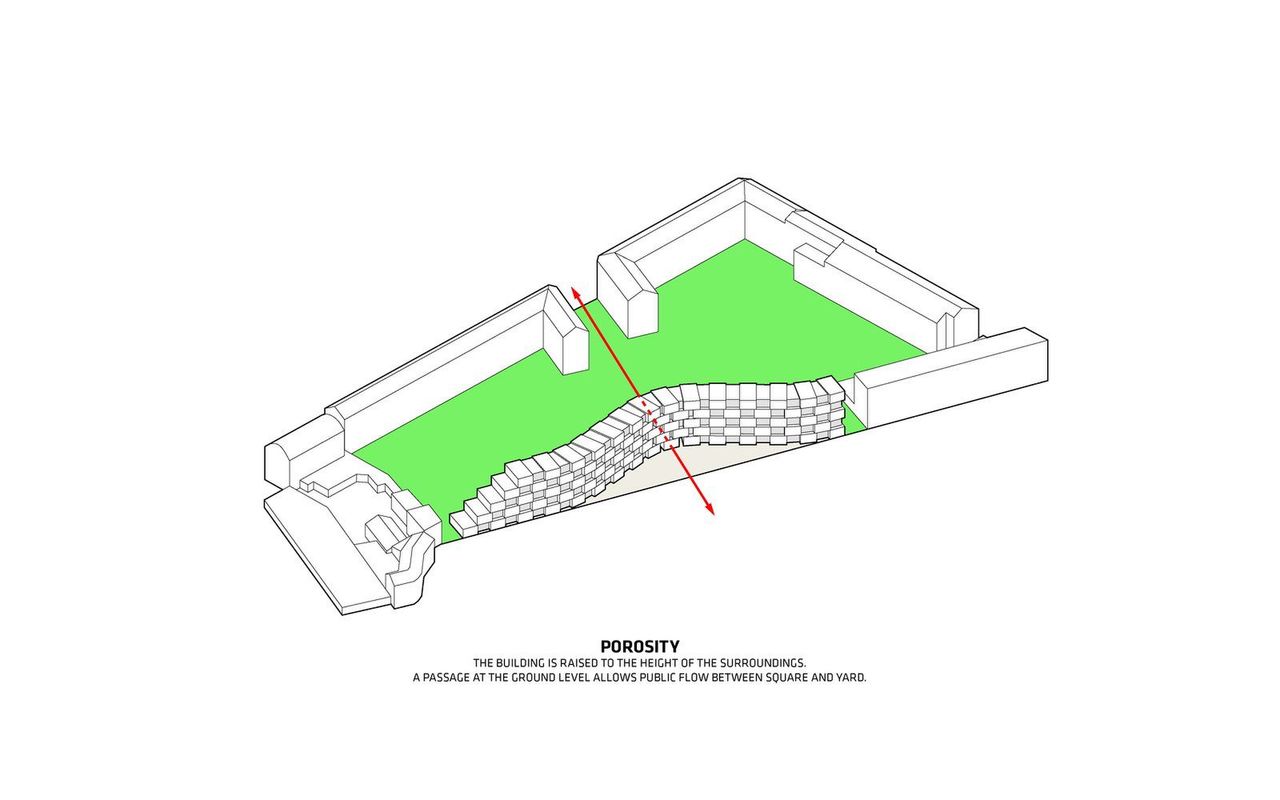 A model of Dortheavej Residence.