Supporters of the late leftist president Hugo Chávez of Venezuela have paid tribute to him and his legacy on the 10th anniversary of his death.
Thousands of people packed an old military barracks housing the remains of the iconic socialist leader. Several Latin American presidents and socialist leaders also gathered to revive the memory of the late revolutionary.

"Chávez for us is something that penetrated our hearts and souls," said Lares Caraballo, a social servant. "If you see, the difference of those presidents that have ruled and have died, nobody goes to their tombs, nor to pay them honours and we Venezuelans, those who feel this revolutionary project, come to where he is."

Chávez died on 5 March, 2013, after a long battle with cancer and chose the current president, Nicolas Maduro, a former bus driver and union leader, to be his successor.

"The best gift we can give (Chávez) is never to give up. Today his homeland is experiencing brutal imperial aggression but, with his example, the Venezuelan people will resist and win," Maduro said at the closing of a forum, in which other former presidents such as Raúl Castro and Evo Morales, and the current presidents of Bolivia and Nicaragua, Luis Arce and Daniel Ortega, were present.

Throughout his life, and even after his death on March 5, 2013, Chávez continues to provoke polarized sentiments at nearly the same rate in the country, where many worship and remember him as a defender of the poor and many others blame him for the social and economic crisis that overwhelms Venezuelans. Others blame it on Maduro.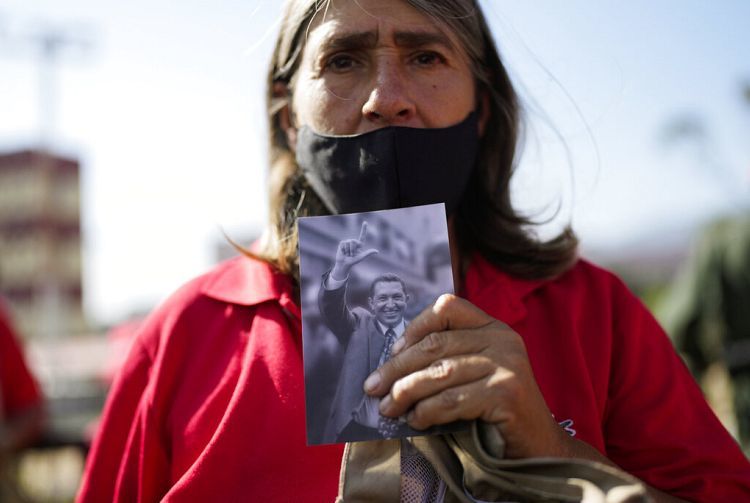 Since taking over the government, Venezuela has faced an age-old crisis, aggravated by the sustained deterioration of its economy and the collapse of its oil industry, its main source of income. Nearly seven million Venezuelans have left the country.

Meanwhile, Maduro has tightened his grip on power amid US sanctions trying to force him out.