Arizona's Kari Lake once said DeSantis had "BDE," but she has now posted an article claiming George Soros had endorsed DeSantis for the 2024 race.
MAGA-affiliated Republican and defeated Arizona gubernatorial candidate Kari Lake is seemingly no longer celebrating Ron DeSantis' politics after she shared conspiracy theories about the Florida governor.

While Lake once said she thought DeSantis had "BDE" — the acronym for "big dick energy" or "big DeSantis energy," in her words — on Thursday, she posted an article on Twitter from a right-wing media site that said George Soros had endorsed DeSantis for the 2024 presidential race.

"The Kiss of Death - Florida Governor Ron DeSantis Endorsed by George Soros," the headline said.

Twitter added a context warning to the post to highlight that this was a misleading claim.

Soros, the billionaire political donor who is often the target of right-wing and antisemitic conspiracy theorists, said he saw Donald Trump as a "pitiful figure" and that DeSantis was "likely to be the Republican nominee."
Lake appears to be following the Trump playbook, notably after she refused to acknowledge the results of an election she lost for governor in Arizona, in which Trump endorsed her. A judge rejected her appeal to overturn the results late last year.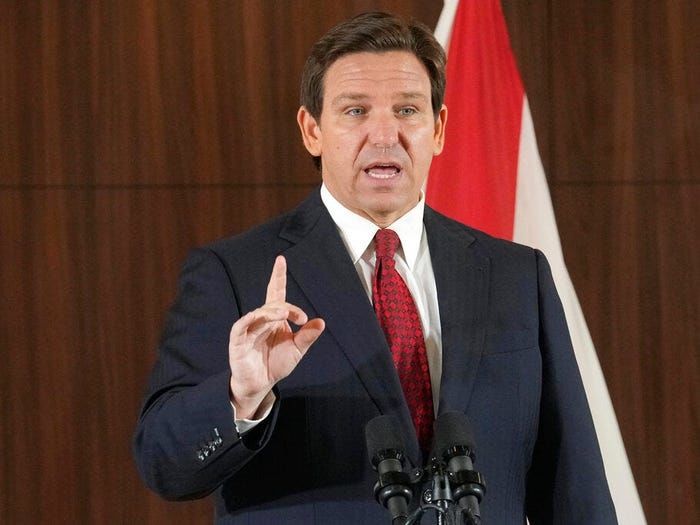 Last year, Lake repeatedly praised both DeSantis and Trump – likening herself to being "the DeSantis of the West."
"Honestly, other than being called 'Trump in a dress,' that is the greatest compliment you could pay me," she said in a speech to supporters last August.
As the 2024 election nears, Lake's reversal of allegiance is just the latest convoluted infighting within the GOP. Lake's attack on DeSantis, who previously spoke at her campaign events, comes as Trump and DeSantis are no longer in alliance and have recently become bitter adversaries.
DeSantis — a celebrity among hardline conservatives — has not formally announced his bid for the Republican nomination but is widely expected to do so.
Lake reportedly hopes to become Trump's running mate in the upcoming election.