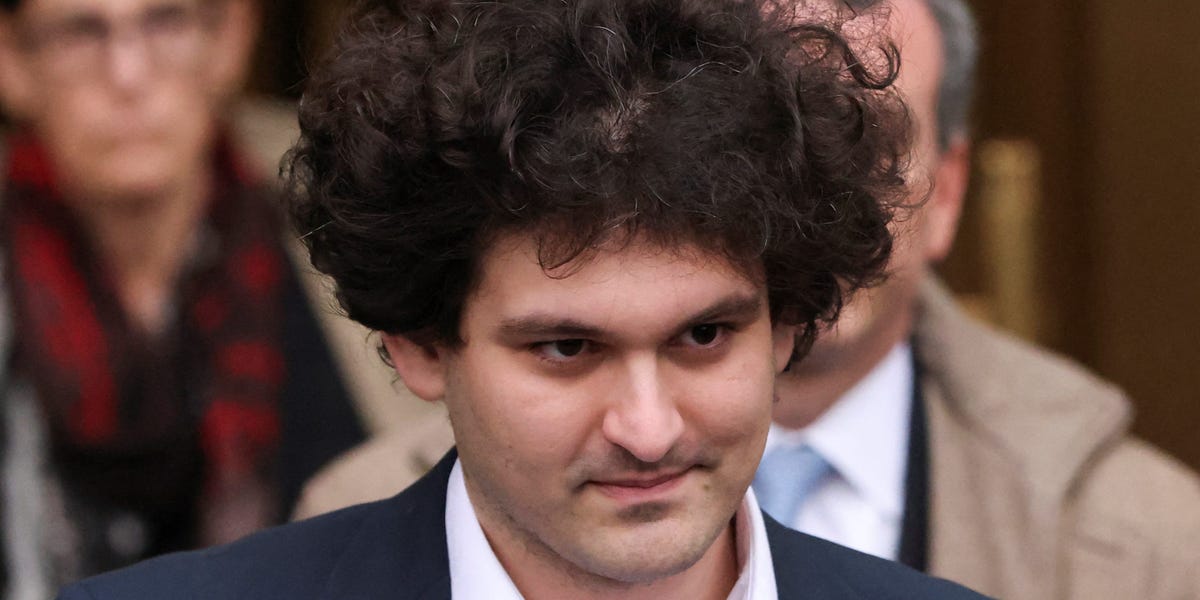 We just learned the names of the 2 people secretly guaranteeing Sam Bankman-Fried's $250 million bond
A federal judge has unsealed the names of two people who are sponsoring Sam Bankman-Fried's $250 million bond, siding with media organizations — including Insider — who argued in court that their identities should be made public.
Larry Kramer, a former dean of Stanford University's law school, contributed $500,000 to the bond, according to court records unsealed Wednesday afternoon. Another person named Andreas Paepcke, who appears to be a research scientist at Stanford University, gave $200,000 for the bond, records show.

Bankman-Fried's parents, Joseph Bankman and Barbara Fried, who are both professors at Stanford University's law school, have also contributed to the bond. They guaranteed the value of their home in Palo Alto, California, where the FTX founder is allowed to remain ahead of a criminal trial on fraud charges.

Kramer told Insider that he and his wife are friends with Bankman-Fried's parents.

"Joe Bankman and Barbara Fried have been close friends of my wife and I since the mid-1990s," Kramer wrote in an email. "During the past two years, while my family faced a harrowing battle with cancer, they have been the truest of friends – bringing food, providing moral support, and frequently stepping in at moment's notice to help. In turn, we have sought to support them as they face their own crisis."

He also said he had no business interest in the $500,000 he contributed towards Bankman-Fried's bond.

"My actions are in my personal capacity, and I have no business dealings or interest in this matter other than to help our loyal and steadfast friends," Kramer wrote. "Nor do I have any comment or position regarding the substance of the legal matter itself, which is what the trial will be for."

In December, federal prosecutors in Manhattan brought eight criminal counts against Samuel Bankman-Fried, alleging he "orchestrated a years-long fraud" by misleading investors and customers about FTX, his cryptocurrency exchange, and commingling funds with Alameda Research, a hedge fund he also controlled. Bankman-Fried pleaded not guilty to the charges.

Lawyers for Bankman-Fried have spent the weeks since his arrest trying to keep the names of Paepcke and Kramer secret, arguing the two would be subject to harassment if their names were made public.

But US District Judge Lewis Kaplan on January 30 sided with media organizations — including Insider — which argued that it was in the public's interest to reveal the names.

"Given Mr. Bankman-Fried's relationships and access to some of the most wealthy, powerful, and politically connected individuals, including elected officials, access to the identity of the bond sureties will bolster trust in the judicial process here," lawyers for the news organizations argued in a filing.

The judge ruled that the public interest outweighed any privacy rights the sponsors had and that they knew what they were getting into.

"The non-parental bail sureties have entered voluntarily into a highly publicized criminal proceeding by signing the individual bonds," Kaplan wrote in his January 30 decision.

Kaplan gave Bankman-Fried's lawyers a chance to appeal his decision. But while they filed a document indicating they intended to appeal, they failed to file a separate request asking the appeals court to pause Kaplan's order, leading to the names of Kramer and Paepke to be unsealed Wednesday.

A representative for Bankman-Fried declined to comment. Paepcke and representatives for Stanford University and Stanford Law School didn't immediately respond to Insider's request for comment.

Prosecutors and Bankman-Fried's attorneys are still wrangling over the terms of his home confinement conditions. In the past week, prosecutors and the judge have raised concerns that Bankman-Fried has access to tools that allow him to auto-delete and encrypt messages, and to use a virtual private network, or VPN, that allows him to disguise his internet activity.

His attorneys said in court filings that Bankman-Fried used a VPN to watch NFL playoff games and the Super Bowl.