Another fine has been issued by police over a lockdown-busting event attended by Boris Johnson, according to reports.
This evening, No 10 denied that the Prime Minister received another fixed penalty notice for a 'bring your own booze' garden party at Downing Street.

Speaking to MPs, Johnson apologised for attending the event on May 20, 2020, but insisted he thought it was a 'work event'.

'With hindsight, I should have sent everyone back inside,' he told the Commons in January.

A source has told the Guardian that at least one fine was issued today to a Downing Street official who attended the bash.

The gathering was held when social mixing was banned both indoors and outdoors, with politicians stressing the importance of sticking to the rules.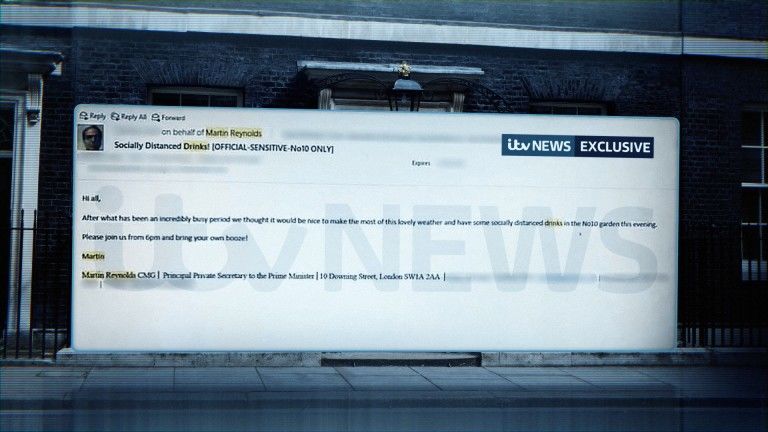 This email, leaked to ITV, showed Boris Johnson's principal private secretary, Martin Reynolds inviting around 100 people to a BYOB party in the garden of No 10

Johnson said he attended for around 25 minutes but claimed he did not believe it amounted to a breach.

According to a leaked email, his principal private secretary, Martin Reynolds, sent an invitation to more than 100 people for 'socially distanced' drinks that evening.

The message told staff to 'join us at 6pm and bring your own booze'. Johnson said he had not been notified in advance.

In February, the PM confirmed that Reynolds would be stepping down from his role in the wake of the Partygate scandal.

Johnson
is clinging onto his job after MPs voted for a formal investigation into whether he misled Parliament over lockdown-busting parties in Downing Street and Whitehall.

As more and more reports of boozy bashes emerged late last year, the PM said repeatedly that no rules were broken.

After he was fined by the Metropolitan Police this month for attending his own birthday party in June 2020, he said he didn't believe he was breaking the rules at the time.

Chancellor Rishi Sunak – who is in Washington for the IMF's spring meeting – was also caught breaking the rules and was reportedly talked out of quitting to save the PM's reputation.