Taliban fighters shot dead a journalist's family member and severely injured another after conducting house-to-house searches in Afghanistan.
Germany's public broadcaster Deutsche Welle said insurgents stormed the property hunting for their reporter but they had already flown home.

As gunmen carried out the savage attack on Thursday, some relatives fled at the last moment and are now on the run.

Peter Limbourg, director general of DW, said: "The killing of a close relative of one of our editors by the Taliban yesterday is inconceivably tragic, and testifies to the acute danger in which all our employees and their families in Afghanistan find themselves.

"It is evident that the Taliban are already carrying out organised searches for journalists, both in Kabul and in the provinces. We are running out of time."

After taking Kabul, the Islamist movement launched a public relations blitz promising it would allow free media and jobs for women that were banned when it was last in power from 1996 to 2001.

However, some Afghan journalists have complained of being beaten and their homes raided.

DW said Taliban raids were carried out on at least three of its journalists among others.

It said Nematullah Hemat, of the private television station Ghargasht TV, is believed to have been kidnapped.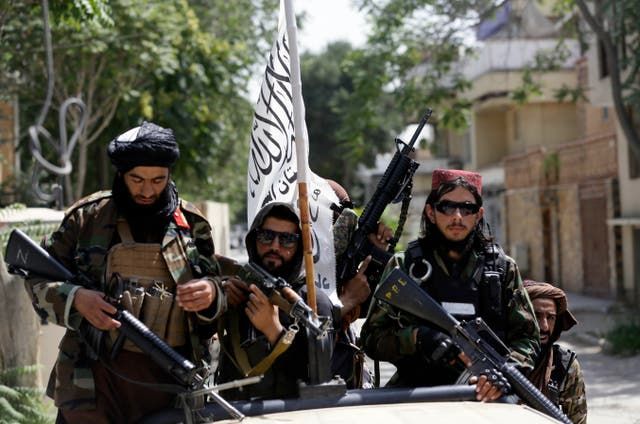 Taliban fighters display their flag on patrol in Kabul

Toofan Omar, the head of the private radio station Paktia Ghag Radio, was shot dead.

Two men, believed also to be Taliban, shot and killed the translator Amdadullah Hamdard, a frequent contributor to Germany's Die Zeit newspaper on August 2 in the eastern Afghan city of Jalalabad, DW said.

The German Journalists' Association (DJV) issued a statement calling on the international community not to stand idly by while the relatives of journalists and charity workers are murdered.

DJV said: "According to reports, family members of journalists who no longer live in the country are currently being systematically hunted down in Kabul and other cities.

"In one case, the father was shot dead in front of his family.

"Afghan journalists living in Germany are begged by their families not to publish anything, lest the Taliban be led to the relatives. Similar scenes seem to be playing out in the non-governmental sector."

Frank Überall, chairman of DJV, added: "It is not enough to have a few rescue flights take off from Kabul airport, which no Afghan family can reach at the moment.

"The governments of the western states that have been present in Afghanistan have a duty not to hand over their most loyal supporters in the country to the revenge of the Islamists."

German chancellor Angela Merkel said the country may need to evacuate as many as 10,000 people from Afghanistan, including 2,500 Afghan support staff as well as human rights activists, lawyers and others whom the government sees at risk.